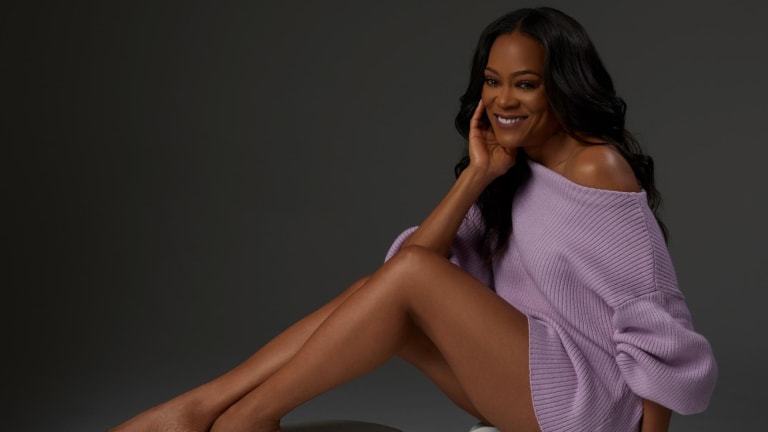 Robin Givens: Iconic, Inspiring, and Entertaining
Robin Givens says her new OWN series Ambitions is "delicious," and it will be a guilty pleasure for women and men.
Interviewed byAnnika Harris
From Head of the Class to Boomerang to her new OWN show Ambitions, Robin Givens has been giving us iconic, well-rounded characters that both entertain and inspire. UPTOWN spoke with Givens to discuss her icon status, why you will love her new series that premiered last night, her relationship with Oprah Winfrey, and more.
UPTOWN: So, you're a timeless and ageless beauty, as well as a compelling actor, and you also possess a resilient spirit along with being an icon. From your introduction on Head of the Class to Boomerang, and now leading on Riverdale, Saints and Sinners, and also Ambitions. Robin Givens, there seems like there is nothing you haven't accomplished in your 30-plus career. How do you feel about being considered a legend?
Robin Givens: Wow, that's a lot. Well, you know, I've been hearing that recently. I think that time is an interesting thing because it goes so quickly, right? I guess when I hear you say that, part of me is stunned and part of me is honored.
UPTOWN:Ambitions is one of the most buzz-worthy and highly-anticipated shows of the summer. Your character, Stephanie Carlisle, is intensely focused on her family's law firm and carrying on the legacy. What is your personal definition of ambition and how do you keep your ambitions pure or top of mind when you're facing adversity?
Robin Givens: Wow. I am so not ambitious, you know. I'm so different than being a 19-year-old or 22-year-old Robin. I have such a different sense of what is happiness and what is success, you know? And for me, peace is successful. So, I'm so different than the women that I play who are, I think, very ambitious. I was watching the sixth [episode] on Monday and between Julianne [Johnson in The Fix] and Stephanie, my God, I want to grow up and be these women -- I think. Part of me feels that way and part of me feels like I'm a little bit more. My personality is just different, in general, and maybe I'm more evolved than they are in some respects about what's really important in life, I think. But I love them, I love them so much.
UPTOWN: How would your character Stephanie define ambitions?
Robin Givens: Oh my gosh. I mean, she wants to win. Stephanie wants to win. And I think she wants to win at everything. So, she wants to be the smartest person in the room. She wants to be in control of what's going on. She wants to be the one in Atlanta that's moving the pieces and making things happen. So, I think that she's a really interesting character for me because I wanted to layer her, give her colors, and different shades, and I wanted to bust out of the box that I think she was initially put in. And I think what happens sometimes is, we do put people in boxes. So we say, OK, affluent Black people behave like this and they speak this way and they do this. And I think people are definitely more multilayered than that. So, I wanted to give her all the different shades and colors. So when we meet Stephanie, she's a lawyer fighting Purefoy Pharmaceuticals. She has a sister that passed away from an opioid crisis. And that is a very serious part of her that she's going to fight for. I mean, it's really her heart.
UPTOWN: What else can fans expect from the season?
Robin Givens: I think what fans will absolutely love about this show is, there's a certain humor that makes it into all of these things. At least, that's what I wanted for Stephanie. I wanted people to root for her, you know, no matter what she does. She does all of these outrageous things that you're like, "Oh my God, how could you do that? That's terrible." And you still love her, you know. You can't help that you're also smiling and laughing with her. But I use the word "delicious" for this show because it's definitely going to be a guilty pleasure. It's just so much fun. So, I think that's what they can really expect from the show.
UPTOWN: Thinking back to one of your first roles, Melanie "Kiswana" Browne in the TV adaptation of The Women of Brewster Place, you had the opportunity to work alongside Oprah Winfrey. How do you feel about this full circle moment now being the lead in a series on her network?
Robin Givens: Yeah, you know, it kind of goes back to legendary, right? That was a really big job for me to get. I can close my eyes and remember walking into the room to read, you know, for Donna Deitch and Reuben Cannon, and it was a book that I knew from college. I'd done a thesis on that particular book. [Oprah] went to the same college I went to and now, we all kind of became friends from that, right. You know, sitting around the set and she and I became friends. And then time goes on and next thing she has a whole network and you're part of the network. And I've been friendly with her, but I'm also a woman who just admires her and adores her, like every civilian woman. So, I feel so honored to be a part of her network. I just think her power comes from this place of wonderful good intentions, and trying to be the best you can be and using your voice to do good things, and I love being a part of that.
UPTOWN: We're definitely looking forward to watching Ambitions this summer.
Robin Givens: I think you're going to love it. I'm so excited about this because as I'm talking to you, I've got a big giant smile on my face. I think people are just going to love it. It's so much fun, and both men and women will love it. It's something you want to sit down with a glass of wine and popcorn and talk about it later with your girlfriend. It's so fun.
Ambitionsairs on OWN on Tuesdays at 10/9C.