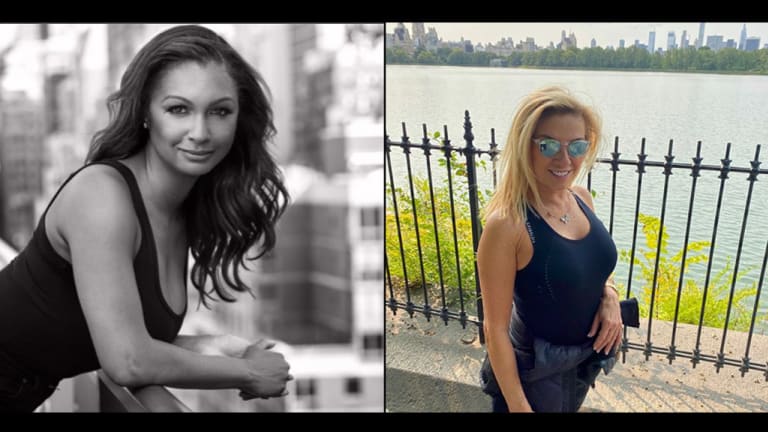 RHONY's Eboni Williams Is Ready to 'Gather' Ramona Singer If Need Be
Eboni Williams says she's prepared if Ramona Singer tries to come for her on The Real Housewives of New York City.
The Real Housewives of New York City's first Black cast member Eboni Williams says she can handle Ramona Singer if the RHONY vet becomes disrespectful, but Williams also expects to get as good as she gives.
It took more than a decade, but Bravo has finally figured out that there are dynamic, successful, and brilliant Black women in New York who deserve a spot on The Real Housewives of New York City cast. In an effort to diversify the RHONY cast, the reality TV network has cast Williams, a 37-year-old lawyer, author, host, and executive producer of Revolt Black News, for the upcoming season. The cast, which also includes Leah McSweeney, LuAnn de Lesseps, and Sonja Morgan, has already began filming while adhering to COVID safety precautions, but it seems Williams and Singer haven't met yet.
"I'm coming in with an open heart and an open mind," Williams, who says she's seen every RHONY episode, told Extra's Cheslie Kryst. "I want to get to know [Ramona] … Listen, if somebody needs to be gathered, they'll be gathered, but at the same time, I'm not above it. I expect to get it as good as I give it, Ches, so here we are. Let the games begin."
So why are people assuming there will be some conflict between Williams and Singer, besides conflict being the name of the Housewives game?
Singer is notorious for her … let's call them … "prejudiced moments" and living in an all-white bubble on Manhattan's Upper East Side and in the Hamptons. For example, the social climber once told a Black job applicant that her name would be a hindrance for employment and quickly dismissed her as a result. The 63-year-old also routinely refers to people in the service industry, especially the housekeeping staff of their luxury vacation accommodations, as "the help." Yes, in the 21st Century. In addition, she's a notorious and unapologetic supporter of the current President of the United States, and we all know how he feels about non-white people.
Although Singer's business acumen has earned her millions of dollars, it's pretty obvious that she's happily ignorant of the rest of the world, and that could certainly create tension between her and Williams. Although Williams says she plans to meet Singer with "an open heart," fans of the series know that Singer is likely coming into the season with preconceived notions about Williams. That is pretty much her modus operandi.
Williams has already connected with McSweeney, who is also in her late-thirties. "Leah and I just have so many random deep-seated things in common," Williams told Extra.
Although de Lesseps and Morgan also voted for 45 and de Lesseps proudly wore that ill-advised and ill-executed Diana Ross Halloween costume, both seem to grasp the concept of inclusivity … or at least are smart enough to not let their prejudiced flag fly while the cameras are rolling. de Lesseps seemed to have a genuine desire to treat a group of formerly incarcerated women of color to a day of pampering in the last season. Also, Morgan hired a Black woman as her intern and seemed the most comfortable at McSweeney's extremely diverse party in Downtown Manhattan in the last season. In fact, Morgan began partying with a group of men of color before she even greeted the rest of the RHONY cast, and she revealed during the reunion that one of the men still texts her.
Witnessing the journey of the first Black Housewife of New York City isn't the only reason to be excited for the season 13. Williams revealed that the series is returning to the theme of "boss women of New York," as the entire cast has business endeavors.
"There has been so much support and enthusiasm," Williams said to Extra. "We're kind of hearkening back … to kind of the era of RHONY where it was all about the boss women of New York, you know what I mean? It was all about entrepreneurship and building businesses from the ground up … and that's what this season is going to be about again with myself and my castmate Leah McSweeney, who has her own clothing line, and even Sonja's got a line, and Ramona's got a business, and Lu's got the cabaret."