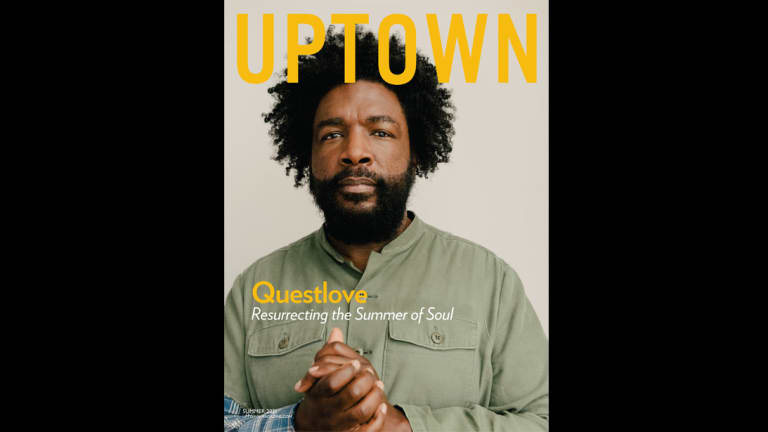 Resurrecting the 'Summer of Soul,' A Questlove Jawn
Questlove explains how his film Summer of Soul excavates a moment of Black musical excellence, the Harlem Cultural Festival, that was forgotten for decades.
I have lost count of the number of concerts that I have seen in this lifetime. But there are a few that have left a Memorex memory. One of them is The Roots. It was the mid 1990s. And the venue was the 9:30 Club in Washington, D.C. I was in grad school at Howard, so down time with lots of music was imperative for my sanity. Do You Want More ?!!!??!, the "Illadelphia" band's second studio album, stayed in constant rotation on my CD player. And finally experiencing them in person was glorious. They were artists who altered the course of urban music by producing an organic hip hop jazz soundtrack of an unforgettable time in many lives.
Ahmir "Questlove" Thompson's Summer of Soul (...Or, When the Revolution Could Not Be Televised) – which captures rare footage of some of the 300,000 concert attendees and dozens of Black musical performances at The Harlem Cultural Festival of 1969 – is one of the most important arts revolutions of our time. And although the film was buried in a basement for five decades, Questlove is hoping that the story it tells still breathes the same kind of transformative life into people who see it. Particularly Black young people. 
Those sizzling hot days between June and August changed the lives of African-American people and artists forever. This Black Woodstock, created to celebrate Black music and culture and to amplify Black politics, was divinely placed in Questlove's palms by the original producers of the live concert series.
The sacred lost and found treasure is a record of music that shifts and strengthens the course of a culture through raw and utterly beautiful art forms. It is some of the most breathtaking Black jazz, Nuyorican soul, gospel, Mbaqanga, blues, R&B, and spoken word film ever captured during its time. But what happens to a film deferred? Does it alter the course of Black music? Questlove broaches this theory and shares his thoughts about the film that may have changed the historical impact of Black artistic expression. 
How and when did you find this film?
Questlove: The footage itself was the work of a man named Hal Tulchin, a filmmaker and producer. He was the one who originally recorded the festival, who gave it the name Black Woodstock, who tried to get it done as a documentary but couldn't. His footage went to his basement. Then the producers David Dinerstein and Robert Fyvolent, who had been trying to secure not just the footage but all the material around it — the notes, the thinking — got it. They got word to me. At the time, I was in kind of a cocky place, convinced I knew all that I needed to know about festivals. I was wrong.
Has there ever been an array of Black musicians and artists assembled in one concert series like this?
Questlove: It's hard to say "ever" or "never." There are some other incredible events, but most of them happened after this one. There's Soul to Soul, a 1971 event in Ghana with Roberta Flack, Santana, Wilson Pickett, and Ike and Tina Turner. There's Save the Children, a 1973 film of a 1972 event from Chicago affiliated with Jesse Jackson's PUSH that featured Marvin Gaye, Bill Withers, and others. There's Wattstax, another 1973 film (and 1972 event) that included Isaac Hayes, the Staple Singers, Albert King, and more. And there's Zaire 74, which was supposed to accompany the Rumble in the Jungle [Muhammad Ali vs. George Foreman] prizefight and included performances by James Brown, B.B. King, Miriam Makeba, and Tabu Ley Rochereau. But this festival is way up there, because of the superstar power of acts like Stevie Wonder and Sly and the Family Stone and the sheer diversity.
How did you feel when you first saw the footage?
Questlove: Ironically, I had seen a piece of this before, though I didn't know it. When I first went to Japan back in 1997, 1998, there was a restaurant there called something like the Soul Train Cafe. They had monitors all over showing footage, and one of them had a piece of the Sly and the Family Stone footage. But it was birds-eye footage, so I couldn't see the crowd, couldn't see the Black faces, and I assumed it was taken from a European festival, somewhere in Switzerland. When I saw that clip in the context of the whole festival, and understood what David and Robert had and what it really was, I got serious quick.
Are we seeing all of the footage or was there a lot left on the cutting room floor?
Questlove: You're not even seeing 10 percent. That was one of the hardest parts of the process. My first draft ran to three hours and twenty minutes, and we were looking to get to just about two hours. One move I made was to take out the comedy acts: George Kirby, Moms Mabley, Willie Tyler and Lester, and Pigmeat Markham. But it still wasn't easy.
How many hours of unedited footage didn't make the film?
Questlove: Lots and lots and lots.
Which performances simply overwhelmed you? 
Questlove: Everything was a discovery. There are the big-star names, of course, including Sly and the Family Stone and Stevie Wonder. One of the things that really struck me was that I wasn't prepared for the power of Mavis Staples and Mahalia Jackson. That floored me. It's obviously a summit meeting, and both of them really hold their own, even though it was sort of public knowledge at the time that Mahalia's health was declining. I also discovered, through Mavis, that Aretha Franklin was booked and cancelled two nights before. According to Mavis, it was Aretha who was supposed to have the showdown with Mahalia. That's why the Staples Singers did two sets — one gospel and the other this other kind of protest music. That connects to something else I learned: I hadn't realized how controversial the secularization of gospel was. Groups like the Edwin Hawkins Singers and the Staples had to make an effort to move into secular music, which meant leaving the church.
Why do you think the concert was produced at this particular time in 1969?
Questlove: There's a mechanical answer, which is that Tony Lawrence, a singer and entertainer, was hired by the city to create a festival, and this was the result. It was also the era of festivals, definitely, from the Human Be-In and Monterey Pop in 1967 through to this festival, and then to Woodstock in 1969. But really 1969 is something else, a paradigm shift. It was a year in which an atonal Sonny Sharrock guitar solo on top of Herbie Mann's cover of Aretha's "Chain of Fools" could find the same safe spaces as "Watermelon Man" by Mongo Santamaria and a just-coming-into-his-own Stevie Wonder can also coexist with Moms Mabley's post-vaudeville brand of comedy. There's suddenly a massive fusion and blending that carried into the seventies. Every period has its own history, and music is part of that history. In fact, I talk about that in my next book, Music Is History.
Why was it so important for artists like Gladys Knight and Marilyn McCoo to feel accepted and praised by Black people?
Questlove: There are always those questions about where you came from and where you're going, and whether you are selling out by moving from one to the other. One of the main lessons of this film, for me, was the amount of code-switching that has to be done in order for Black people to feel safe in a space even creatively. Is it safe for us to sing a gospel song or to add gospel stylings to soul music? Or what about the whole charm school model. Even more telling, for me, than Marilyn McCoo grappling with the idea that The 5th Dimension was thought of as "too white" is the scene where David Ruffin performs "My Girl" in the middle of August while wearing a wool tuxedo and a pea coat. He felt he couldn't go out without looking a certain way. Probably the most revolutionary moment on the stage is Sly and the Family Stone performing in their street clothes.
How did the drumming scenes and artists – such as Max Roach, Mongo Santamaria, and Ray Barretto – affect you as a drummer?
Questlove: In my career, sometimes, I have downplayed the drum solo in Roots shows because I worry there's really not anything that exciting about it or that maybe I'm doing too much. From the first time I saw this footage, what stood out to me was how powerful the drum was, how much spotlight it took. There are those three, of course, but they're not the only ones. The Chambers Brothers drummer did a solo. Greg Errico kept it going. There's Olatunji. And, of course there's Stevie Wonder. People don't think of him as a drummer but when I saw his drum solo, it was shocking and exciting and demanded prime placement. Lots of my testimony is based on camera four and watching the faces of the audience. There was an instant spark and a jolt in the audience when they went to drum solos, and the Stevie more than any other.
What do you want people to feel or gain by experiencing this footage?
Questlove: I want them to illuminate options and pathways. In his book, Prince mentioned going with his father to see the Woodstock movie. It's a beautiful testimony about their relationship, a "come to Jesus" moment for Prince. He was secretly learning to play piano, to play all these songs, knowing that his dad believed he'd never be as good as him, but that movie and all the acts it put on display gave him a life mission, which was to learn to play all those instruments, to be better than his dad, to feel unbounded. Think about all the other Black kids who never got this opportunity. My personal experience was that I was lucky to have a family who kept me focused on Black music and Black musicians, and lucky for me Soul Train was there to pick up all the pieces and be the paramount source of Black joy that got us through the '60s and into the '70s and '80s. But this movie should have been that. Black kids should have seen what was on display, all the different kinds of Black talent, Black genius, Black art, and instead this movie didn't exist.
And what ripple affect did that have?
Questlove: As a result, Black musicianship starts to wane. Creatively starts to taper off in 1978 and it's mostly gone by the early '90s. This problem remains. Today, The Roots are one of four Black bands with a record deal. Black bands are an endangered species. For that matter, you can look at something like the Motown 25: Yesterday, Today, Forever television special from 1983, which ended up being its generation's equivalent of the festival that defined a generation and reshaped the world. It's not even the whole special. It's the segment where Michael Jackson did the Moonwalk. That's the four minutes that count, that created a multi-billion-dollar empire. That's when Thriller started to sell a million copies a week. That shows you the power. Imagine if this movie had been there in its time, how it could have expanded minds, planted seeds, how it would have given Black kids a musical alternative to hip hop. I also wanted the film to work as common-ground bonding. Those who lived in the era can revel in the nostalgia. Those a little younger, who experienced the era through fumes (samples, covers, rereleases) can get something from it too. And for Gen Z and millennials who are living in the reality we are living in, now, they can see a mirror of their reality and start to understand how platform and audience and creativity really matter.
Summer of Soul (...Or, When the Revolution Could Not Be Televised) is now in select theaters and available for streaming on Hulu.