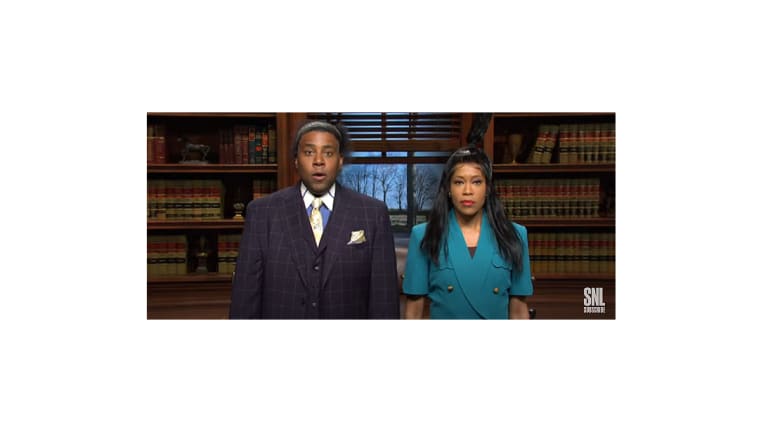 Regina King Delivered Laughs During Her 'Saturday Night Live' Debut
Watch host Regina King take on "Gorilla Glue Girl," feminist theater, cringey dating, and more during her Saturday Night Live debut.
Actor, director, and producer Regina King made her Saturday Night Live debut on Saturday, Feb. 13. From her "Monologue" to tackling the Gorilla Glue Girl debacle to the "Women's Theater" skit, King was hilarious while portraying a range of characters, proving the Oscar winner is as talented to take on comedy as she is drama and action.
As is customary, the SNL host delivers a "Monologue" at the beginning of episode. King was joined by cast member her hype man Kenan Thompson, who was dressed in an Adidas tracksuit and bucket hat a la Run DMC. Considering her achievements of an Academy Award, a Golden Globe, and several Emmys, Thompson rightfully amplified King's appearance on the series. The only issue was his gusto in doing so … 
Of course Saturday Night Live would've been remiss if it hadn't addressed Tessica Brown's Gorilla Glue situation, but the writers took their skit a little further with a whole family who used Gorilla Glue products as hair care and, uh, lubricant. Now the litigious family wants to help others who were "not stupid" and used Gorilla Glue in a manner it wasn't intended. (If you close your eyes, you'll see The Boondocks' Riley Freeman while King's character speaks.)
In "What's Your Type," King plays a dating show contestant whose type is cringey white dudes. While you'd think a potential white mate bringing up Vice President Kamala Harris's historic position every chance he gets, even when it's not the topic of conversation, was as cringey as it could get, the ultimate winner of the sexy single's heart is so much worse.
During "Women's Theater" cast members Kate McKinnon and Aidy Bryant join King as a feminist theater ensemble who performs an age-appropriate piece for a high school. Before clicking play, check the time to see how long it takes you to get the joke.
In "Birthday Gifts," King plays a woman who had the same idea for a birthday gift for her friend (Bryant) as the other women in their group. The skit is totally going to remind you of the Progressive insurance commercials featuring the character Dr. Rick.
King takes on the role of a Disco-era diva named Fliona in "70s Green Room." Will Fliona be able to perform when her demands aren't met? Or will it be like Tucson all over again?
"The Negotiator," King's final skit of the night, imagines what would happen if a police negotiator ate several "inconspicuous gummy bears" before having to perform her job. The piece features a song that is as catchy as SNL's "D*ck in a Box."
BONUS: Although this skit doesn't feature host Regina King, it's still worth watching as it depicts fitness enthusiasts riding a "Pelotaunt" instead of a Peloton.
Catch King's feature film directorial debut, One Night in Miami, on Amazon Prime Video.