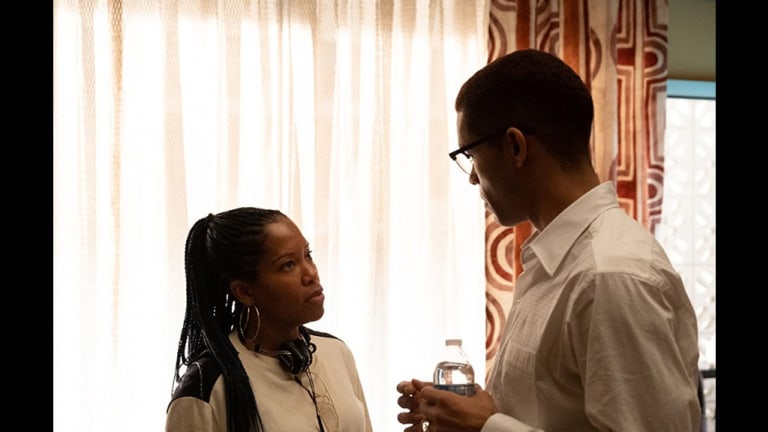 Regina King Celebrates 50th B-Day, Talks 'One Night in Miami' on 'Tamron Hall'
One Night in Miami star Kingsley Ben-Adir joined Regina King to discuss his role in her directorial debut.
Regina King celebrated her 50th birthday on today's edition of the Tamron Hall show. The Hollywood heavyweight revealed how this milestone birthday feels, whether she minds working on her birthday, and if she gets nervous when starting a new project, like her feature film directorial debut One Night in Miami. Kingsley Ben-Adir, who recently won the Breakthrough Actor Award from Gotham Independent Film Awards for his performance as Malcolm X in One Night in Miami, joined King on the talk show to discuss the film. He reacted to receiving the award and revealed his experience working with King, as well as portraying Malcolm X and Barack Obama in The Comey Rule miniseries.
Regina King on turning 50:
"I mean, it feels like being 49 or 48 or 47 or 22. You know I'm grateful for the wisdom I've picked up along the way. I'm grateful that I've been able to apply some of it, and you know honestly, you know Tamron, you can relate to this as well, you don't really feel much different as far as physically until, you know, you twist your ankle or something like that then your like, 'Oh, this is going to take a little bit longer to heal.'"
Regina King on why she doesn't mind working on her birthday:
"I have to tell you, for the past almost 15 years of my life, I have worked every day on my birthday. And I just kind of feel like the Universe has really looked after me all of these years so, you know, it's not broke so don't try to fix it. We'll keep this up on my 100th birthday ..."
Regina King on if she gets nervous, despite her past successes, when working on new projects:
"I do get nervous, I get nervous before every single project, whether I'm acting or directing. And I think that it's a good thing. I feel like I would be more concerned if I didn't get nervous, because when I'm nervous I know that it means something to me, that it is special and precious to me."
Kingsley Ben-Adir on being honored with a Gotham Award for his performance inOne Night in Miami**:**
"My God, I was so surprised man. I hadn't put it to the back of my mind, I had put it out of my mind. I was just so pleased just to be nominated. I've never been nominated for anything in my life. So when they said my name I was, I was so thrown, and had drunk a little bit too much champagne, so it was really genuinely the most surprised I've ever been in my life."
Kingsley Ben-Adir on playing the roles of Malcolm X and Barack Obama for separate projects at the same time:
"It's one of those ones where, you know, I've been auditioning and dreaming about to one day — maybe if I'm lucky — I'll have an opportunity to play a character [who] is deeply sort of rich and complex as Malcolm and, you know, it just so happened that two of them came at the same time and these are two huge opportunities. And you just have to throw everything you've got at both of them because the way Regina allowed us to play and explore together meant the making of this movie was really like an extended rehearsal, it was just complete exploration."
One Night in Miami also stars Eli Goree as Cassius Clay, Aldis Hodge as Jim Brown, and Leslie Odom Jr. as Sam Cooke. It's currently streaming on Amazon Prime. Watch the trailer below.