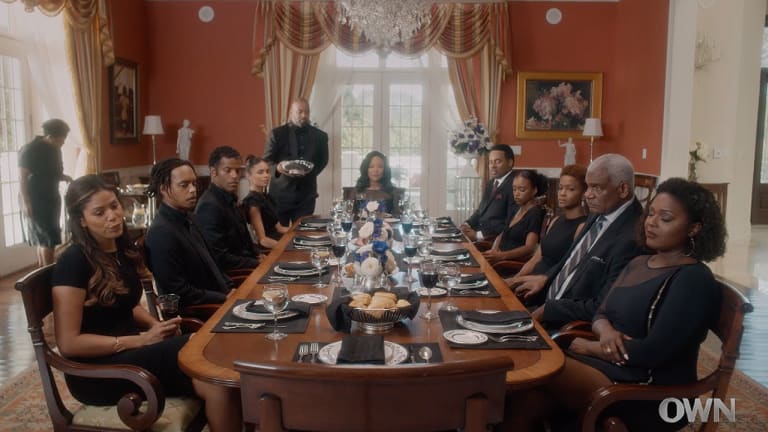 Recap & Predictions: 'Greenleaf' Series Finale [VIDEOS]
Relive what happened during the Greenleaf series finale and learn who we think might be the focus of the spin-off.
The title for the series finale of Greenleaf is "Behold," and the official synopsis is: "Grace and the Greenleaf family must lay the past to rest once and for all as God's plans for the future unfold." Though the family is still reeling from the events of the past few months, especially Bishop James's (Keith David) recent death, they're making an attempt to behold God and his plans for their future, even if they're reluctant at times to do so. The finale wraps up the series in a nice neat bow, and even though we're grieving the loss of one of TV's most watched and celebrated series, we know the Greenleafs, every one of them, will be OK. Let's get into the Greenleaf seris finale …
Before the title sequence, we get a glimpse into Lady Mae's (Lynn Whitfield) final moments alone with Bishop James. She's resting her head on his chest as they lay on their bed. The camera cuts to James's Bible where he wrote the words "I do" just before passing away. Then, Mae takes the ring James first proposed to her with from the nightstand and places the ring on her wedding finger. It doesn't matter that they didn't officially rewed, they're life partners as long as they both say "I do," as James said in the previous episode.
As Sophia (Desiree Ross) is finally telling Grace (Merle Dandridge) about the topless photos going viral and that she wants to change schools, Grace receives a phone call from a producer named Ann who wants to hire Grace to work at cable news station NY1. Apparently, the producer, who tried to hire Grace to work at 20/20 when she had first returned to Memphis for Faith's funeral, heard about the CBS exposé about Bob Whitmore (Beau Bridges) and Grace's role in that. We can see Lady Mae walking down the hall to Grace's room, as Grace takes her call with her back towards the door. Mae knocks on the frame to Grace's door and Grace immediately realizes something is wrong when she sees her mother. She starts to end her call, and Ann tells her time is of the essence.
All the Greenleafs who remain at the estate have gathered in James and Mae's bedroom to say goodbye. We hear Charity (Deborah Joy Winans) singing a Gospel song and the scene cuts to James's coffin being lowered into the ground in a grave near Faith's. Only the Greenleafs, including Kerissa (Kim Hawthorne) and AJ (Jacob Gibson), and Noah (Benjamin Patterson) and James's best fried Percy Lee (Richard Grant) are there for his funeral. While they're walking away from the gravesite, Mae is holding onto Jacob (Lamman Rucker) and reaches back to Kerissa, who seems shocked that Mae wants her for comfort. For a hot second, there's a glimmer of hope that Kerissa and Jacob might get back together.
The family sits down for lunch and James's place at the table remains empty. The scene hearkens back to one of the early scenes in the series premiere, in which they're eating after Faith's funeral. Surprisingly, AJ, who knew Bishop the least, is the first to speak about his grief. He says he doesn't understand how he can miss someone he barely knew, but he promises to build the car Bishop gave him no matter how long it takes him. Grace reminisces about Bishop telling her to check her heart before she does anything and make sure she's acting from a place of love, because there wasn't anything Jesus did that wasn't "dripping" with his love for humans. Then, Mae leaves to take a call and the rest of family toasts "to the Bishop."
On the phone is Misty Williams (Avis-Marie Barnes), who just met with the other deacons of Calvary, minus Connie Sykes, and is asking Mae to lead worship on Sunday. Misty tells Mae that Phil is gone and they're cutting ties with Harmony and Hope. The deacons want to celebrate the Bishop, and all he and Mae have done for Calvary Fellowship. Misty also wants Mae to remind the Church of where they've been, what they've achieved, and what a blessing it all was. But Mae doesn't immediately say yes.
Later in the day, Noah and AJ are showing Grace the house they're going to live in, and we learn that Noah has a new job as head of campus safety at a nearby college and that he and Isabell will make a clean break from their marriage. The really good news is that AJ's doctor informs him that his health is improving now that he's on the Dovato medication. He also doesn't seem to be angry with Grace anymore and they actually share a hug at his good news. He's even more comfortable with Grace and teases her about meeting Darius (Rick Fox) to make sure he has good intentions for her.
So if you were hoping Kerissa and Jacob's marriage could rebound from cheating, more cheating, chlamydia, blackmail, and hate, think again. In a very poignant scene, they come to understand that their divorce is actually their happy ending. However, Kerissa plans to stay in Memphis so Winkie (Cordale and Zion McCauley) can be close to his father.
At Zora's (Lovie Simone) cottage, she and Sophia are discussing what happens when a person dies, and AJ is listening while fiddling with one of Bishop's model cars. They ask AJ what he thinks happens, and he says he doesn't know, but still wants to see what happens when you live. This is the most optimistic we've seen him.
Meanwhile, Grace is discussing the job opportunity with Darius in her suite. He says she has to at least call Ann back, and Grace says her family needs her right now. Grace comes up with excuses why she shouldn't take the position: Sophia, AJ, her future with Darius. But Darius counters that Sophia and AJ are adults, and he's willing to accompany Grace to New York if she gets the job. This makes her serious consider the opportunity and she thanks him for supporting her after all they've been through. But Grace, as you'll see, is still not sure about what her future holds.
Later, Mae tells Grace, Jacob, and Charity about the deacons wanting her to speak, and says she wants them all to be there as a united front. Charity offers to sing, and Grace says that "Daddy did lay himself on the altar for us." While Mae is saying that Bishop will be there in spirit, but they won't have his smile, Ann calls Grace again about the job. Even though she's visibly distracted, Grace doesn't answer the phone. Mae notices her distraction and appears annoyed and upset.
Karine (Chevonne Hughes) greets Mae at Calvary and says she's so glad Mae is back, but Mae reminds her that she's only speaking at one service. Karine offers Mae her condolences for Bishop and Mae asks her not to bring up James until Sunday, saying, "Until then, my heart is a truckload of nitroglycerin and his name is a bump in the road. Understood?" As she's speaking, she and Karine arrive at the pastor's office and Karine had it set up again how Bishop liked it. Karine says she knows Mae is only speaking on Sunday, but she wanted her to have a place to hide just in case she needs it. This all too much for Mae, and she asks Karine for a moment alone.
Jacob has gone to the mission at the behest of Mae to ask Tara (Jennifer Sears) to give them three months to move out of the house, since Bishop died unexpectedly. Tara offers her condolences and wanders whether the stress of the past week's events put too much strain on Bishop. Jacob assures her that the Greenleafs aren't holding any grudges on their end, to his knowledge. Tara says of course she wouldn't think of making them leave the house so shortly after Bishop's death, but then she asks if they can just call it even because Jacob was always so up front with her. She says she doesn't mean it in a justice way because they're just humans, but she can't throw Mae out of her house or let Mae leave, not when she knows exactly how Mae feels and how Jacob feels, since Bishop is dead. Jacob asks, "But didn't God promise you a blessing?" Tara replies that maybe the blessing is something else, but either way she can't do it. She also says Mae can call her any time because they're good now. Jacob seems impressed that Tara's desire to do good isn't all talk.
Back at the house, Grace is meeting with Aaron (William H. Bryant Jr.) so she can set up a trust for Sophia, having already established one for AJ. Grace is now relieved that she isn't in possession of the money she inherited from her real father, Bishop Lionel Jeffries. Aaron says he knows it was strange to find out they share a father, but he's glad to get a sister out of the deal, and Grace agrees but says money can screw things up. Then Ann calls again, much to Grace's chagrin. She tells Aaron about the job opportunity, and he's confused because Charity told him that the all Greenleaf siblings would be associate pastors if all goes well at Calvary on Sunday. Grace is conflicted because she wants to be there for her family, but says she can't take the call and say no to the job. Aaron reveals he was in a similar situation once. He says he tried for the longest time to be straight, but he couldn't stop being gay. But one day a friend asked him, "What do you get out of believing this is a choice?" Aaron reminds Grace that it doesn't matter what he thinks and that it barely matters what she thinks, and if she can't say no, then you won't, and if you can, you will, and you'll never let not taking the call be your answer. In other words, the answer to whether she takes the job will come to her through God, but she'll never know if she never takes Ann's call again.
While Mae is trying to find a Bible verse that does justice to the kind of light Bishop carried, Jacob comes into her suite to tell her that Tara is letting them keep the house. Jacob wraps Mae's arm around his and tells her it's over, finished. Mae says Tara really is who she seems to be and Jacob says seems that way. Mae responds that she doesn't know what to say, but is relieved as she hugs her only son.
On Sunday, a "welcome back" sign greets the congregants as they return to Calvary for worship. Just a week ago, they thought they had said goodbye to their church forever. Jacob is surprised to see Tara as he's greeting other attendees. She says her favorite Gospel station wouldn't keep quiet about the service at Calvary. Jacob is concerned for Tara's own congregation, but she reveals that they're also planning to attend the service. Tara says she knows from Tasha that Jacob has always had a heart for the homeless, and he says indeed. So Tara suggests that all three of them work on homelessness together sometime soon, and Jacob says he would like that. They're a little flirty during this exchange, well, as flirty as two could be while standing in a church with a child present. As Tara is walking away, Jacob says letting Mae and his family keep the house really meant a lot to him. Tara says is was important to her too because she never thought she'd be able to add a mansion to the list of things she tells Jesus she renounced.
Charity sings before Mae preaches. Mae is wearing purple like the color of Bishop's robe and it's the same color (if memory serves me correctly) she wore the one other time she had the opportunity to preach — "A Day with Lady Mae." The Church receives Mae well, and she says she misses Bishop very much and reveals that she's probably talked to him more that week than she has in the past 10 years. She continues to explain that she told Bishop that they want her to speak about him. Then she mimics his response saying, "Me? What is there to say about this humble servant of God?" She says he told her to, "Tell them something new." So before the memories, Mae wants to say something to honor Bishop's wishes about "what is yet to be." She quotes Isaiah, who was speaking for God, when he said, "I am doing a new thing. Do you not perceive it?" Mae is in her element, and she wants her and the Church to think and dream about the new, and what this Church has never been, that they can't even imagine it to be. AJ is in awe. When Mae asks Jesus to make her something new, Grace also seems to get the answer for whether she should take the job. Now, AJ is in tears. Mae preaches for them to ask God to let them love their past enough to let it go and move forward. Towards the end of Mae's sermon, Misty seems to know the deacons made the right decision by asking Mae to speak. Sophia, who no longer seems to be angry at God, hugs her mother and says that she thinks their work here is done. Then, Mae invites the Church to come down to the altar to get saved, and AJ rises. Charity, Grace, and Jacob all notice him and go to hug and comfort him as he's saved and letting Jesus make him new. Mae begins blessing others in the Church too.
Following the service, Mae is sitting in Bishop's office, which is most definitely hers now. Grace comes to speak with her, and says Mae got the church back and she overheard Misty telling newcomers that Mae will be preaching there next Sunday and every Sunday after that. They both express happiness that AJ got saved because he needs that peace, and Grace says they all do. But Mae realizes that Grace has something more to say. Grace tells her it's time for her to go, and Mae says not now because she needs her, especially with James gone. But Grace says it's Mae's time and hers and "Let us trust Him." Grace reaches up and they kiss each other on the cheek.
Back at home, Grace is getting ready to leave for her interview in New York, but tells her family she'll be back in a few days. However, Zora reminds her that she'll need her "hype woman" when she touches down in New York. Jacob tells Grace she's going to get the job, and asks her to keep an eye on Zora for him. The two remaining Greenleaf sisters are in a much better place than they were at the start of the season, as Charity as made amends for her betrayal of the family, specifically helping to get AJ arrested. Grace asks Charity to keep an eye on Sophia, because she's wilder than she seems, referring to the topless photos Grace recently learned about. Charity is tearing up already and tells Grace that God is going to do something special with her, "something new." Charity also admits that Grace is the best sister and she loves her. Then Grace gets ready to say goodbye to Mae, but her mother tells her not to say anything and hugs Grace. Mae says, "Thank you … [for] sowing discord in my fields of peace. They needed it." Mae is referring to the hostile welcome she gave Grace in the first season. Grace says she doesn't want to go, but Mae says that's why she has to.
In the car, Grace is looking out of the window at the grounds of the estate when the driver asks if she's Pastor Greenleaf. Grace's response is that she's just Grace Greenleaf for now. He says that he hopes that's the way she wants it, and Grace responds, "Me too." The car drives out of the gate and Grace turns around to watch it close again, reuniting the parts of the G for Greenleaf, and she takes a deep breath and slight smile forms on her lips.
I've been trying to figure out all season which characters will make it into the Greenleaf spin-off. While it seems obvious the next chapter will focus on Grace's new life as a television news producer in New York with Darius, that could be a misdirection. I can also envision the saga continuing with Jacob as the main character. Remember he promised Tasha that once his divorce is final, they could explore a possible relationship. Plus, he and Tara have chemistry and both have a ministry to help the homeless. I guess only time will tell. If you haven't already, definitely watch OWN's farewell special that aired after the Greenleaf series finale.