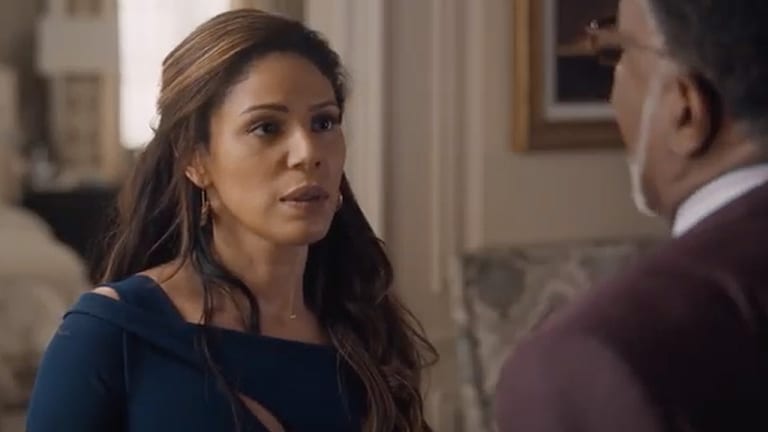 Recap & Predictions: 'Greenleaf' Season 5, Episode 5 [VIDEOS]
Find out what went down during the fifth episode of the Greenleaf final season. SPOILERS ahead, you've been warned.
Well, we've reached the halfway mark of Greenleaf season 5 with episode 5, which is aptly titled "The Fifth Day." (BTW, if you play 555 and, hit off your girl — me — with some of your winnings.) As the episode opens, the Greenleafs are preparing for Mae's church service at the house. This is how the family has chosen to commemorate what might be the last Sunday of Calvary's existence, rather than show their faces at "that husk of a church," as Mae calls it. And that's an apt description, as new pastor Phil Demars and soon-to-be first lady Judee Whitmore don't even respect it as God's temple. You see, Karine (Chevonne Hughes) has chosen to honor the sabbath with the Greenleafs, while her grandmother went to the service at Calvary. The grandmother has been texting Karine throughout the service and says it feels "like a wheelchair going down a circular staircase." She also let Karine know that Phil and Judee had a wrecking ball moved in front of the church while the service was occurring, and after the service the two Harmony and Hope lackeys were taking selfies while wearing construction hats. Rather than save the original Calvary congregants some hurt, Phil and Judee chose to remind them that their sanctuary was being demolished. I wonder what Bob Whitmore would do if there weren't any Black members of his multiracial church, which is supposed to be the ace in his pocket for getting elected senator. But "The Fifth Day" is about the Greenleafs dealing with their trials and tribulations. Lady Mae and Bishop James are trying to decide what to do about Tara. Kerissa and Jacob are dealing with the dissolution of their marriage and what that means for their children Zora and Winkie. Grace is coming to grips with AJ wanting to be with his father Noah. And Sophia is addressing the fallout from her topless photo being posted on social media. Let's get into it …
Sophia, Grace, Zora, and AJ: The episode opens with Grace waking Sophia so she can attend Lady Mae's church service downstairs. Sophia says she's exhausted from texting with girls from Hampton University, but she doesn't tell her mom about the topless photo. Sophia says she'll come down for brunch to be with the family, but isn't participating in the service, and Grace tells her that she's a Greenleaf so family and service are the same thing. Even though the season hasn't totally dived into Sophia's crisis of faith after her ovaries were removed, there have been hints at it and this is one of them.
As they're getting brunch, Sophia tells Zora that a boy at Hampton screen-shot her pic and shared it all over campus. (Um, why hasn't Sophia confronted Dante about Nikki posting the photo to his social?) She says she's too embarrassed to go back to school. Zora tries to convince her not to change her whole life plan because of one situation. During their exchange, Sophia asks when the church is being torn down. I found it interesting that she didn't know. It's as if she's completely removed herself from the faith aspect of being a Greenleaf. Later in the episode, Charity asks Sophia and Zora to watch Nathan while she makes a phone call. They say OK, but Sophia reminds Zora that she's doesn't like interacting with babies or children anymore, presumably since her ovaries were removed. After Kerissa and Jacob interrupt Zora and Sophia's babysitting, Sophia is left watching Nathan alone.
Sophia has gone from the girl who enjoyed children and taught Sunday school to the girl who can't even connect with her baby cousin. I've always had an issue with how Sophia lost her ability to conceive a child. In today's age, the surgeon who was supposed to remove one of Sophia's ovaries would've came out of the operating room to tell Grace it was necessary to remove both of her ovaries, during the surgery. Either that or they would've informed Sophia and Grace after that it would be necessary to perform a second procedure. It wasn't a life or death situation at the time and either Grace or Sophia should've been given a choice.
Later, AJ joins Sophia as she watches Nathan. He can tell there's something wrong, but she won't say. He says that he stuck around the area for her. She says thank you and he replies not to thank him but tell him what's going on. Sophia says she's just an idiot and people suck. AJ says, "Tell me about it," and it's not clear whether he is agreeing or means literally for Sophia to tell him about it. Once Sophia has told AJ what happened, he tries to convince her to go back to Hampton anyway. He tells her to look at him with everyone (really a few) knowing about his HIV status and he still showed up. She says he's better than her, and he replies that she has no balls. He asks what does she want and she says not to have to go back to Hampton and deal with the "bitches." He says that's what she doesn't want but what does she want that she can have. Sophia says she wants to stay there with him and Zora. AJ says that sounds lame because even if they had been raised there together, she'd still have to grow up and leave. He also points out that it's weird for people the ages of Charity, Jacob, and Kerissa to be living at home with their parents. AJ says, "You're gonna have to go somewhere some time, and you're gonna have to bring your sorry self with you, and it ain't never gonna be easy, but you're gonna do it. You will. Him too," referring to Nathan, Charity's baby. As he leaves, Sophia seems to consider what AJ said.
Jacob, Kerissa, and Zora: Kerissa apprehensively approaches Jacob about telling Zora about their divorce, as he tying his tie ahead of the service. He says yes. She questions that he still wants to go through with it, even Lady Mae is opposed to it, and says Mae still runs Jacob's life. Kerissa also blames him for ruining their children's lives. He asks if she and Fernando, the man she had an affair with, spent their afternoons together looking at photos of the kids. It's confusing whether Kerissa wants the divorce. The day before, last episode, she said she'd drop the will shenanigans, but their marriage was done.
During the service in which Mae is preaching about not dwelling on the past and letting bitterness creep into their lives because they have so much to celebrate, like worshiping God as a family and "hopefully, seeing each other anew in light of that holy awareness." This prompts Kerissa to look up at Jacob, who scowls back at her. Later, Kerissa makes a snide remark and Jacob asks if she can ever just give it a rest, so Kerissa asks Jacob if he wants to get into it in front of everyone. James tells Kerissa that ever since he met her, she's been a woman of great devotion and to concentrate on the blessings she's received and settle down. Jacob says amen, and James tells him to do the same.
After the service, Jacob and Kerissa sit Zora down to talk. Zora makes a joke about divorce, telling them to start with it's not her fault. Jacob tells her that they are getting a divorce. Kerissa says that they're going to tell Winkie tomorrow with a child psychiatrist, but they're telling her now because they know how she feels about therapy. Zora wants to leave the room and says she wishes they had divorced a long time ago for Kerissa's sake, because she knows about Jacob's cheating. She tells Kerissa to stop defending Jacob. Kerissa says it's not all Jacob's fault and they both had a hand in destroying their marriage. Zora seems to figure out that Kerissa cheated also and says she's sick and barges out of the room. Jacob asks if Kerissa thinks Zora will be OK, and Kerissa responds that she has to be. He thanks her for saying it wasn't completely his fault. Kerissa starts crying and says she's still willing to drop this whole thing, but after they tell Winkie there's no going back because she will not put their son through that pain for nothing. Jacob says understood.
Zora goes to her cabin alone to process what her parents told her and to cry.
Charity and Yusef Shabazz: Charity is prompted to call Yusef Shabazz herself, after Karine informs her about the wrecking ball in front of Calvary. When he answers the phone, he assumes it's Grace calling him again. Charity tells him she was almost Charity Demars, referring to her broken engagement with Yusef's son Phil Demars. On the phone, Charity tells Yusef the whole story about Harmony and Hope and that they could really use some help up there. She asks what his wife did for Eden Veil Lending or what did Eden Veil do. He tells her they have a saying in New Orleans: "The river only flows one way, and it ain't got nothing to do with the river." Even though it's not clear what he means (or maybe that's just me), Charity says she hears him, and he cuts her off to say it doesn't seem like she does. Then he hangs up on her.
Grace, Noah, and James: During brunch, Grace and Noah privately reminisce about Consecration Sunday at Calvary, which is also when Grace lost her virginity to Noah. Upstairs in her suite, Grace tells Noah about Tara wanting the house and the church being torn down. They chat a bit about AJ and how Noah doesn't feel like he's a 24-year-old's father. Grace says she's glad AJ has him, though, and Noah thanks her for letting him in. Grace admits to being tired and not sleeping at night because of the thought of losing the house and her past with Noah. Noah offers a pillow on his lap for Grace to nap. Then, he asks why Loretta Davis would've left the house to Darryl James anyway, and Grace says no one knows. After she wakes, Noah says he remembered coming across a ledger or journal the caretaker who worked for Loretta Davis kept. He says the journal contained plans and sketches, as if the caretaker thought he was going to inherit the property, and several times the caretaker wrote, "the Negro came by" and "that Negro came over." Grace is surprised the caretaker was white, and Noah says just like Loretta. Noah asks what if "that Negro" was Darryl James. Bishop interrupts before they can talk more about the journal. Bishop asks Grace for money to pay off Tara, so they don't have to give her the house. Later, Grace finds the ledger in the cabin now occupied by Zora.
Mae, James, Tara, and a surprise: The entire Greenleaf clan, along with Karine and Noah, attends the service. Even AJ is there but not surprisingly Nathan is absent. Lady Mae tells them that everyday is a gift, even a day like today, the last Sunday of Calvary. James calls the service at Calvary a conjuring because he says he doesn't know what else to call it "when people gather around to breathe unholy life into a corpse." Mae admits it's weird for them to be gathering in the home for service, but says it's the way the early followers of Jesus met after his ascension. Her message is message is new beginnings.
After the service, Mae prepares to visit Tara James. She tells James that two Greenleaf men have gone to talk to her, and with the help of God, a Greenleaf woman can solve the problem. Bishop tells her it's dangerous down at the mission. Mae responds him, "Especially dangerous for this Skanks-adjacent saint who wants to take my house. Pray for her." This Lady Mae zinger lets us know that she will have guns blazing when she meets Tara.
Mae arrives at the mission, and watches Tara giving out bags of food. Inside, Mae asks about the mission and how many children come to service on Sundays. Tara says she has been in the location for two years, but has always preached in the area, and talks about not being able to keep up with rising rents. Mae asks if it never occurred to her to do something more ambitions. Tara asks what's more ambitious than saving a child or saving a soul. Mae responds "saving a thousand or feeding ten thousand." Then Mae asks again if it never occurred to her to do something more. Tara says she knows "God gives those glorious visions to some, but she has always looked to the Gospels for direction," and Jesus didn't build a temple or ask for donations, he just helped those who came to him, so she's tried to do that. Mae steps to Tara and punctuates her final step with a slight stomp. And says, "But now you want my house?" Tara calls her Ms. Greenleaf repeatedly throughout the scene, as if she knows Mae and James are still divorced. Tara says she knows she doesn't have a firm legal claim to the house, but if Loretta wanted her father to have it and if Mae's brother or somebody got her father out of the way for it, then the house could be a shelter for women and foster kids and parents. And "Ms. Greenleaf" could be doing so much good. Mae says she should've known better because this morning when she asked God for a new beginning. She says God has quite a sense of humor, and tells Tara she's doing good work and leaves.
Mae returns home looking exasperated and James asks how the conversation with Tara went. Mae says she doesn't want to talk about it, but James pushes, saying she went down there to handle it woman-style and he wants to know what happened. Mae says that she thinks they have to give Tara the house, which angers James. He asks who says, and Mae responds that she thinks because Jesus says so. James then asks, "Who says, you?" Mae says she's not sure but she wants to hear from God and retires upstairs. James says He hasn't told him yet.
Later in the day, James tells Mae about his plan to borrow money from Grace to pay off Tara. Mae doesn't want them begging Grace for the money she inherited from her real father. Mae eloquently says, "That money of hers is a stain on the dress of time that time will never fade, James. It is evidence of the biggest mistake I've ever made." James asks if she's going to let one mistake rule the rest of her life. Mae says it wasn't one mistake — having an affair and conceiving Grace — because she had to lie everyday of her life for 40 years, kept herself at a distance, and lived alone in her head with only a secret for company. She doesn't want to use that money to paper over this situation because it will just make it worse. She wants their new church to founded on truth and made sturdy like "any simple well-made thing." In the middle of their argument, Mae stops and says they're giving Tara the house, and that's seemingly final. James says that she's making him look like a murderer. Charity interrupts them to ask if they'd like to go with everyone else who is going to Calvary to say thank you, instead of goodbye. Yes, of course the Greenleafs had to have one more and final moment at Calvary all together as a family!
At Calvary, all the adult Greenleafs and teens Zora and Sophia are reminiscing in the sanctuary of Calvary. Bishop James Greenleaf thanks Charity for the opportunity for them all to be there one last time together and tells them that the visit has been balm, or good, for his soul the same way the Friday of Jesus's crucifixion can be called Good Friday. He continues his final moment on the altar of Calvary and says let's seal up this tomb and wait for their miracle. He says Jesus didn't hang onto anything and even let himself be called a criminal, even though he had done nothing wrong, which harkens back to him telling Mae it would make him look like a murderer if they pay off Tara. The Greenleafs take each other's hands and stand in a semi-circle looking up at the cross above the altar. Jacob and Kerissa are on the ends, while the Greenleaf siblings are on one side of Bishop who is standing next to Lady Mae. Zora, Sophia, and Kerissa are on the other side. Bishop says he's been a liar all these years, and Mae asks how so. He says he pretends to serve only Him, but there's a part of him that serves only Mae. Bishop says He forgives him. Mae responds that's so merciful for both of us. Bishop tells Mae to give Tara the house if she wants. Mae says if He wants and then whispers, "Thank you, Lord Jesus."
At night, James and Mae go to the mission. As they're walking up the steps, they're talking about Kerissa taking Winkie to the psychiatrist and James asks if it's settled that Kerissa and Jacob are divorcing. Mae says unless something changes tomorrow, but either way she thinks they'll be able to work out a reasonable timeline with Tara, because she's a reasonable woman. (Hmm, could Jacob and Kerissa end up staying together? They kept stressing that they have one more day to decide.) Tara is surprised to find them at the door when she opens it. And ROCHELLE — yes, Rochelle Cross, Tara's sister and a Greenleaf nemesis — grabs open the door further and says, "I told you, Tara. Those Greenleafs are like a bad penny, you just can't get rid of them." Mae and James are astonished to see Rochelle. She saunters past them and winks at James as she says, "Ciao." Mae and James turn back to look at Tara, who is trying to appear innocent or as if all the plotting was Rochelle's doing, not hers.
Wow! So Rochelle mother-effing Cross is back to exact revenge against the Greenleafs for the death of her father Darryl James! So I kind of guessed Tara had called Rochelle when Jacob first came to visit her, because they made a point of stressing that Tara and Rochelle are full siblings, whereas Tara is half-sister to Baisie Skanks. Rochelle is a very conniving con-artist and likely already has a plan in place to obtain the entire Greenleaf estate. Woo, this is getting so good, but I'm sad it's the final season. Until next week …