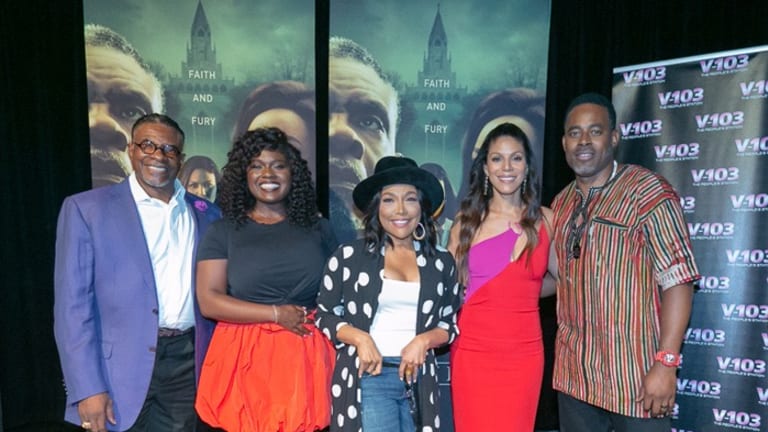 Quick Pics: 'Greenleaf' Cast Watches Season 3 Premiere in Atlanta with Fans
Check out images from the season 3 premiere of OWN's Greenleaf.
Last night, Aug. 29th, OWN and V103 hosted a watch party for the first night of Greenleaf's season 3 premiere at SCADShow in Atlanta.
Reportedly, more than 300 diehard fans filled the theater to watch the ongoing drama affecting the Greenleaf family. As we teased earlier, Lady Mae (Lynn Whitfield) and Bishop (Keith David) are really going through it.
"Lady Mae and Bishop are really going to have a hard time with their relationship this year," Whitfield said exclusively to me in February. "It's really rough going. We shot a scene Wednesday that … Oh my God, it was so powerful. You know, it's interesting to see a couple who's been together so long go through challenging times. So you're going to see everybody starting to figure out individually what they're about. It's a very interesting season."
Cast members Merle Dandridge, Whitfield, David**, Lamman Rucker**, and Deborah Joy Winans attended the screening and participated in a Q&A, moderated by V103 radio personality Ramona Debreaux.
Following the Q&A, attendees got a chance to take photos with the Greenleaf cast during a post-event Meet & Greet.
The second part of the Greenleaf season 3 premiere airs tonight on OWN at 10/9c.