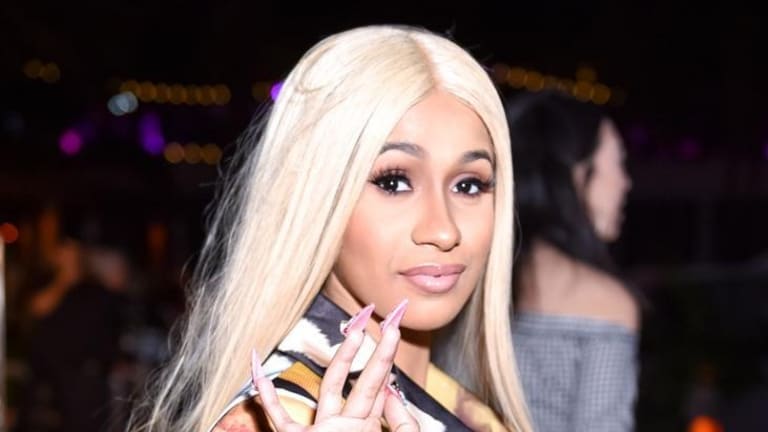 Quick Pics: Cardi B & Joan Smalls Attend Moschino Miami 2017 Fête
Quick Pics: Cardi B & Joan Smalls Attend Moschino Miami 2017 Fête
During the hottest week in Miami – Art Basel – celebs made their way to Eden Roc Miami Beach to celebrate the launch of Moschino Gold Fresh Fragrance. The evening kicked off with Jeremy Scott's private sit-down dinner, where partygoers sipped on specialty Moschino-inspired cocktails by Tanqueray No. TEN, including "Fresh Gold," "So Fresh & So Clean," and "Select Rose." Guests headed inside to the star-studded party, enjoying cocktails from the Tanqueray No. TEN bar and pop-up bar carts, while snacking on Shake Shack burgers. VIPs were treated to Tanqueray No. TEN bottle service before a special performance by Cardi B, which was exclusively live-streamed by TIDAL, bringing the show straight to viewers at home. The fun didn't stop there as rap sensation G-Eazy surprised the crowd for a collaboration with Cardi B.
Jeremy Scott seated in between Cardi B and Joan Smalls who were all smiles chatting up Diplo across the table while sipping on signature Tanqueray No. TEN cocktails at a VIP dinner before the party got started.
Cardi B wore a head-to-toe Moschino look.
It was a "golden night" for Joan Smalls.
Joan Smalls also wore an all-over Moschino look.
Partygoers and VIPs hit the Tanqueray bar to grab their specialty Gin & Juice cocktails before Diplo's opening set that really got the party started for the queen Cardi B.
Diplo performed.
Cardi B welcomed G-Eazy as a surprise guest to perform their hit song, "No Limit," while guests sang and danced with Tanqueray No. TEN Gin & Juice cocktails in the air.