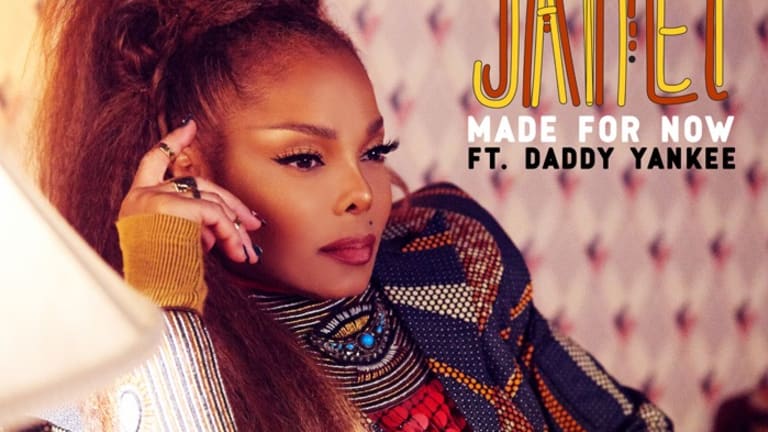 Quick Pic: Janet Jackson Releases Art & Video for First New Music Since 2015
Janet Jackson is reclaiming her title as Princess of Pop with new music set to be released this week and a performance.
UPDATE: As we teased earlier this week, Janet Jackson has released the official music video for "Made for Now," which features Reggaeton phenom Daddy Yankee. Check it out below!
Janet Jackson isn't letting a divorce from Wissam Al Mana stop her from reclaiming her title as the Princess of Pop. She's focused on work and is back with new music. Last night, she teased the single and music video for "Made for Now" by releasing the artwork for the new song.
Ms. Jackson collaborated with Reggaeton sensation Daddy Yankee on the Afrobeat and Latin-inspired song.
The single will be released on Friday, Aug. 17th. That night will also mark the first time Janet and Daddy Yankee have performed the song on TV. They will take the stage of The Tonight Show starring Jimmy Fallon at 11:35 p.m. EST to perform "Made for Now."
According to press materials, the Harmony Samuels-produced track is "meant to move people to enjoy their lives and seize opportunities today, not worry or wait until tomorrow."
The music video for the new song will also be released on Aug. 17th, and is expected to "transport fans to a neighborhood dance party filled with cameos from a contingent of international dancers from Ghana, Nigeria, Grenada, Trinidad, and the U.S. who were hand selected by Janet."
"Made for Now" culminates an incredible summer for Janet, despite her personal woes. She performed at not one but two festivals, Essence Festival in New Orleans and Panorama in New York. It was recently announced that she will headline the Global Citizen Festival in NYC's Central Park on Sept. 29th.