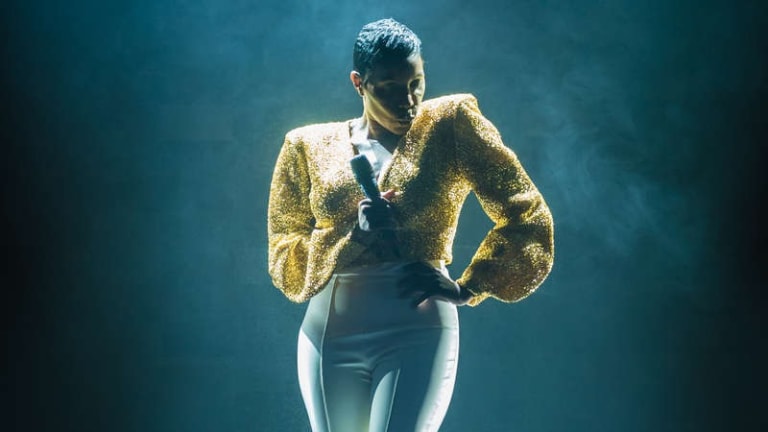 Paying Homage to Sommore for Her Latest Comedy Special 'A Queen with No Spades'
Sommore chats about her Showtime comedy special, her love affair with stand-up, and remaining a "queen of comedy."
There is a reason Sommore is a "queen of comedy." Back in the 1990s, when Black comedians were getting unheard of shine on the now iconic Def Comedy Jam, there were only a few women in the mix and Sommore was one of them. Although she's appeared in such films as Friday After Next and sitcoms like The Hughleys, Sommore has made her greatest mark on stand-up comedy. That was solidified with the historical The Queens of Comedy tour with fellow funnywomen Miss Laura Hayes, Adele Givens, and Mo'Nique, as well as the concert film, which premiered on Showtime in 2001. With her latest comedy special, Sommore: A Queen with No Spades, which dropped on Showtime December 21st and can be viewed On Demand, Sommore is still a queen. In this exclusive interview, she shares her love for stand-up, the comedy special, Sheryl Underwood, her longevity, and more.
With Tiffany Haddish on the scene, it seems like the mainstream has discovered Black, female comedians. Have you gotten more love or has nothing changed?
Sommore: The beautiful thing about me is I've been doing stand-up for 25 years. I have a core audience and we've been rocking for 25 years. Nothing has changed for me since Tiffany Haddish came on the scene.
With this special, you are slightly more political than years past.
Sommore: There is this old saying that says, "If you ever want to know what's going on in the world, listen to what the comedians are talking about." I think as a comedian you have to talk about what's going on in the world.
What do you think this special,Sommore: A Queen with No Spadesshows people?
Sommore: I think the special shows my maturity as a woman and, as a comedian, my growth. Things are a little bit different and, as an artist, I think you have to be true to that. It would look odd for me to comedy the same way I did it 25 years ago. It wouldn't look classy either.
Do you write all your own jokes or do you have a team doing it?
Sommore: I write my own jokes. Of course as an artist I have people around me that if I need to bounce things off of and say do you think that's funny. Yeah I have that but for the most part I write my own stuff.​
​What do you credit your longevity to?
Sommore: First of all to God and to people appreciating stand-up and to my being creative and continuing to grow, meaning that I never take my audiences for granted. I'm always professional. I'm always writing new jokes. And of course to some extent the fashion that I wear.
And you are still a pioneer there. We don't really see many female comedians who are as glamorous as you.
Sommore: Oh thank you. I'm one of those people. I tell people that even if I was working at McDonald's, I would be fancy. I would probably have sequins around my collar. It's just who I am. You know how you see that one old lady and she just have on extra, that'll probably be me one day.
Are you into age-appropriate or do you get a lot of action from younger men?
Sommore: You know I've been in a relationship for so long. If men hit on me, I probably don't even know it.
Another thing you do is talk about sex in a respectful way from a female perspective.
Sommore: Thanks for noticing. I try to keep it funny but grown.
In the beginning of your career, were you equally accepted?
Sommore: It's definitely a male-dominated business and there are still men who just don't think that women are funny. But for me, I choose every single time that I go on stage to prove that to be wrong. I think that there are some things that we have to overcome and I'm not sure that it will ever be equal. There's just some things that will never be equal, but there are definitely some funny women. And I think the Queens of Comedy showed that we can do it and that was a very big monumental step in comedy for women. So I'm sure that we will have other things like that.
​Have you experienced any Me Too situations in your career?
Sommore: No nothing like that has happened to me in my career.
Do you mentor younger female comedians?
Sommore: Yeah, I do but I don't really talk about it. I have some younger female comedians that we keep in touch, we reach out from time to time. If they find themselves in situations, they can call me. We talk and I think that I do pretty well with my opinions and my suggestions to them.
OnThe Talka few years back Sheryl Underwood shared that she overheard you and the other Queens of Comedy dissing her. How did you handle that?
Sommore: I handled it by absolutely saying nothing about it. I spoke about it on The Breakfast Club and it was basically a business meeting that Sheryl overheard and sometimes in business the conversation is hard.
Where else is there for you to go?
Sommore: I'm doing what I love to do. I am a stand-up comedian who works just about every single weekend. I've been touring constantly for the last 10 years. I executive produce all my own [concert] films. I have four out right now and another one that's coming called All the Queen's Men. So [I'm serious] when I tell you that I'm living my life, loving what I do, and I'm just glad that they are buying what I'm selling.