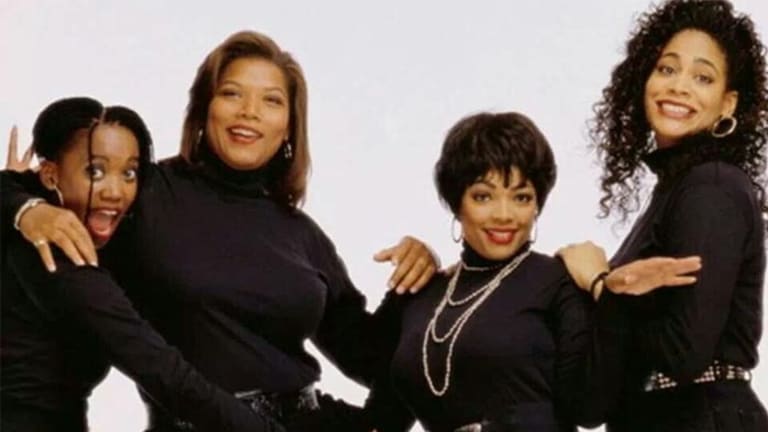 Our Favorite Maxine Shaw Moments Since She Almost Didn't Make 'Living Single'
Y'all, Living Single creator Yvette Lee Bowser just revealed that execs wanted her to cut Maxine Shaw from the series.
Just like The Golden Girls, all-four main characters of Living Single were essential to the series plot. But the executives, aka the powers that be hatin', apparently, didn't feel that way. Show creator Yvette Lee Bowser recently revealed during an interview for Netflix's Make a Scene that she had to fight to keep the character of Maxine Shaw, who was iconically played by Erika Alexander, in the show.
Bowser was asked to recall a time when she felt invisible in the entertainment industry, and she said:
"I'd have to say that the moment that I felt unseen in this business was also kind of a pivotal and career-defining moment for me. And it was the moment when I got my first set of notes on the first show I created, Living Single. And they wanted me to remove the character of Maxine Shaw from the show because she was unapologetically Black and female and fierce, and all of the things that, if I wasn't at that time, I wanted to be ultimately. And I knew that that would be a powerful force in the world 'cause I know that our art is, you know, our art is our activism, and I knew that that voice had been missing. And I was told to take the character out of the show in order to get the show picked up. And even though I had everything to lose, I stood my ground and said to take Maxine Shaw out of the show is to take a big part of me out of the show and I'd rather not do the show."
The adjectives Black, female, and fierce are often disgustingly mutated to mean "angry Black woman," but not in Maxine's case. While she was loud and brash, and had a slick tongue always ready for a clap-back, Living Single proved that she was deserving of love, with Kyle Barker (T. C. Carson) being her perfect counterpart. Not only was Max "unapologetically Black and female and fierce," she was also the only character who was financially secure and living on her own. Of course, she did turn freeloading into an art form, but that was just her socializing with her friends, right?
And let's also not forget the hair trend the character birthed. Maxine took the "Halle Berry cut" of long tendrils framing a super-short bob and upended it by adding box braid extensions, proving in the 1990s, no less, that natural hair was indeed professional enough for the office, the law office.
Can you imagine Living Single without Maxine Shaw, attorney at law? Yeah neither can we, so we took to YouTube to relive five of our favorite Max moments.
Max gets hot and bothered by Kyle singing "My Funny Valentine" to her.
Max gets a tattoo … Well, not really.
Max wants a piece of the drama on the Delia Show
The gang goes to see Brian McKnight in concert just as Kyle and Maxine have broken up.
Once again, Maxine just can't handle Kyle serenading her.
Thank you, Yvette Lee Bowser, for fighting for a character that so many young Black women identify with to this day!