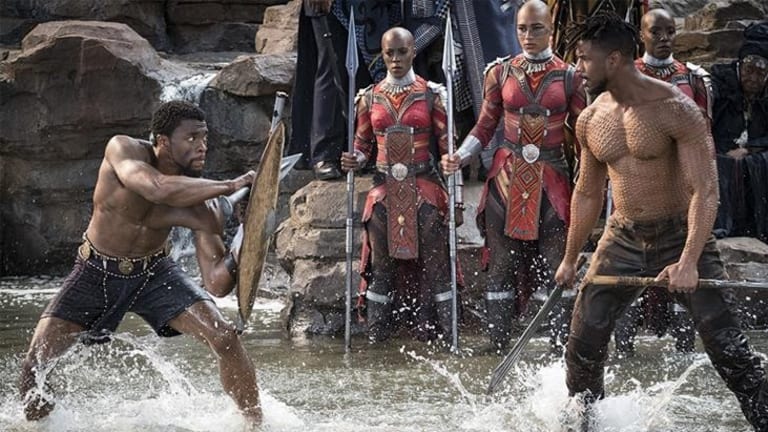 Marvel Strikes Gold with 'Black Panther'
The King has arrived.
With a cast of top notch talent, stunning visuals, and a smashing soundtrack curated with help from Grammy Award winning artist Kendrick Lamar, the charismatic package of Marvel Studios'Black Panthercan only be described as a much needed experience, breathing a breathe of fresh air into Hollywood, the world, and cinema.
When Marvel Studios pushed Black Panther back from its original release date in November of 2017, it inadvertently set the stage for something majestic. What was originally a move to make room for Spider-Man: Homecoming has now become one of the most anticipated releases of all-time setting pre-sale records with a film featuring a predominately Black cast, $200 million budget, and a debut during Black History Month.
Following the events of Captain America: Civil War, Prince T'Challa (Chadwick Boseman) returns home to the fictional African nation of Wakanda – the world's most technologically advanced nation posing as a third world country – to ascend to the throne. Soon after he takes his rightful place as king, a new challenge presents itself in the form of an unexpected rival and T'Challa must channel his superhero persona to save Wakanda.
The film featured a who's who of Black excellence starring Michael B. Jordan as the main villain, along with Lupita Nyong'o, Danai Gurira, Angela Bassett, and Forest Whitaker in supporting roles. Not only did the film showcase much needed representation in the ever so popular superhero genre, it did not waste the platform. With moments of heightened monologue – deserving of Keenen Ivory Wayans' unexpectedly shouting "message" – the film's themes and ideals forced spectators to take a look in a mirror touching on today's current global political climate and racism issues.
Normally, you'd expect big-budget superhero movies to garner a large turnout and the complementing pandemonium, but not since opening night of Get Out did I experience that nostalgic euphoria as a moviegoer, where I was witnessing something magical with a room full of strangers. Director Ryan Coogler yet again proves himself to possess auteur-like qualities, putting on a glorious visual and cultural display the likes of what we've come to expect from Marvel Studios, all while staying true to his motifs with a story he penned alongside Joe Robert Cole.
The film's true impact didn't hit me until yesterday morning. As I sat on the phone with a friend across the country who also saw it last night, we shared tales of beautifully dressed moviegoers and wild crowds, while reciting some of the movie's more memorable lines, I realized the hottest ticket in town provided a type of community and excitement you'd expect to be shared by a group of elementary school students seeing their teacher wheel in the television. This was truly a good movie for everyone to enjoy – not just African Americans or comic book enthusiasts – that you will not just want to see, but need to see opening weekend to get the full sense of its prowess. Black Panther has brought the fun back to escaping to the cinema with a dramatic immersion into a new, bold, and beautiful world.