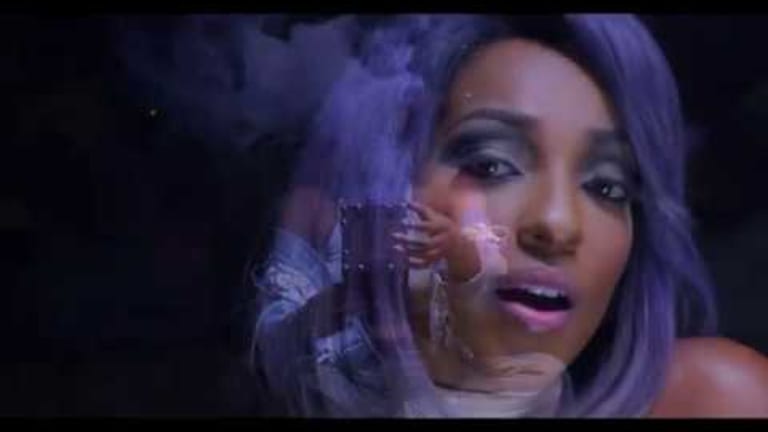 LeA Robinson: 'The Granddaughter of Hip-Hop' Gets Vulnerable
LeA Robinson: 'The Granddaughter of Hip-Hop' Gets Vulnerable.
LeA Robinson first got your attention planning her lavish birthday extravaganza on MTV's My Super Sweet Sixteen, as the granddaughter of Sylvia Robinson, the founder of the iconic Sugar Hill Records. Now, she and her family are showcasing the family business for the whole world on Bravo's First Family of Hip Hop. UPTOWN spoke with the singer and dancer on the difficulties of opening up her life to the public, what makes the reality series unique, and her upcoming music project, a much-anticipated EP titled S.A.Y. (Songs About You)
UPTOWN:Tell me how theFirst Family of Hip Hopcame about? Were you guys interested in doing the show for a while or did someone from the network approach you?
LeA Robinson: So it first started with Darnell [Robinson], my brother. He kicked it off with my Uncle Joey. They had been trying to develop the show for probably like a year. To be honest with you, we did the pilot, I didn't even think the show was gonna happen, and then it did happen, and then it got real. The show was in development for about a year and it was a really great bidding war between two great networks, and Bravo was super interested. We just loved their family and their team so we went with them and it's been really amazing.
U:There are a lot of other family oriented shows out there. What makes this show different?
Robinson: I think our family is just different. There's so many different types of characters in the family. What you get on camera is what you get off camera. So there's just so many different types of just interesting characters. The dope part of the show; I love that it shows the family dynamic and it also shows that we go through things, because we do. And that's the real part of it. I love that.
U:Are you happy with how your family is being portrayed?
Robinson: Um ... I don't know. It's interesting because it's life. There's certain things that you really like and there's certain things that you're not quite fond of, but it's just life at the end of the day, and we chose to do television and that's making the entire family vulnerable.
U:Was it hard putting yourself out there for the world to see? This is kind of a major introduction, not only for your family, but for what you want to do as an artist.
Robinson: For me I'm not even gonna lie, it was very difficult because I'm just naturally a private person. I like to handle things when I handle them and just go about my life super simple, but still just being an artist and creating. It was difficult for me, that was the probably the biggest challenge of the show was to just be vulnerable and to just be. The part that I do like about it is it brought my family together. Me and my brother have really great conversation and we're just going through the whole process together, which I like as well. This whole thing was a learning experience for everybody.
U:Has it bonded you guys more?
Robinson: Absolutely. Me and Darnell talk every single day. I'm checking up with him on his diabetes, and he's checking up on me asking for me to do a feature for something. We definitely became a lot closer throughout the show and afterwards.
U:Since the show has been on have you gotten more fans? What's their feedback on things?
Robinson: They love it! I've always had the fans since My Super Sweet 16. It's really cool to see because they are still dedicated fans and I'm like, "Thank you, guys, you still love me!" On the music tip, there's just so many people who support the music, and support the project, and they wanna see what's next. The fans have definitely increased and I love the love!
U:On the music side, what are you listening to right now?
Robinson: I am listening to so many different types of things. My music collection is so crazy. You'll get soundtracks from Disney, then you'll hear heavy metal, then you'll hear Bach. It's a collection of really interesting, really great music. I just like music that makes me feel good. It's my therapy.
U:Who are your musical influences?
Robinson: I love me some Michael Jackson! That will always be a musical influence for life. My grandmother [Sylvia Robinson] of course. I just adore her, just her voice. To me she sang like how she spoke to us. It was just beautiful to hear that. I like listening to my squad. The people that I keep around me, I always listen to them.
U:I know your family is really business savvy. What are three things that you learned from them in terms of the business side?
Robinson: I love that you're asking me questions that nobody has ever asked me! Three things that I have learned: From my grandmother, she showed me that you can maintain family and that you can also maintain business. She showed me that which I really respected. You can be a businesswoman and come home and still be a wife and mom. Business is fair. It's not always pretty and people are not going to like every decision you make, but as long as everything is fair, that's good business to me. I learned the importance of that. Being completely honest and transparent. Not to leave any gaps so people are on the same page at the same time.
U:What can we expect from your upcoming music project?
Robinson: You can expect honesty. The project that I'm working on is so honest and transparent. It's my heart. People will get to know the real LeA Robinson. And I got "Hey Young Boy" out right now as my new single. The video just dropped.
U:What's your relationship with your cousin Shanell "Lady Luck" Jones" I know you two weren't seeing eye to eye. Would you consider working with her again musically?
Robinson: No, no! I love her but as far as us doing music together that will probably never happen again. But I do adore her, and I appreciate her for everything that we did when we did it.
U:Where do you see yourself in the next five years? What do you want to have?
Robinson: In all honesty, I just want to be happy. God goes above and beyond everything that I even say that I want, so I don't wanna even put a path on anything. I'm just gonna let him lead the way. Whatever he blesses me with is what I get blessed with and I'm gonna be happy with.
U:What do you think is the key takeaway from the show and what do you want the fans to leave with?
Robinson: Just be transparent with everyone. I think that's where the issue came with me and my cousin [Lady Luck]. The communication on her part and on my part. For my fans and supporters just be yourself and be happy and do what makes you happy always.