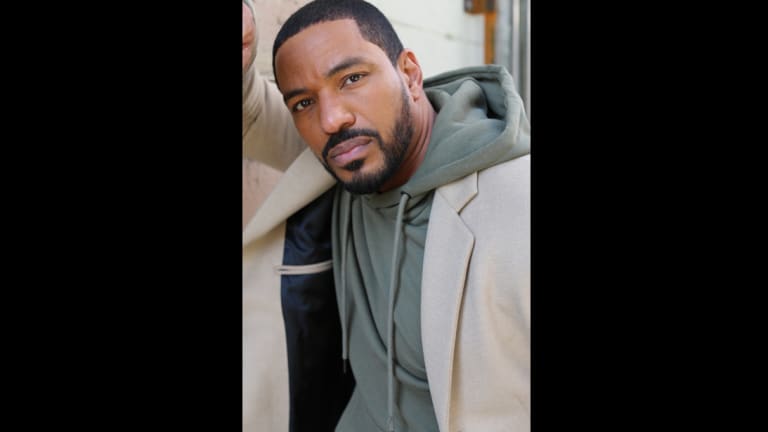 Laz Alonso Is More Than Just One of 'The Boys'
Laz Alonso uses his experiences as a Black man and Afro-Latin man to take his characters, including Mother's Milk on Prime Video's The Boys, beyond the script.
Introduction by Annika Harris
If there were a theme to how Laz Alonso seems to approach life, it would be "think bigger than the script." This is a philosophy he honed professionally under the tutelage of some of the most celebrated film directors, including Spike Lee, but it is also an insight he gained long before embarking on his acting career.
He chose an HBCU that would allow him to have an unapologetically Black and atypical college experience during his formative years, and then flipped his degree and used it to secure a job on Wall Street, in order to finance his endeavors as a thespian. And while many jet-setters idealize Cuba as a Black utopia, Alonso, whose mother fled the Caribbean island under a threat of death before he was born, breaks from the script and advocates for Afro-Cubans suffering under the country's government. Similarly, Alonso uses his platform as a household name to advocate for Black acceptance and inclusion in the Latin community.
In front of the camera, Alonso is also cognizant of what he as a Black man can bring to a project and how the choices he makes for his characters can address aspects of real Black life. For example, he and The Boys creator Eric Kripke discussed in-length how unresolved trauma affects the mental illness of his very layered character Mother's Milk (MM) because Alonso understood the impact a physically strong and muscular Black man addressing his mental health would have.
Season 3 of The Boys, which was nominated for six Emmy Awards and is available for streaming on Prime Video, focuses on MM's backstory and his current standing within his team of vigilantes hell-bent on taking down superheroes who abuse their power. So this is the perfect time to get to know the man behind Mother's Milk. Here's Laz Alonso's origin story.
How does it feel to be a part of an Emmy-nominated series?
Laz Alonso: The Boys is an answer to a prayer I asked when I was feeling unenthused about my career. I asked God to direct me to a show that I would be excited to watch. One that was fun, crazy, took risks, but at the same time spoke about social commentary in a way that can inspire change. And that's what this show does. I turned down a lot of offers before this series came along, without any guarantee I would find what I was looking for. But I had faith. And I was determined to get back to how I started this career, working on the things I'm passionate about and enjoy.
Were you and your castmates surprised about the nomination?
LA: We were all in shock. We were filming when it was announced. Then another announcement came in. And then more. I mean, to get six Emmy nominations in one season was overwhelming. And to see the crew feel that level of joy and excitement was even more gratifying. They're the unsung heroes that make shows a special place to work.
What process went into creating your character?
LA: Tons of meetings and conversations with Eric Kripke the creator and showrunner. He has an open-door policy which I took full advantage of. I wanted Mothers Milk (MM) to really represent the culture. When I met the creator of the graphic novel, Garth Innis, he told me he wanted MM to look the meanest and physically imposing, but when he opens his mouth, he's the most intelligent member of The Boys. Again, our show breaks stereotypes, so I wanted our version of MM to represent hip hop culture at first sight and that's where the tee's came in as an homage to hip hop culture. And in season three, I chose shirts that represent what is happening in each episode as a bonus easter egg to MM fans. He is the soul and conscience of The Boys. He's the moral compass of the group. He also reminds the audience that we are still the good guys, because at times that line becomes blurred. I also worked very hard to highlight how great of a Black father he is. Part of the stereotype that I wanted to break with this character is that Black fathers are not present. The relationship he has with his daughter was one that Eric and I had many long talks about.
How has Mother's Milk evolved each season?
LA: MM has evolved as the de facto leader of The Boys. Butcher, who is the true leader of the team, knows that his main flaw is revenge. In his quest to avenge the murder of his wife, he gets caught up and lost in that quest, and needs MM to keep the team and mission going. He also knows that MM is the only one that can stop him from going over the edge when he loses himself and his sense of rational thinking. They are almost the light and dark side of the same character. In season three we learn about MM's background. Why he has OCD. His family history. Why is he named Mother's Milk? MM goes to war. His past has come back to haunt him. He can no longer run from it. It's a very big season for this character.
In season three we learn that your character has a mental illness, which is currently a huge topic in Black America. Did the writers want to intentionally amplify this subject?
LA: One hundred percent. In our quest to break stereotypes, Eric and I also had conversations about mental health in the Black community. How we have learned to adapt and cope, but unresolved trauma will always still be there. It affects MM literally in every facet of his life including his family relationships. This topic is of utmost importance and the goal is to hopefully inspire people to get help for it. There is no shame in any illness, and mental illness is probably the most normal of them all. We just need to normalize the help required to overcome it too.
And how did you prepare for the mental illness part of this character?
LA: I learned as much as I could about coping with mental illness without professional help, and how it bleeds into every aspect of your life. As the character grows every season, exploring that further can let us into how we can do more treating and less coping with trauma.
What has been your favorite role?
LA: That's tough because I have played so many roles and I loved each one at the time. Right now, it's Mothers Milk. I really, really like the character as a human being and would totally befriend him if he were real. He's hilarious, loyal, a true friend, a scholar, will have your back, and a killer if pushed that way. Someone you'd be happy to have on your team and hate to see on the other side.
Since the early days of your career, you've been an advocate for Afro-Latino social justice, particularly in entertainment. Why is this work important to you?
LA: I am proud that the door that I have been beating down now for almost 20 years has opened for this new crop of Afro-Latinos. The purpose of kicking doors down is usually to help those that come after you. I hope that they continue to kick doors down for those that will come after them and reach back to those of us that did the work before them and work together. Build together. That's cooperative community building, remembering both your ancestors while paving the road for those that will follow. My goal now is to do the same thing that we are accomplishing in Hollywood, worldwide. That is my new mission. Seeing representation when you turn on the Latin channels. Latin movies, novellas, TV shows, game shows, and reality shows need to show the Black and brown people of Latin America. Everything that people credit to being Latino, from music, food, dance, art, all came from people of color, and yet when we turn on the media, we are not seen. With my film and television production company I am excited to show how beautiful and culturally impactful Latinos of all colors are.
We know that you're a first generation American and your family hails from Cuba. Can you tell us a little bit about their journey to America?
LA: My mother literally escaped in fear for her life. During the Cuban revolution, a tremendous amount of distrust was being created by the Castro regime between the citizens and encouraging people to snitch on each other in exchange for more rations of food (which still happens to this day). In her town there was a woman with the same name as my mom who was working for those that opposed the regime. When they came to look for the person, they thought my mom was the snitch because they had the same name. They were literally looking to kill her in the middle of her town by firing squad. When I tell you my family story is crazy. Sometimes, I am amazed at the trauma that we have overcome and that we still live to talk about it. But she was hidden by a family who helped her escape with them. And here I am. A "miracle to be alive" baby. It's why I support freedom for Cuba. I know what those Afro-Cubans are and have been going through. When you visit you would never know, until you know.
What adversities did you face being part of an immigrant family?
LA: I faced the same adversities that any other Black man in America faces. I never got any extra adversities for being the child of an immigrant. Being Black, my race preceded my ethnicity. As a young Black man growing up in the '80s and '90s in Washington, D.C., (the murder capital of the U.S., at the time), I was reminded daily of what it means to be Black in America. The crazy part is that even with that struggle, I would never be where I am in life now – financially, professionally, socially, educationally – had my family remained in Cuba. The Black struggle there is real and needs to be talked about more. It's a country that is over 65 percent Black, yet the powers that be in the government do not represent the population at all. The population is suffering the most.
How did your HBCU experience at Howard University affect your journey?
LA: Being at an HBCU is literally an alternate universe. Imagine for four years, to never have to explain or defend your Blackness. It is the norm, the culture, the way we all are. Imagine how liberating it is to be unapologetically Black for the most important formative years of your life. To be able to express yourself, learn your history, and be proud of the accomplishments without prejudice. Being able to hone whatever craft you are developing and focus solely on being the best person you can possibly be, because your Blackness is not weaponized in any way against you. And doing that around Black folks from all over the world. It truly is a utopia and I believe it is the unquantifiable thing you achieve at an HBCU. It's intangible, and very difficult to get anywhere else.
You majored in business with a concentration in marketing and finance. How did you transition into an acting career?
LA: I purposely accepted a job on Wall Street because I knew that I wanted to study theater in New York City. I used my Howard degree to finance my acting career. That expertise kept me employed during the beginning of my acting career, so that I could study acting on weekends and evenings, do plays and commercials, until I was ready to work in the field full-time.
You've worked with so many legendary directors from Spike Lee, (Miracle at St. Anna) to Catherine Bigelow (Detroit), to James Cameron (Avatar). What have you learned from these icons?
LA: The great directors that I've worked with have taught me how to think bigger than the script that is given to me and to view it as a starting point, but not an end point to the character. They taught me to free my mind and soul, to take chances on camera, and not limit my performance based on what you think someone wants. When you truly live the character and the moment, anything can happen. And being fearless enough to be open to anything is where great performances are born.
Do you have a dream director you'd like to work with?
LA: There are so many amazing directors now that it's hard to pick one. I do want to hold a lightsaber one day, though, and wear a brown robe.
Is it true that you may be dropping some music this year?
LA: Haha, a little Afro-Latin treat for the Latin music lovers. It's Jollof with plátanos. LOL. I like to think my Latin music shows both my African and Cuban heritage equally. It's influenced by urban-Latin vibes and Afro-beats. I'm really excited to drop the first single called "Batidora" with my musical partner Fito Blanko.