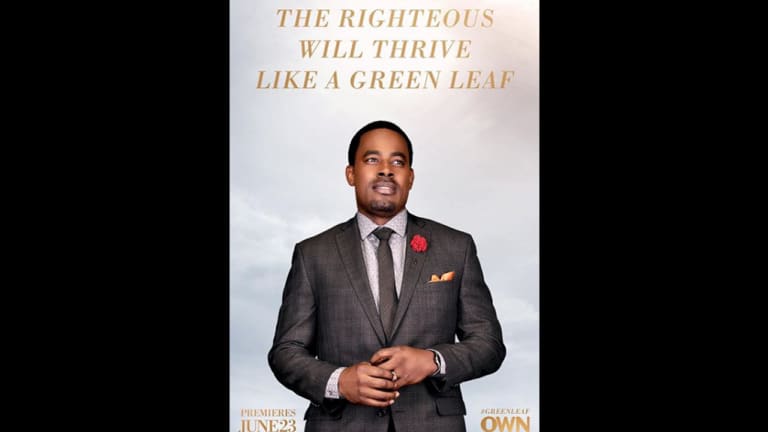 Lamman Rucker Talks 'Greenleaf' Season 5, Jacob's Future, and Possible Spin-off
Lamman Rucker answers some of our burning questions ahead of the premiere of the final season of Greenleaf.
We've gotten to know the family at the heart of Greenleaf over the course of four seasons. We've loved Bishop, Lady Mae, GiGi, Jacob, Charity, Kerissa, Zora, and Sophia, and we've hated them, and loved them again. There's one thing, Lamman Rucker who plays Jacob Greenleaf says, that keeps drawing us to these core characters, their trials and tribulations, and their joys on this megachurch drama regardless of our own faith, and that's family. We see the Greenleafs as our family, and we see ourselves as a part of theirs. We see them in ourselves, and ourselves in them. And this exchange is what's at the heart of any successful story. Sadly, though, this chapter of their lives, and consequently ours, is ending after the fifth season (which is something the cast didn't necessarily know from the onset, but more on that later). But before the series finale, we know the Greenleafs will bring the drama, unearth secrets, and show solidarity as they battle Bob Whitmore and Harmony and Hope to regain control of their Calvary Church.
UPTOWN spoke with Rucker in anticipation of the truly entertaining ride Greenleaf season 5 is sure to be. The actor, educator, activist, and entrepreneur explains how Jacob has changed now that he's found his place in the world outside of and within the Greenleafs and Calvary. Considering the news of a potential spin-off, Rucker also imagines what Jacob's future could be. Would he go into politics? Would he buy a baseball team and regain his passion for the game he once played? Or would he continue mentoring young Black men in need of guidance, as is the mission for Rucker's The Black Gents foundation. There are so many possibilities for the characters on OWN's NAACP Image Award-winning series, including a surprise for Jacob that Rucker teased. In addition, Rucker goes deep into why Greenleaf has surprisingly received very little backlash from churchgoers, despite taking viewers behind the veil of the church to discuss sexual assault, suicide, abuse, fraud, and more.
Fans have responded rather well toGreenleaf, whether they be Christians or not, why do you think that is?
Lamman Rucker: Honestly, I think that's simply because the show doesn't have anything really to do with the Church, as much as you would think it does. What the show is really about is family, you know, and everybody understands that no matter what — I mean globally. Family dynamics are at the core of everybody's life, even if you don't have siblings, and regardless of what kind of relationship you have with your mother or your father, or this and that. I mean, whether your family has a family business like the Greenleafs do. I think that's the thing. We tried very deliberately to pull back the veil, right, so you're not just looking at it through this Christian lens, and that what you see when we take off our of cloaks and robes and church service is over, that this family is just like everyone else that you know. No matter what color, what creed, what culture, it's family dynamics, and that always resonates with everybody around the world. As much as you look up to [the Greenleafs], as much as you think they're so great, and so successful, and so beautiful, and so this, and so that, when all that's taken down and all that breaks away, this is your family. And hopefully, you see us in you, and yourselves in us, good and bad. So when you see us tripping, hopefully that puts you in a position [to say], "Yeah, maybe I need to check myself." When you see us shining and being as glorious as we can be, then yeah, that should remind you of how glorious you are. But nobody's perfect and we all make mistakes, in particular when any family of any status has secrets, trauma, isn't telling the truth, and isn't focusing on their recovery, their healing, their faith walk, and so forth, here are some of the things that can happen, when you do or don't do those things.
It came out recently that executive producers Oprah Winfrey and Craig Wright always intended for the series to be completed in five seasons. What was it like signing on knowing that in five years the story might be completed?
Lamman Rucker: Well, to be honest with you, they didn't tell us that at all. That's the thing about this business, people don't tell you that. That's when they say, "Oh, it's above my pay grade." You know how people joke about that all the time. These are the kind of decisions that are made — I don't want to say behind your back; that sounds deceitful. But this is what executive decisions are made of. You don't always know what someone's intentions are for certain content. This is why I tell people all the time that you can't take things personally in this business. You have no idea why something does or doesn't go. So what if it was only their idea, "Oh, we only want to do one or two seasons of this," just to kind of kick off the network in this direction, and then do all these other shows. That could've been their objective. And you could assume as an actor, "Aw man, did we suck?" or "Oh, the audience wasn't responding or didn't like it." You can make all kinds of assumptions not having idea that the network or the studio or other executives or creatives who were in the conversation maybe were only available for two years. So, hey, these two years while you're available, "Let's do this. Let's knock this out. I've got a good idea that's risky. Let's test the temperature of our audience and see if they're ready, if they'll be open to some original serial dramatic program. Let's just test the water." You have no idea. Yeah, you might feel like the guinea pig, but so what this is part of the challenge of being in the position that we're in as actors, directors, writers, whatever. So no, we weren't aware of that. So you've got a lot of mixed feelings about that as an actor. But you just don't know.
That kind of begs the question: What was your reaction that a spin-off was green-lit?
Lamman Rucker: Well, summarily, you have no idea what that really means, right. So everything that I just said could be relevant to that. That could be, "Alright, let's just see if something works. Or let's put this idea out there and see how the audience is going to respond. And if they're going to be open to it. And if it sounds like something they really want, yeah, now let's consider going back in there." Are they still discussing it? Do they actually already have an idea? Is it in development and pre-production? There are so many questions, so we have no idea where they're going, what they're doing. We don't even known if any of us are going to be involved. There are so many questions and such a myriad of feelings and uncertainties. You're excited, you know because you know I'm just excited for them. I'm excited for Oprah and Craig and for the network. And for all of the viewers, that they can continue to get, hopefully, another really beautiful product from OWN.
At the same time, you have no idea really what that means for you, your family, your character, your "sisters," your "kids," and you know Kerissa. You don't know what that means. So that's cool. You know, we're excited but you learn to temper your excitement in this business. Things change all the time. Who knows what's going to happen, but I hope it includes me. I think Jacob is a very vital part of this fabric and this entire legacy. Anything that goes forward, I definitely pray for Jacob, as my hashtag exclaims. I just hope that he continues to be a priority and continues in the vision of whatever new ideas there are.
Do you think the final season will give the audience closure?
Lamman Rucker: Uh, no, no. I don't think it ever does, and I think that's a good thing because I think people are just going to want more 'cause of how dynamic the whole family is. I mean when you talk about off-shoot, or people have been using the language of "spin-off," I wouldn't use that language, per se. I'd just say this particular chapter of the story has ended. And where they go next could be a completely new story, a completely new direction. I mean, how many lives are connected? How many lives are involved? We've got teenage girls. "I" got a new nephew. Jacob's now divorced, right, from Kerissa. He could go in a whole new direction. Jacob could have his own series, you know. So there are so many different directions to go. I think the end of anything really provides the excitement that it's the beginning of something else. And we don't know what the beginning is and there's infinite directions, although we may stay in the same space of faith and a family, I'm sure. I would think that God is still going to be at the center of that conversation, but I don't see how you get away from this real powerful combination of family and faith.
When we first met Jacob Greenleaf, he was a bit of a player cheating with Bishop's secretary. Then, he became a rival to Bishop as he took over Basie's church. He then progressed into more of a family man and ally to the other Greenleafs, especially his sisters. What type of man do you think Jacob is now going into season five?
Lamman Rucker: Yeah, I think all of that. He's much more mature. He's a little bit more grounded. He's evolved to a place where he has a stronger sense more so of who he is, not just where he falls within the folds of the family. But what I think every human being should hope to do and desire to do is to understand who you are through your own heart and through your own eyes. Your own understanding, not trying to figure out how you fit in with everybody else. And I think Jacob, for a long time, never was feeling like he fit in. He was just going through the motions and just kind of doing what he was told because that's what you're told do. You know, he was trapped in this castle, trapped in this life, trapped in this sense of duty and responsibility that he really wasn't connected to at all. And I think throughout his journey we see him having a better understanding of what his power, his personal power is. And then once he has understood that, now [he] has a better idea of how to apply that to this family, empire, to his role and responsibility and impact throughout his family, not just his own wife and kids. But, "How can I best serve my father? How can I best serve my mother? How can I be there for my sisters and my nieces and nephews?" He has a much stronger sense of what he can do even in the outside world, like, "Oh OK, I think I can impact this young man's life over here who needs a mentor. OK, now I see myself at the head of this leadership at another church. Now, I have a much firmer idea of what this really takes." So there's all this new perspective that he's gained, which is what we all hope to gain through experience, and being in the world, and taking risks, and being given responsibility, and taking accountability for our mistakes. Sometimes to be thrown into a position that we didn't expect to get thrown into, and then you see what you're made of. So I think he surprised himself in a lot of ways, and at the same time he's just come to be much prouder of who he is. I think we all try to say to ourselves that we have value, but we don't always know where or how or even why. And that's the clarity that is coming to him now.
Where he can go from here is incredible. It's like watching Bishop, you know, 30 years prior. If in Bishop it can be that magnificent, just imagine how much more magnificent his son will be standing on his shoulders. So that's really what's dope about what the future can hold for him, whether he stays in the church space or not. I see Jacob, he could lead like a whole other type of organization. If he wanted to get back into sports. He could own his own baseball team instead of just being a player, like how he worked with the GM of that basketball team. Like it's countless. He could go into politics, right, and then now he's in a space where he can work in concert, support, and alignment with his family and you can see where future conflict could come. Because now when your duties get split, you're about to do something that would be best for your constituents, but your family and your church might suffer. How do you navigate that world now? If he's in a new relationship after his marriage, what does that look like, what are those challenges, how well is that going to be received by the public? It's countless! Is it Tasha or is it not? Somebody else entirely? Who knows?
There's going to be a little surprise. Somebody shows up that has a little surprise for Jacob so that's a whole other like what?! I'm telling you, there's so many different little channels, cans of worms that you could pry open. This is what's exciting about being creatives and working in such a creative space. Sky's the limit.
You mentioned earlier that Greenleaf has pulled back the veil on what happens behind the scenes at a church, a family business, have you received any backlash from churchgoers?
Lamman Rucker: You know what, very little. Surprisingly, very little. Yes, but very little. I will admit that initially, I definitely thought there would be a lot more, especially because of how we went about it, and I think this is part of how brilliant Oprah and Craig were about this, as well as Clement Virgo, who is our executive producer and showrunner, and even Kriss Turner Towner, who is one of the people who has been in this conversation with us all this time, as well as our countless directors and all the creative folk. Whether it's hair, makeup, or wardrobe, everybody plays a role in how we tell this story. It's fantastic and it's such a beautifully shot product.
The point is, I think the way we did it and the way we went about it — is really what I'm trying to say — has a lot to do with it. And because we didn't approach it like we were trying to shame the Church. We weren't trying to embarrass pastors around the world. We weren't trying — even though to some degree we were airing our dirty laundry, as they say — we still were trying to do it in a way that was encouraging people to get to the truth, and to have the courage also to protect the innocent. We're also talking about histories of neglect and abuse; and about "my sister" committing suicide; and my uncle potentially being a rapist or a child molester, and even if it's none of that, even if he's just abusing his power to have influence over other young women, and again possibly girls. There's so many topics that we deal with, the sexual identity issues, whether it's cheating, whether it's financial impropriety. Whatever it is, these are just real things and these are things that happen. I've had even friends who have had issues with their faith leaders. Very personal, private, intimate issues of mistrust or violation or what have you. That is real. So as opposed to people saying, "Don't you talk about my Jesus" — I think a lot of people were worried about that kind of response — instead it was like, "You know what, it's about time," or "You know what, that happened to me," or "Yo, this is exactly what we deal with in my church." "Yes, I'm a pastor or I'm a first lady or I'm a first husband, whatever you call it, in my church. These are the challenges of how we deal with our board, or how we deal with our congregation, or how we deal with politics and this and that and the other." The challenge of being in the public space so much and how difficult it is to run the business. So being in the business of faith, that's a whole other monster. People just don't understand what that really takes. So I think for a lot of people it was a refreshing perspective on what it's like to be in that life, what it's like to be in that reality. Because they don't always get a chance to see behind closed doors. And at the same time for those who live behind those closed doors, they're like, "Yeah, finally somebody who's speaking for us. And can show everybody just how tough this job is. This is not easy, and we're not perfect. We've got a lot of work to do."
Greenleafseason 5 premieres tonight, June 23rd, on OWN at 9 p.m.