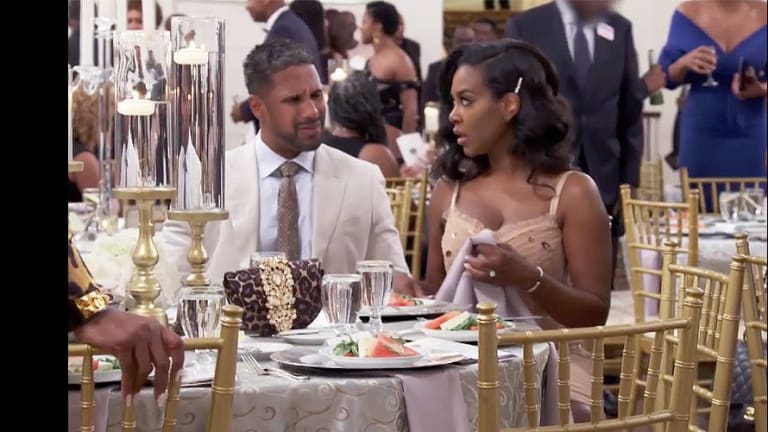 Kenya Moore Married a Man Who Wouldn't Let Her Speak to His Parents [VIDEO]
Would you marry a man who didn't "allow" you to speak with his parents, like Kenya Moore did?
In a preview clip of the next The Real Housewives of Atlanta episode, Kenya Moore reveals she was never "allowed" to speak with her husband Marc Daly's parents, even before the couple was estranged.
"A lot of things I felt like I was in the dark about," says Moore to an unidentified woman while sitting in her million-dollar Atlanta home.
This revelation gives credence to the rumors that Daly has shared a secret life with another woman for years, and the two have children together. Maybe he didn't want his parents to reveal the truth. Maybe his parents knew the truth and didn't want to be party to the farce.
Even though Moore and Daly were married and have their daughter Brooklyn, they maintained separate residences. She remained in Atlanta and raised their daughter full-time. He remained in the New York borough of Brooklyn where his restaurant SoCo is located. The saddest part of Moore's revelation is that Brooklyn likely doesn't know her paternal grandparents and vice versa.
Moore has shared on RHOA that Daly has been distant throughout their marriage, but she chalked it up to him living in a completely different state and part of the country. She also revealed during her season 12 return that she spent their second wedding anniversary in Turks & Caicos without her husband. According to Moore, the two couldn't come to an agreement about whether to bring their daughter Brooklyn and a nanny on the trip. Brooklyn, ultimately, was Moore's companion for the romantic Caribbean getaway. She also revealed on the show that she had confronted Daly and a mystery woman over their sexting.
In addition to the infidelity rumors, there has been talk that Moore paid off Daly's debts in exchange for his hand in marriage.
While we may never know the truth about Moore and Daly's marriage or arrangement, their situation begs the question: Would you marry a man who didn't "allow" you to speak with his parents?