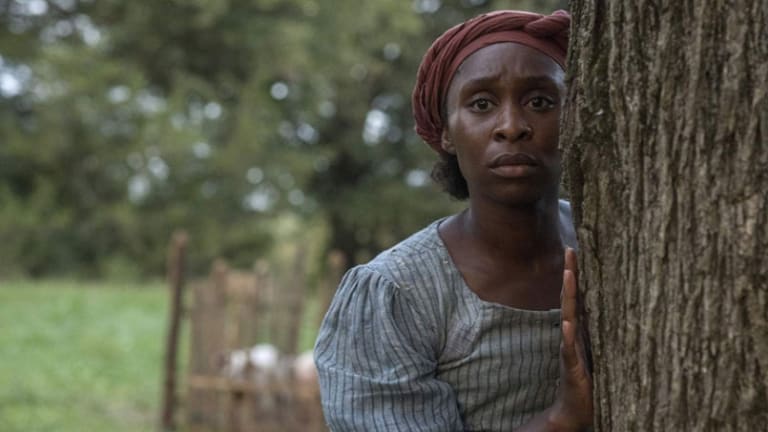 Kasi Lemmons's 'HARRIET' Is the Heroic Tale We Need in 2019
HARRIET will spark a desire in audiences to learn more about American hero Harriet Tubman. SPOILERS ALERT!
When we learned about Harriet Tubman one Black History Month when we were in grade school, her story was summed up in a few words — an enslaved woman turned slave liberator — and there wasn't much more to explore. However, we know now, in 2019, that there was so much more to this extraordinary woman and the newly-released HARRIET aims to explore her heroic story while relating Tubman to a current audience.
Kasi Lemmons, director of Eve's Bayou and Black Nativity, directed HARRIET and co-wrote the screenplay with Gregory Allen Howard. Despite the unwarranted controversy surrounding a British actor taking on an American icon, Cynthia Erivo gave a stellar performance as the title character in the film that proves HARRIET is the heroic tale we need today.
From the very beginning of the film, the Christianity the masters forced on the enslaved is juxtaposed with Harriet's brand of spirituality. The opening scenes feature a Black preacher telling the congregation of enslaved to pick up the plow and keep working until they die, while their masters look on of course, and their reward on Earth is gravy for their Sunday cornmeal. However, Harriet's God speaks to her through psychic visions and gut instincts. It's what tells her to drop the tools of her enslavement, when her master decides to sell her, and run. It's what gives her the courage to take on the Delaware River. And it's what drives her back to Maryland to free her husband and family ultimately. Harriet is far from an atheist, but she's completely leery of the brand of Christianity used to maintain the master-slave status quo.
HARRIET confronts the myth that Black men make absentee fathers. Sure, chattel slavery, by nature, made it difficult for a family to be a unit, but Lemmons goes to great lengths to demonstrate the impact Black men played in Harriet's life. For example, her father Ben Ross (Clarke Peters) was a free man who helped raise his enslaved children and was an integral part of their adult lives as well. In one scene, Harriet goes to her father's home to say goodbye after she decides to run to freedom. Though it's obvious he wants to embrace his daughter whom he may never see again, he doesn't. He won't even lay his eyes on her, so he can truthfully tell her master and the bounty hunters that he hasn't seen her. In another example, Harriet's free husband John Tubman (Zackary Momoh) petitions her master to release Harriet according to her original master's will because John doesn't want his children to be enslaved. In addition, the preacher Harriet initially didn't trust becomes a confidant and ally, much like a father.
In a year when Treasury Secretary Steven Mnuchin, who was appointed by appointed by the current U.S. president, announced that the redesign for the $20 bill featuring Harriet Tubman would be delayed without reason until 2028, we're fortunate to have a depiction of the abolitionist that proves she was a hero tougher than any man. It's a man who tells her God doesn't listen to n***ers. It's a man who tells her she'll die if she jumps off a bridge to freedom. It's a man who warns her against returning to Maryland to free her family. And it's a man who tells her the enslaved can wait until a civil war. But what these men don't understand is Harriet doesn't need any man's permission to do what she knows in her gut is right. As a woman who escaped to freedom alone, as a conductor on the Underground Railroad who never lost a passenger, as a spy and liberator for the Union Army, she's so much more than any man or needing a man.
HARRIET is an energetic and visually stimulating film that will spark a desire in audiences to research more about its titular character Harriet Tubman. She was a real American hero who impacted the future of a nation. And even though she isn't the first Black woman to appear on a U.S. banknote — yet — we're fortunate to have Lemmons's film to celebrate America's Moses.