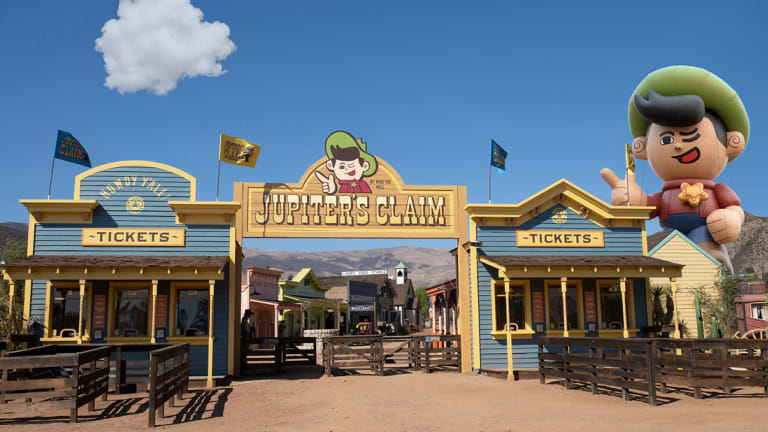 Set From Jordan Peele's 'Nope' Is Headed to Universal Studios Hollywood
Universal Studios has predicted that film enthusiasts will want to experience the Jupiter's Claim set from Jordan Peele's upcoming Nope in real life.
The release of Jordan Peele's Nope on July 22 will coincide with the Jupiter's Claim set from the horror film opening as a new and permanent attraction at Universal Studios Hollywood's Studio Tour. This marks the first time that a Studio Tour attraction has opened the same day as the movie release.
Production designer Ruth DeJong created the highly-detailed and expansive set for the fictional Jupiter's Claim, a "family-fun theme park [that is] predicated on the white-washed history and aesthetics of the California Gold Rush," according to a release. Since Nope was produced by Universal Pictures and Peele's Monkeypaw Productions, the filmmakers and Universal Creative at Universal Studios Hollywood collaborated on how to integrate the set into the Studio Tour early in the production of the film. After Nope wrapped, the set was disassembled and meticulously reconstructed on site. The attraction is complete with original props and other details from the film, in order to ensure authenticity and accuracy. It will join other iconic movie sets, including Steven Spielberg's War of the Worlds, the infamous house from Alfred Hitchcock's Psycho, and Courthouse Square from Robert Zemeckis's Back to the Future, on Universal Studios's backlot attraction.
"I remember visiting Universal Studios when I was 12 years old and being mesmerized. That experience reinforced my passion and drive to someday join in on the meta-magic of 'backlot life.' Since then, I've been fortunate enough to direct three movies for Universal," said Peele in a release. "It is a privilege to honor these collaborations with my studio partners, crew members and cast, and to be able to share Jupiter's Claim with fans."
Peele reunited with Oscar winner Daniel Kaluuya, who starred in the filmmaker's Get Out, for this expansive horror epic that continues to disrupt and redefine the film genre. Multi-hyphenate Keke Palmer and Oscar nominee and The Walking Dead original cast member Steven Yeun round out the "residents in a lonely gulch of inland California who bear witness to an uncanny and chilling discovery." Jupiter's Claim, which is "owned and operated with evangelical pride by former child star," is a pivotal location in the film as the characters investigate a mysterious phenomena that leads them towards danger and terrifying consequences.
Jupiter's Claim seems like a place of fun and games on the surface, but knowing that Peele is great at imagining truly petrifying places, there's certainly something more sinister afoot there. The only question remains: Which is worse, Jupiter's Claim or the Sunken Place?