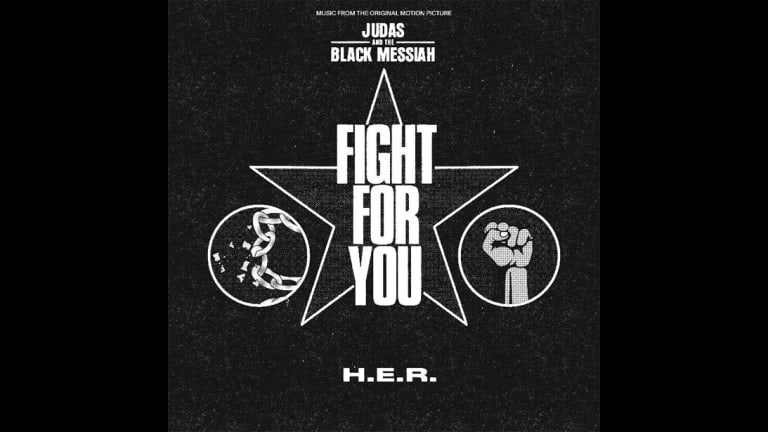 First Listen: 'Fight For You,' 'What It Feels Like' Off the 'Judas and the Black Messiah' Soundtrack
Judas and the Black Messiah: Inspired Album features revolutionary songs like H.E.R.'s "Fight For You" and Nipsey Hussle and Jay-Z's "What It Feels Like."
Judas and the Black Messiah: Inspired Album will be released by the Six Course Music Group and RCA Records on Feb. 12, the same day the biopic about Illinois Black Panther Party Chairman Fred Hampton drops on HBO Max and in select theaters. Before tomorrow, though, you can take a listen to H.E.R.'s "Fight For You" and "What It Feels Like" by the late Nipsey Hussle and Jay-Z.
Most true Hip-Hop fans know the connection the Black Panther Movement has to the genre of music that grew out of the Black community's struggle for equity and equality. The ideals of the Black Panther Party were and are integral to Hip-Hop and Black culture comprehensively. So much so that it's difficult to imagine revolutionary Hip-Hop existing without the struggles of the Civil Rights Movement and the Black Panther Movement. Chuck D of Public Enemy drove home this point during a virtual press event on Feb. 3 when he said, "By the end of the '60s, not only was we Black, but Black was beautiful."
"Fight For You," which singer/songwriter/multi-instrumentalist H.E.R. wrote with Dernst "D'Mile" Emile and Tiara Thomas, hearkens back to the revolutionary songs of the 1960s and '70s, and is as relevant to today's fight for social and racial justice as the Black Pride anthems that punctuated the Civil Rights Movement. Here's a sample of the poignant lyrics from the track that was recently nominated for the Golden Globe Award for Best Original Song:
All the Smoke in the air
Feel the hate when they stare
All the pain that we bare
Oh you Better beware
Their guns don't play fair
All we got is a prayer
It was all in their plans
Wash the blood from your hands
Similarly, the late Nipsey Hussle's collaboration with Jay-Z is a rallying cry for the oppressed to fight back against the oppressors. In the song, Jay makes reference to his birthday of Dec. 4, 1969 being the day Fred Hampton was assassinated during an FBI raid. Take a listen to a snippet below.
Judas and the Black Messiah: Inspired Album features several other revered rappers, including Rakim ("Black Messiah"), Nas ("EPMD"), and Black Thought of The Roots ("Welcome to America"), as well as Lil Durk, G Herbo, Polo G, and A$AP Rocky. The soundtrack also includes "COINTELPRO/Dec. 4" by Chairman Fred Hampton Jr., son of the Black Panther icon.
Hit-Boy, who appears on the album with "Broad Day"; writer-director Ryan Coogler; Interscope's VP of A&R Dash Sherrod; and RCA Records SVP of marketing Archie Davis executive produced Judas and the Black Messiah: Inspired Album. Checkout the full track list below:
"Cointelpro / Dec. 4" – Chairman Fred Hampton Jr.
"Fight For You" – H.E.R.
"EPMD" – Nas
"Welcome to America" – Black Thought
"What It Feels Like" – Nipsey Hussle & Jay-Z
"Broad Day" – Hit-Boy
"Plead the .45th" – Smino & Saba
"Somethin Ain't Right"- Masego ft. JID and Rapsody
"Letter 2 U" – BJ The Chicago Kid
"On Your Mind" – Lil Durk
"Appraise" – White Dave
"All Black" – G Herbo
"I Declare War" – Nardo Wick
"No Profanity" – Pooh Shiesty
"Last Man Standing" – Polo G
"Respect My Mind" – DOM KENNEDY
"Revolutionary" – G Herbo ft. Bump J
"Teach Me" – SiR
"Contagious" – SAFE & Kiana Ledé
"Rich N**** Problems" – A$AP Rocky
"Outro"
"Black Messiah" – Rakim