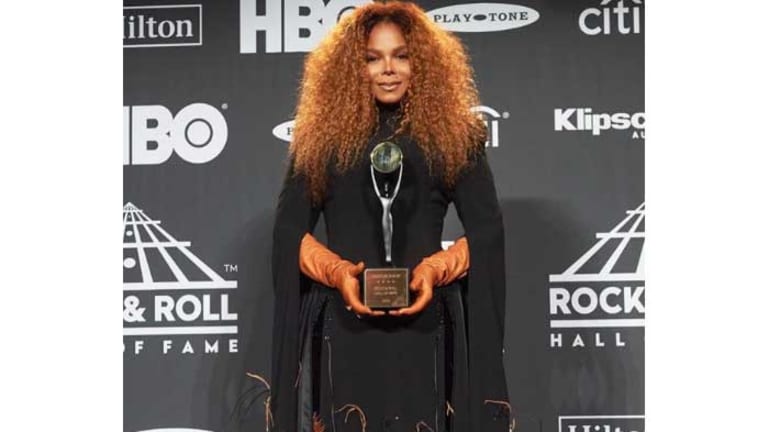 Janet Jackson Is Inducted Into Rock and Roll Hall of Fame
Janet Jackson spoke about her family and fans while accepting her induction into the Rock and Roll Hall of Fame.
Nearly forty years into her career, Janet Jackson has secured a spot on the Rock and Roll Hall of Fame. The Barclays Center in Brooklyn hosted the ceremony on March 29, 2019.
Janet, who wore a feathered Jean Paul Gaultier gown for the festivities, kicked off her career with the release of her eponymous album in 1982, but she wasn't always headed down music lane. She revealed during her acceptance speech that it was her father Joe Jackson who ignited her passion for entertaining.
"When I was a kid, my dream wasn't to be a singer," she said. "I wanted to go to college and I wanted to be a lawyer. It was my father's dream. He wanted me to become this wonderful performer. He encouraged me. He was the first one to encourage me. Music became my passion."
Her second album, 1986's Control, received critical acclaim and commercial success, and Janet continued to step out of the shadows of her famous brothers, The Jackson 5, who were inducted into the Hall of Fame in 1997. Michael Jackson was inducted a second time as a solo artist in 2001.
She acknowledged her brothers' achievements during her speech, as well: "In 1997, my brothers were recognized for their musical passion by being inducted into the Rock and Roll Hall of Fame, and I was so, so proud … I was always crashing their rehearsals. I was always tagging along, always with my brothers. Tonight, your baby sister has made it in."
Of course, Janet didn't leave out her fans while showing her appreciation for this epic career moment. "I want to begin by thanking my incredibly strong family, my wonderful mother and father, my sisters and my brothers. You guys never stopped believing in me," she said. "I want to say a personal word to each and every fan. You've been with me every step of the way. In all my ups. All my downs. I never have and never will take you for granted. I love you with all my heart."
Catch Janet next in concert during her Las Vegas residency, Janet Jackson: Metamorphosis, at the Park Theatre at the Park MGM from May 17th to August 10th.