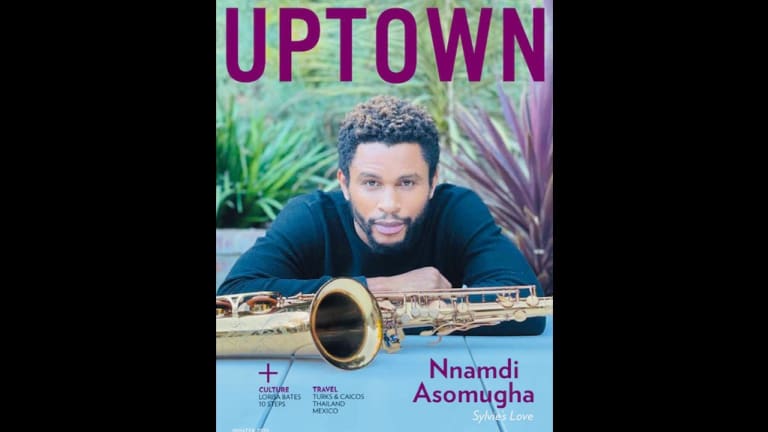 In 'Sylvie's Love' -- Just as in Real Life -- Black Love Is King
Tessa Thompson and Nnamdi Asomugha fall deeply into 'Sylvie's Love.'
Saying that Sylvie's Love exists—because of two remarkable Black men—may be the most beautiful words that I have ever written. Our history. Our beauty. Our complexities. Our relationships. Our romance, in all shades of noir, is here, in Sylvie's Love.
I listened to Thelonious Monk's Brilliant Corners and Sonny Rollins's Way Out West, and even developed a newfound appreciation for my beloved Harlem neighborhood. All because the "new Love Jones" has finally arrived. That's no slight to Theodore Witcher's Nina and Darius classic. Just a deep bow to Eugene Ashe's bold dive into a world of exquisite Blackness that is seldom seen in film. And an infinite amount of gratitude to Nnamdi Asomugha for making sure that Ashe's words transcended the page to the screen.
Tessa Thompson (Creed, Famous in Love) is elegant and poised as Sylvie, and Asomugha (Crown Heights, Soldier's Story) is equally as charming and debonair as Robert. The co-stars seem to effortlessly weave in and out of an intricate relationship in the thick of segregated America. Surely people were still falling in love regardless of the world being ripped apart by racial chaos: A testament to how cupid is always lurking with a bow and arrow, setting his sight on you when you least expect it, even in midair.
"I was reading the script on a plane and I saw that it was taking place in the [1950s], and it was within two pages that I realized that this is a story I haven't seen," said Asomugha, who called Ashe almost immediately to say that he wanted to be a part of the film and to produce it. "These are Black people falling in love in Harlem at a time when you don't get many stories of us outside of marches, fights, water hoses, and dogs. This was another avenue into who we are as a culture. And I believed that people needed to know that in the midst of the Civil Rights Era we found time to fall in love."
So, on the precipice of a global pandemic, Asomugha, who looks for projects that he can fall in love with and that fill a void in the industry, jumped headfirst into getting the film made regardless of the massive odds. He's known to do that. "I become attracted to things that are new and fresh," says Asomugha whose production company, iam21, rolled out films The Banker, Crown Heights, and Waiting for Hassana. "There's a challenge and a risk there that I am up for taking." And in spite of
Hollywood shunning the film and assuring him that there wasn't an audience for it, he forged ahead. "We got so many nos, we were thinking that we were never going to be able to make it."
The 2003 NFL first-round draft pick (31st overall) and former Oakland Raiders cornerback says that he learned to take initiative while playing football. While the set hasn't replaced the gridiron, it has laid the foundation for him to pivot into his next act in life. "There's a level of committing to excellence that I learned in the game that has transferred over to acting, without even consciously thinking about it," he says. "One of my coaches believes the way you do one thing is the way you do everything.
And I've noticed there's a level of preparation and patience that I learned in football."
Meanwhile, Ashe, Sylvie's Love creator and writer, was on the other side of the country walking a tightrope of patience too. He said that it took him a long time to get this movie made. He had several opportunities to produce it "the wrong way" and "without enough money to make it as special as it needed to be." This sentiment reminded Ashe of his other life as a member of the Funky Poets. The '90s R&B/Soul group had a more "conscious" lyrical sound that didn't get as much hype as "bump and grind" R&B. But Ashe has no regrets. He stayed true to his art then, and he still is now. "I'm not going to look at what somebody else is doing and say, 'Oh let me do that.' I look at the world and think of something that is not there."
Although the exemplary Black romance films Mahogany, Claudine, and Sparkle hold as Ashe's top three faves, he saw a void and wondered, "Where's our Breakfast at Tiffany's and The Way We Were?" He explained, "I wanted to recreate the classic chemistry between people like Billy Dee Williams and Diana Ross, and Irene Cara and Philip Michael Thomas. That's what I was trying to get at with Tessa and Nnamdi." And the laboratory where his "Cocoa Streisand" and "Chocolate Redford" came to life was his family tree.
"A lot of my formative years were spent 'Uptown'," says Ashe who grew up in the Sugar Hill section of Harlem that was populated by Black doctors, bankers, and lawyers. "And my mother grew up in that neighborhood too. She and my dad were married in 1959. Seeing photographs of her and my family during that time is where a lot of my inspiration came from. No matter how much money you had, you lived in Harlem."
Ashe's period piece transports viewers to a time when people dressed up to listen to Jazz at clubs, and they bought music at record stores. The score by the incredibly talented Fabrice Lecomte and performed by a 60-piece live orchestra was a major focus of the film. Asomugha even studied how to play the saxophone for a year in preparation for his role. And he added that Ashe paid amazing attention to detail — from how the characters moved their bodies when they spoke, to the inflection in their voices — all to be able to bring viewers inside of this beautiful era. Ashe wanted to fly far away from the turmoil of the times and land in a happy place.
"I just felt like our portrayal in the media from the '60s was always kind of downtrodden, and that we were portrayed through our trauma," says Ashe who filmed in February and March of 2019. "That's not what I wanted to show. That's a way of erasing us. It would be like doing a movie now, and fast forwarding to 2035 and all they're talking about is cops with their feet on our necks."
Asomugha agrees, "When you see us in love stories, there has been an emphasis on the struggle outside of the relationship. Diana Ross is strung out [in Lady Sings the Blues]. And in If Beale Street Could Talk, there's that element of him being in prison."
"Within our turbulent stories are love stories, family stories, and all kinds of stories that show our humanity," says Ashe. "We are not monolithic people and I want to tell stories that highlight the Black experience and show us as human, as vulnerable, and not as monsters. We have faith in each other, in God, in love, and all of the things that make us the special people [who] we are."
Ashe delves into social class, infidelity, divorce, juggling a career and a family, and a Black man's dilemma as a provider in this Sylvie's Love. Making choices and decisions is what it comes down to in the end. And of course, the pure lovely progression of a relationship that takes over Sylvie and Robert, regardless of "what their minds want." Their spirits seem to keep them connected.
Serendipity played a prominent role in Sylvie's Love on and off screen. Ashe's long-time attorney, André Des Rochers, shared his script with Asomugha who was seeking to produce movies and play roles that allow him to grow as an actor. "If you ain't creatin', you're waitin'." This is Asomugha's mantra and the thought process that led him to invest in films that he could be proud of as a producer and an actor.
"Nnamdi was out hustling to get investors even while he was filming, and he was like 'We're going to do it. Let's just start'," says Ashe who signed a deal for Sylvie's Love with Amazon Studios at Sundance 2020, just weeks before the pandemic hit America. "So it's a Black independent film because we both realized that this was only going to get made by some Black folks. We had to jump and hope that the parachute opened." And it did.
Watching this film is like eavesdropping on a Black A Love Supreme. Thompson, who Ashe had always envisioned as his leading lady, was just a phone call away for Asomugha. "Tessa has this whole other persona for interviews, which is so much closer to who she is in real life," says Ashe, who saw his Sylvie in Thompson's off-screen demeanor. "She's very poised and she carries herself like a Hollywood star from the '60s, even though she plays Valkyrie in Thor movies. I was just very fortunate that I met Nnamdi because he had access to her."
Sharing our networks, resources, and wealth is what brings Black film to the masses. It's all about relationships, believing in one another, and seeing the grand picture. Ashe hopes that the world will open its eyes to our screenplays and change the images of us in the media because we all share similar life experiences.
"I don't look at a group of young Black men and see danger. I see family. And I'm trying to portray that in my work, through Black men," says Ashe. "Nnamdi does a beautiful job of that in our film. He is six-foot-three, and he was a football player. He can be menacing if he wants to. Historically, Black men have to put up a shield of invincibility. But Nnamdi is being gentle and vulnerable [with Sylvie] in this film."
Loving is the operative word between these characters. And saying that there is no audience for it is like saying love doesn't exist.
The story of Sylvie's Love isn't just a Black story, it's a human story filled with life, history, and family — all human experiences. Each of us, regardless of our race or class, can see ourselves in these characters. The hope is that it resonates with communities far beyond Harlem and it allows people to tap into their soul places. And as we take a look inside a love between two people, during a time when the world needed kindness and acceptance, perhaps we will consider our world today. And maybe we will make a choice to surrender to love, whether it's for yourself or for the person standing next to you.