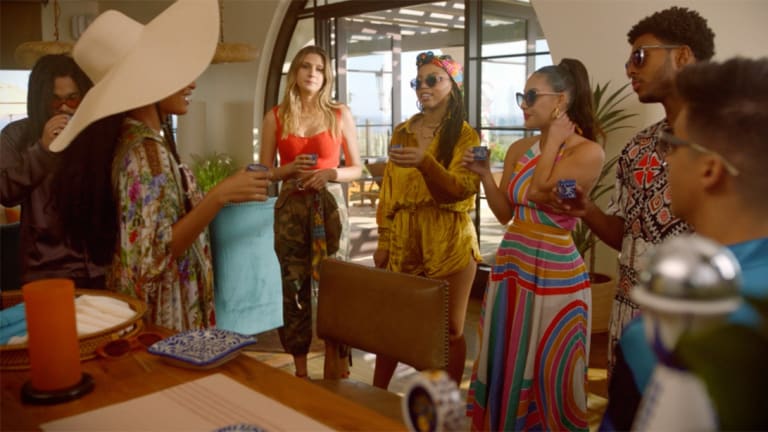 Illustrator Alexis Eke Designs Key Art of 'grown-ish' Character Zoey Johnson
See Alexis Eke's key art of grown-ish character Zoey Johnson, who is played by Yara Shahidi, ahead of the Freeform series' return on July 8th.
Freeform tapped artist and illustrator Alexis Eke to design newly-released key art for the hit series grown-ish.
Yara Shahidi's character Zoey Johnson is the first to be memorialized by Eke, who combines portrait images with digital painting and is inspired by Renaissance portraits and traditional Japanese art. The Toronto-based artist has worked with Nike, Adidas, Bloomberg, Refienry29, and Bon Appetit, and has created pieces specific to the Civil Rights Organization, International Women's Day, and Black History Month. Freeform will release a new illustrated portrait of each grown-ish character each week through the black-ish spin-off series' fourth season.
"I want people to see the beauty of Black people in a contemporary light and that Black art is not only Afrocentric, but it's also futuristic, retro, contemporary, etc," said Eke in a release.
This season of grown-ish, Zoey and her crew are finishing their senior year at Cal U, but they and their relationships and friendships will be tested like most college students with full-adulthood on the horizon. Here's the official season synopsis:
It's senior year and the finish line is in sight. Zoey Johnson returns to Cal U from her adventures on the road as a professional stylist. She and Aaron are finally in sync, romantically. But for the rest of the crew - just as it's all coming together, it's all coming apart at the seams. Friendships are tested, relationships get rocky and the stakes are higher than ever. Will Zoey find her flow and make it to graduation or will she get thrown off course?
grown-ish premieres on Freeform on Thursday, July 8th, and the next day on Hulu. Check out the trailer below, and see more of Eke's work here.