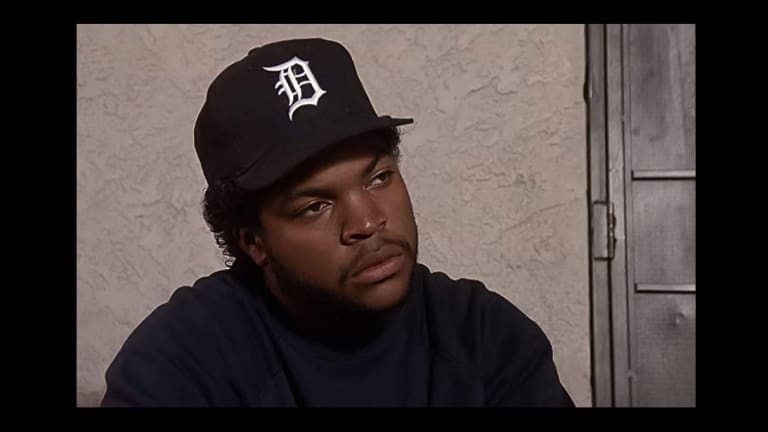 Heard on the Street: Ice Cube Explains How He Was Cast in 'Boyz n the Hood'
Now we know how Ice Cube made the leap from rapping with NWA to being cast as Doughboy in John Singleton's 1991 classic Boyz n the Hood.
"He (John Singleton) was just adamant about the group, NWA, the kind of music that we were doing. And, you know, his whole thing was like, 'The film version of what you are doing and, you know, nobody is showing that. They got the East Coast versions of what this is, you know, but nobody's done our version like our Do the Right Thing.' So he just kept saying, 'Man, you Doughboy, you Doughboy, man. I could see it.' … I'm listening because I'm very interested. You know, John is an interesting cat, but I'm thinking he going to hire somebody else, whatever actor that was popping … But he was adamant that, 'It's you.' … So he believed in me before I did because I thought you had to be trained to act and by the time this movie come out, you gonna hire Todd Bridges or something."
— Ice Cube reveals to Jalen Rose, on the Jalen Rose: Renaissance Man podcast, how the late director John Singleton cast him in the 1991 coming-of-age drama Boyz n the Hood. Cube, who was named O'Shea Jackson at birth, said he prepared to play Doughboy in the classic film by doing a lot of ad lib work and heeding the advice of Laurence Fishburne, who took the budding actor under his wing. Fishburne played Furious Styles in the film that also starred Cuba Gooding Jr., Morris Chestnut, Angela Bassett, Regina King, and Nia Long. Singleton not only introduced the world to a new raw and urban film genre, but also introduced Ice Cube the actor to Hollywood. He would got on to star in Singleton's 1995 film Higher Learning, the Friday and Barbershop franchises, and family films like Are We There Yet?.