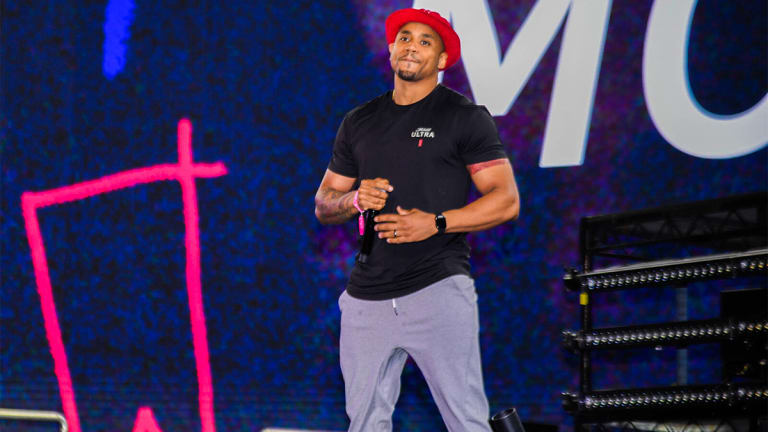 How Tristan Mack Wilds Embraces the Intersection Between Fun and Fitness
Tristan Mack Wilds is proof that when fitness and fun collide, summoning the discipline to work out isn't a daunting task.
The art of storytelling is and has always been the gift that keeps on giving. This powerful form of connection can bridge communities in numerous ways. Sometimes it's witnessing beloved entertainers bringing diverse stories and characters to life through their craft. Other times, it can take the form of the inspiration that transpires when we see someone living their purpose while empowering others. One artist who embodies all of this and much more is Tristan Mack Wilds in his latest collaboration with Michelob ULTRA.
On September 21, Wilds partnered with the spirits brand to host Movement LIVE, a high-energy experience along that intersects fitness and entertainment. The event, co-hosted with Tracy G of Sway In The Morning, was held at The Brooklyn Mirage and featured live boxing demonstrations, performances, and more. For Wilds, getting involved was nothing short of a pleasure as he appreciated the chance to showcase how gratifying fitness can be.
"I see so many different people doing their due diligence to showcase how fun fitness could be, and me being on my own fitness journey, I think it was necessary for me to do it as well," Wilds said. "I'm bringing you guys along for the ride of seeing me workout, and I want to show you guys how fun this actually is versus just watching and feeling like it's impossible to do."
Wild's partnership with Michelob ULTRA to create this live experience is something that allowed the actor and his collaborators to show that fitness can, indeed, be a good time.
"In joining forces with Anheuser-Busch and Michelob ULTRA, we got a chance to put together Movement Live, which is not only a workout but a full-on experience," Wilds told UPTOWN. "We're creating a full-on fitness experience for people to work out, to have fun, and to show it's not worth it, if you can't enjoy it."
Aside from creating top-tier content through acting, singing, and production, Wilds is also an avid fitness enthusiast. The New York native regularly posts about his own fitness journey on social media, allowing his supporters to see a different side of him. But, for Wilds, the most rewarding part of this journey is the discipline that ensues.
"The challenge of doing something even at times when you don't want to do it and discipline. All of my heroes are very disciplined people. To see the type of things that they do, the discipline that they carry is inspiring," Wilds said. "One of my favorite quotes by Mike Tyson is, 'discipline is doing what you hate to do, but nonetheless doing it like you love it.' I think that's the biggest thing for me; to showcase that discipline and that love for self."
For Wilds, the most challenging part of his fitness journey is one that many can relate to — making it to the gym.
"The juggling of being on set, being a dad, being a husband, and all of the other work ventures that I have, a lot of times, it becomes daunting to even get to a gym. I tell everyone, honestly, for me, getting to the gym is a little bit more than half of the battle," Wilds told UPTOWN. "As soon as you get to the gym, it's kind of, like, OK, know I have to do something while I'm here. I may have a little bit of time to do it, but I have to do something while I'm here, so let's get to it. The most challenging thing, honestly, is pulling myself up to get to the gym."
Wilds hopes his fitness journey will inspire people to realize that they can do it, too, while achieving anything they put their minds to.
"I want people to be healthy, and I want people to be strong. I want people to reach whatever pinnacles they want to reach. It may not even just be in fitness; it may be anything in life. I think discipline is something that spreads out throughout your entire life, so I just want people to have the discipline to go out and get whatever it is that they want. To see that anything that they desire is something they're capable of attaining. You just have to work hard to get it."