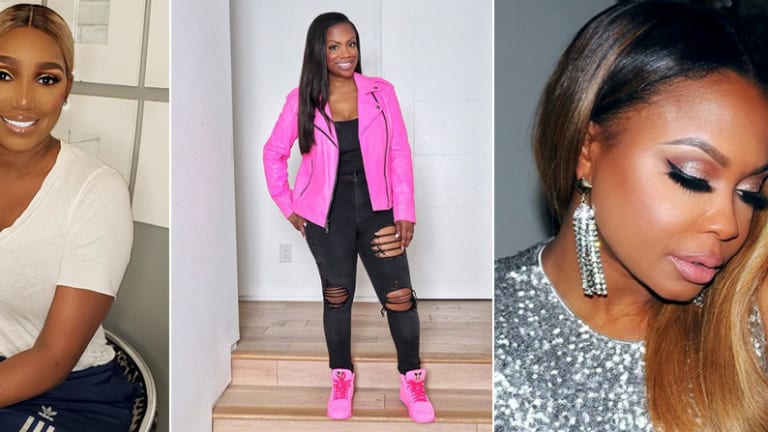 Heard on the Street: NeNe Asks Kandi, 'Why You Can't Face Phaedra?'
In a live chat, NeNe Leakes calls out Kandi Burruss for refusing to return to RHOA if Phaedra Parks does.
"I have no idea about Phaedra. Honestly, I'd really like to see Phaedra back over here on the show.
"Kandi is always doing her stuff, being mean and nasty in her interviews, yelling and doing all of that for no reason. Ain't nobody over here did nothing to her. So it's interesting to me that she doesn't want Phaedra to be back over here on the show. Why you can't face Phaedra? You gon' run off the show when Phaedra come back? But you so happy to see me sit here and beef with someone. Let us see you and Phaedra go toe-to-toe, girl! Let me see you get your reads together.
"You're so busy telling them you'll leave the show if Phaedra comes back, let Phaedra come back! Why you scared? You so interested in talking about everybody else's beef, let us see yours with Phaedra. Bring Phaedra back. C'mon Phaedra, get into it. I think she's great for the show. Aren't you the same girl that says you want to keep this business going? Where's Phaedra?"
— NeNe Leakes reveals Phaedra Parks isn't the only one confused about why Kandi Burruss refuses to appear on The Real Housewives of Atlanta again if Phaedra returns, during a live chat with fans. As you'll recall, Phaedra and Kandi were very good friends until Phaedra and her then-husband Apollo Nida split up, and Kandi proved she's a guys-girl when she and husband Todd Tucker took Apollo's side. Then in 2017, in a likely effort to retaliate against Kandi, Phaedra continued/started a rumor that Kandi and Todd wanted to date rape Porsha Williams, who ran with the rumor because it was supposedly from another reputable source. When Phaedra was revealed as Porsha's source, Kandi made it clear that she'd never tape RHOA again if Phaedra returned for another season.
There's a bit of a double standard happening at RHOA. Kandi excuses the atrocious behavior of her friend Kenya Moore, who has attempted to destroy at least one relationship this season when she should've been focused on her own doomed marriage, but is still is grinding an ax for Phaedra. To be fair, though, Kenya knows better than to set her sights on Kandi, who seems to have more pull at Bravo than she's worth in entertainment value. In addition, if NeNe has to deal with her nemesis's return to the show, then Kandi should have to face hers. If Kenya is good for TV, then so is Phaedra.
But we all know Kandi can hold a grudge. She was even upset that Porsha and NeNe reconciled during the most-recent episode.
Would you like to see Phaedra return to The Real Housewives of Atlanta? Or would you prefer an entire cast shake-up?