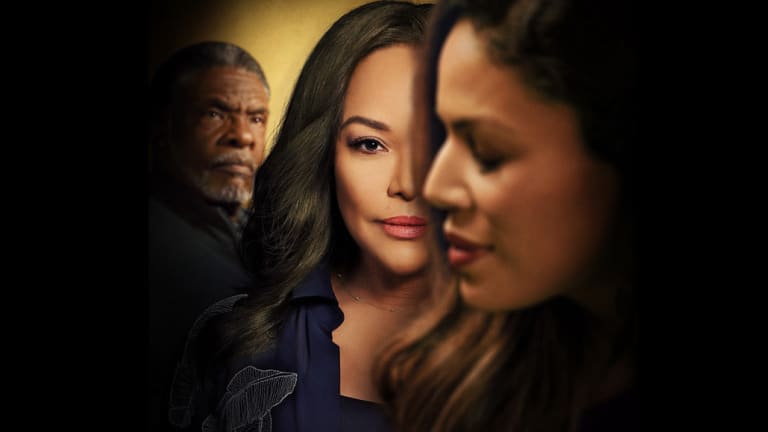 'Greenleaf' News: Season 5 Premiere Date AND Spin-off Teaser [VIDEOS]
Find out when Greenleaf season 5 will premiere, and watch a teaser for the final season and spin-off show.
Greenleaf fans have been anticipating the return of the hit show since last November when season 4 wrapped with an unknown "man" meeting Gigi (Merle Dandridge) at Faith's gravesite. OWN has been tight-lipped about when the Greenleaf family would be stirring the pot o' drama again, but over the past two months, it did give us a teaser of a new original recording and revealed the new season, the final season, would premiere in June. Today, though, the entertainment gods are shining down on us, as OWN has revealed that Greenleaf season 5 will premiere on Tuesday, June 23rd, at 9/8c. But wait, there's more … OWN and Lionsgate are developing a spin-off of the critically-acclaimed megachurch drama.
"These sheep need a shepherd, and that is something that Harmony and Hope will never be able to do," says Bishop James Greenleaf (Keith David) at the beginning of the Greenleaf season 5 preview. It's a message of hope, but the clips following that line foreshadow that the Greenleafs are in for a fight with Harmony and Hope Ministries like they've never experienced. Calvary Church is slated to be torn down, and Jacob (Lamman Rucker) no longer owns the property across the street from it. (Thanks, Kerissa.) Phil (Sean Blakemore) is still playing simple, inexperienced, and addicted Charity (Deborah Joy Winans). And Kerissa (Kim Hawthorne) and Jacob's marriage hasn't rebounded from their extramarital affair woes. There's a theme of the past being dragged from behind the Greenleafs, and we see that with Tasha Skanks (Asia'h Epperson) resurfacing when it seems Jacob and Kerissa are done, Lady Mae (Lynn Whitfield) and Bishop's re-marriage being canceled, and AJ (Jacob Gibson) and Grace trying to figure out their tumultuous relationship.
Details of the Greenleaf spin-off have not been revealed, as OWN and Lionsgate are still in the development stages. The focus of the spin-off does depend on how Greenleaf the series ends in season 5, and we know OWN won't show its hand too early. It's is clear, though, that executive producers Oprah Winfrey and Craig Wright, who also created the NAACP Image Award-winning series, always intended for the main Greenleaf story to be completed in five seasons with the possibility of a spin-off. Fans have themselves to thank for the spin-off getting the green light.
"From the inception of Greenleaf, Wright and executive producer Oprah Winfrey envisioned that the story told by the Lionsgate and Harpo Films produced series would span five seasons, with Wright contemplating a spin-off," according to a press release. "These plans accelerated when fans expressed their support for the show after its final season was announced, reaffirming its passionate fan base."
A spin-off is a win-win for OWN and fans. Greenleaf was a hit when it premiered in June 2016 because it pulled back the curtain on a faithful family to reveal the secrets and lies that kept them in power. The series recently won the 2020 NAACP Image Award for "Outstanding Drama Series," and series star Lynn Whitfield was recognized as the "Outstanding Supporting Actress in a Drama Series" for a second year in a row. (Get into her Lady Mae reads!) In addition, The Greenleaf Soundtrack Volume Two won the 2018 NAACP Image Award for Outstanding Gospel/Christian Album (Traditional or Contemporary). Also, "During its fourth season on OWN (Sept 3-Nov 5, 2019), Greenleaf was the [No.] 1 original scripted series on ad-supported cable for African American women and total viewers, and was also the #4 original scripted series on ad-supported cable for all women 25-54, leading OWN to be Tuesday night's [No.] 1 cable network among African American women, households and total viewers," according to a press release.
According to the same release, the Greenleaf spin-off will join the Peabody-nominated David Makes Man from Oscar-winner Tarell McCraney, The Haves and the Have Nots from Tyler Perry, and Queen Sugar and Cherish the Day from acclaimed filmmaker Ava DuVernay in OWN's lineup of prestige scripted programming.
If you need to catch up or need a refresher, all four seasons of Greenleaf are available on Netflix.