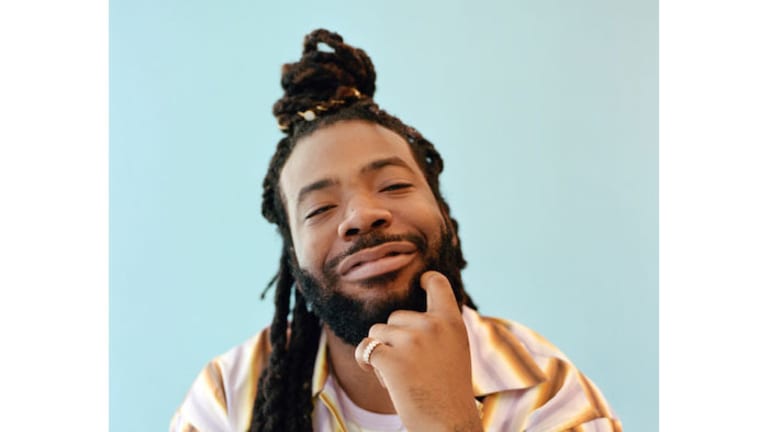 Grammy-Nominated Artist DRAM Gears Up for New Sprite Campaign and Album
UPTOWN caught up with DRAM to discuss his Sprite Winter Spiced Cranberry holiday collaboration and new music.
Written by Malcolm R. Banks
It's been three years since Grammy-nominated artist DRAM first exploded onto the scene with his critically acclaimed debut album Big Baby DRAM. Since its release, the Hampton, Va. native has been relatively quiet, looking to create a timeless sophomore album and gearing up for a national Sprite campaign.
DRAM will be featured in a Sprite animated holiday commercial alongside Los Angeles LakerLeBron James. The caricature ad will celebrate the limited release of the Sprite Winter Spiced Cranberry beverage, which infuses the well-balanced, crisp lemon-lime flavor of Sprite with a warm spice blend and tart cranberry. Having lent his voice for a rendition of "It's The Most Wonderful Time of the Year," DRAM is excited for the commercial's release and his continued partnership with Sprite.
​
"It's been an absolute pleasure working with Sprite," DRAM said to UPTOWN exclusively. "Everything has been smooth, and it's been a great look on both parts."
DRAM's first Sprite campaign launched in 2017, and the beverage brand featured the lyrics to his song "Sweet VA Breeze" on Sprite products. The current commercial is the third animated collaboration with James, and the previous have amassed over four million views on YouTube.
"It's really dope because especially during this time of year there's so much going on television," DRAM said. "It's really dope because outside of the campaign that I'm running with the DRAM brand solo, you have another conglomerate that's backing it as well. It brings in new traffic from all different directions."
The Hip-Hop star will undoubtedly receive heightened attention as the Sprite commercial gains popularity, yet his passion and focus on music is as intact as ever. In August, DRAM released the soulful ballad, "The Lay Down," with Grammy-winning artist H.E.R. DRAM explains how the record came together and his experience working with the R&B sensation.
"The first time I met H.E.R. she had a surprise birthday party," DRAM said. "We had mutual respect for each other's craft.
"I wrote out the entire song. When I sent the record to H.E.R., her team loved it and she configured a few of the words in the second verse to tailor it to her fitting and we just laid it out. Everything else happened organically."
In 2016, DRAM's critically acclaimed debut, Big Baby DRAM, featured the multi-platinum single "Broccoli" with Hip-Hop star Lil Yachty. Although the album was nothing short of a success, DRAM will be shifting his next effort in a different direction that will tap more into his R&B upbringing.
"I grew up singing," DRAM told UPTOWN. "I'm really into the things that made music so beautiful to the point where we can sample it 'til this day and going into the future. I wanted this next effort to be symbolic of the beautiful addition of great music. I want this to stand the test of time, as I believe it will."
While Big Baby DRAM received Gold certification and a multi-platinum single, the Atlantic Records standout stated he has matured as an artist and has his eyes set on producing a timeless album. As some fans may be eager for another chart-topping party record similar to "Broccoli" or "Cash Machine," DRAM's sophomore album will be geared more toward his soul roots.
"When you're making your art, you have to make sure it's true to you, your fans, and the moment," DRAM said. "Moments ago, something that you may have done back then was the thing to do and now you've outgrown that.
"Not necessarily saying to neglect it and leave it in the past, it will still be a part of making me who I am. But in regards to what I'm heading towards, I think it'll be best for anyone who is serious about their craft to go in the direction of growth and maturity."
A proven creative, DRAM has demonstrated his impressive musical range in the past with soul-infused records such as "WiFi" featuring legendary artist Erykah Badu.
Being heralded by publications, including The New York Times, as a creative with a unique sound, DRAM credits his Virginia roots and the musicians who paved the way before him such as Pharrell Williams, Timbaland, Chad Hugo, and The Clipse.
"Our heroes," DRAM emphatically stated. "Literally our heroes. To grow up and be a kid, a teenager, a young adult from that area and you have the same aspirations, It fills your heart up with joy knowing that these handful of people are literally shifting the majority of the pie of what we call today's music."
It happens all too often, a talented artist either becomes complacent in their success and/or sticks to a redundant formula. However, DRAM refuses to be stagnant, pushing his musical boundaries to new heights in what has the potential to be a special sophomore album. DRAM is primed and ready for the world to hear his new music, and fans can expect a 2020 release for his next project, in addition to a "special treat" for the 2019 holiday season.