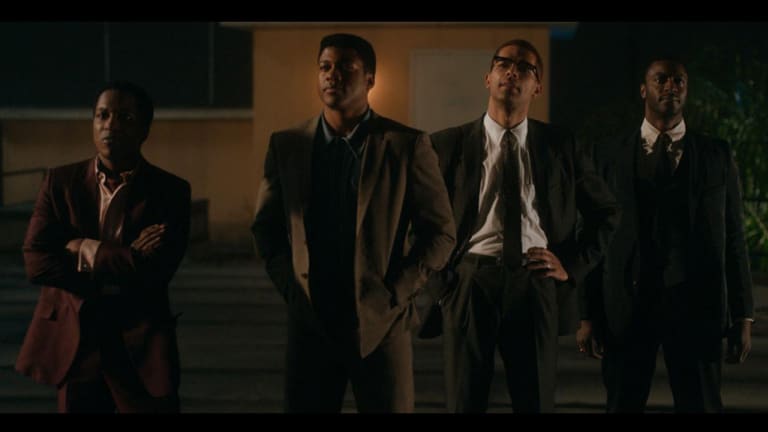 First Look: The Regina King-Directed Flick 'One Night in Miami'
What happens when Malcolm X, Sam Cooke, and Jim Brown join friend Muhammad Ali on the night he beat Sonny Liston?
We've all heard the story of Muhammad Ali, née Cassius Clay, defeating Sonny Liston to claim the heavyweight champion of the world title, but not many of us have thought about how Ali chose to commemorate his win that night in 1964. One Night in Miami, Regina King's directorial debut based on Kemp Powers's award-winning play of the same name, is a fictional account that ponders what would happen if four friends and icons of sports, music, and activism were in the same room on that fabled night.
Ali (Eli Goree), who is still going by his birth name at the time of the Toronto International Film Festival (TIFF) selection is set, is joined by Malcolm X (Kingsley Ben-Adir), Sam Cooke (Leslie Odom Jr.), and Jim Brown (Aldis Hodge) in a swanky Miami motel room. Although it's a momentous occasion, they can't ignore the harsh reality of being Black in America, even if you're an icon, and they begin to debate the hard questions of the time, according to TIFF. What's the Black celebrity's responsibility to the Black community? Should successful Black entertainers speak against racism? Is the humiliation worth the money and fame?
One Night in Miami "looks at the struggles these men faced and the vital role they each played in the Civil Rights Movement and cultural upheaval of the 1960s. More than 40 years later, their conversations on racial injustice, religion, and personal responsibility still resonate," according to a press release.
The film also features Joaquina Kalukango, Nicolette Robinson, Beau Bridges, and Lance Reddick. Powers wrote the screenplay and executive produced the film with King, Paul O. Davis, and Chris Harding. Terence Blanchard handled the music. Amazon Prime is expected the release the film to the public in late 2020.