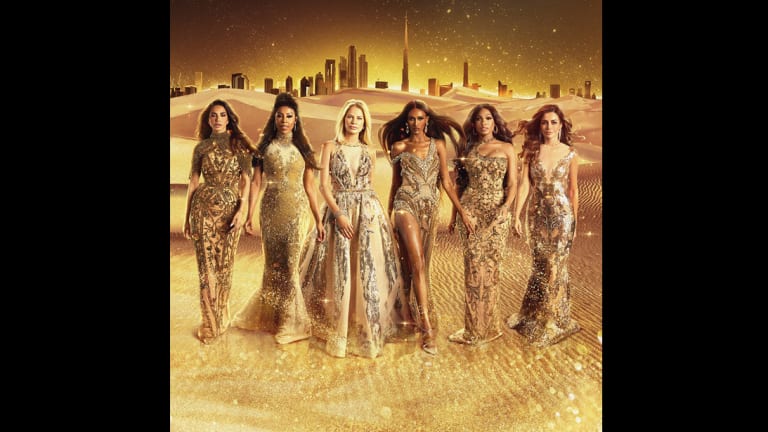 First Look: Phaedra Makes an Appearance on 'The Real Housewives of Dubai'
The Real Housewives of Dubai trailer promises much more than an appearance by Georgia peach Phaedra Parks, even though she's enough to make us tune in.
If you've been missing Phaedra Parks's reads, one-liners, and zingers on The Real Housewives of Atlanta, you'll get a dose of the Southern belle in the Middle East. Bravo just dropped the trailer for the all-new The Real Housewives of Dubai and Ms. Parks makes a cameo.
"Give me the tea. I'm very thirsty today," jokes Phaedra to The Real Housewives of Dubai's Caroline Brooks, a first-generation American and Afro-Latina who relocated from Massachusetts to United Arab Emirates with her family.
"Phaedra, I missed you," Brooks responds.
Another face may be familiar if you're a Bravo-holic. Ladies of London's Caroline Stanbury, who moved to Dubai with her children and now-ex-husband, joins Chanel Ayan, Lesa Milan, Nina Ali, Sara al Madani, and Brooks on the six-woman cast. These women make up the most diverse original cast of any Housewives series, heck, Bravo series. 
The trailer promises extravagance, luxury, drama, and reads that would make Phaedra proud. But there's also a catharsis for at least one of the ladies during the inaugural season for the 11th series in the franchise. Here's the official synopsis:
"The Real Housewives of Dubai follows a dynamic group of lavish women as they run business empires and expertly navigate a highly exclusive social scene within this ultra-luxe Billionaire's Playground. Whether they're dining on a mountainside overlooking a valley of 1,000 camels or hosting the wedding event of the year, these ambitious and glamorous women prove everything is more extravagant in the 'City of Gold.' When new group dynamics threaten long-standing friendships, tensions inevitably reach a boiling point, so if you can't handle the heat ... get out of Dubai."
Are you going to watch The Real Housewives of Dubai when it premieres on June 1st at 9/8c?