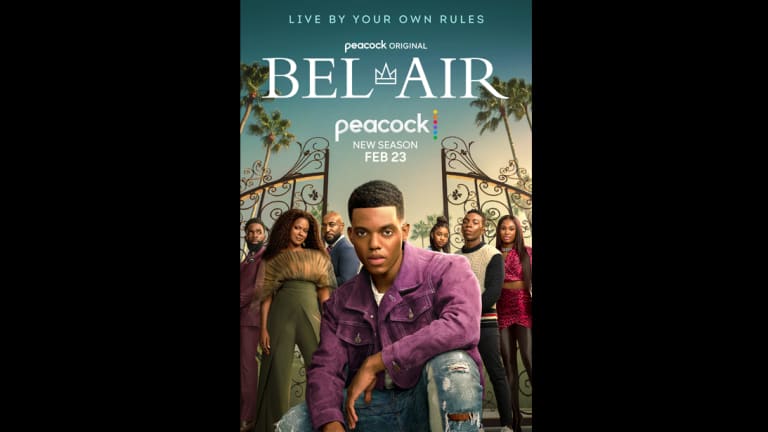 First Look: Tatyana Ali Joins 'Bel-Air' for Season 2 [PHOTOS]
Tatyana Ali is going back to Cali to join Bel-Air as a recurring guest star. Get your first look at season 2 of the dramatic series.
Peacock announced today that Tatyana Ali, who played Ashley Banks in the original The Fresh Prince of Bel-Air, is joining the cast of Bel-Air as a recurring guest star.
Ali is taking on the role of Mrs. Hughes, a middle school teacher who mentors Ashley Banks (Akira Akbar), loaning her books from her personal collection, reports Variety. 
Season 2 of the popular Universal Television series, that is based on a viral trailer created by Morgan Cooper, finds Will (Jabari Banks) at a crossroads and battling a new figure for control of his influence. In addition, the teen is trying to regain the trust of the Banks family that he lost at the end of season 1 of this dramatic reimagining. At least his brotherhood with his cousin Carlton (Olly Sholotan) is evolving positively, but the two will continue to challenge each other's differences. Hilary's (Coco Jones) status as an influencer keeps rising, but that leads to some friction with boyfriend Jazz (Jordan L. Jones). Meanwhile, Viv (Cassandra Freeman) and Phil (Adrian Holmes) are trying to find the ever-fleeting balance between family/marriage and their careers.
Bel-Air's season 2 will premiere on Peacock on February 23 with new episodes airing weekly on Thursdays. See more photos from Bel-Air season 2 below.
First Look: 'Bel-Air' Season 2 [PHOTOS]