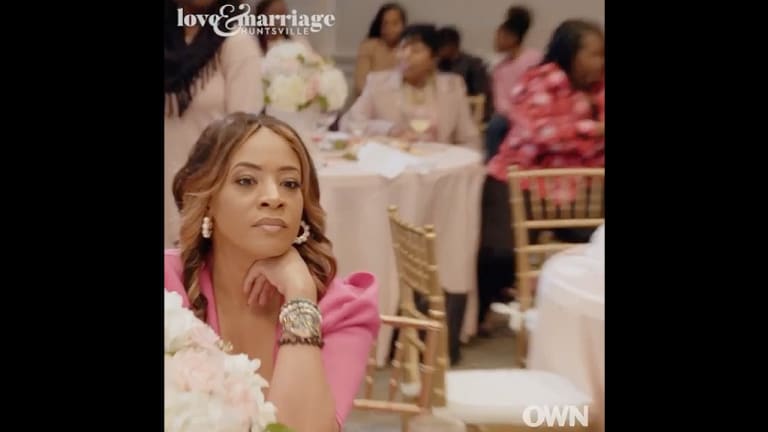 First Look: She Should Be Called St. Kimmi of 'Love and Marriage Huntsville'
Watch what happens when LaTisha Scott apologizes to Kimmi Scott for her mother Wanda's accusations on #LAMH.
If there's one thing that's true about Love and Marriage: Huntsville besides Martell Holt is an arrogant cheater, it's that Kimmi Scott is the reality series' most rational thinker. Let me explain.
Unlike drama schemers Mr. Holt and his wife Melody Holt, and disconnected LaTisha and Marsau Scott, Kimmi doesn't respond to disrespect with disrespect. When Melody had security escort Tisha from her skin care event, Kimmi implored Tisha to speak with Melody rather than leave without explanation. Even though Melody was too childish to accept Tisha's amends, Kimmi tried to bring them to an appropriate conclusion. In addition, Kimmi could teach a class on being a stepmother, because she realizes reacting negatively to her husband's ex only makes the situation worse for her stepson.
On Saturday, we'll be treated to another example of how grown women should act thanks to Kimmi. During the upcoming episode (video clip above), Tisha apologizes to Kimmi for her mother Wanda's accusation that Kimmi is disloyal for trying to mediate between Melody and Tisha. While acknowledging that Wanda acted out of love for Tisha, Kimmi also makes it clear she can respectfully stand up for herself without putting anyone in the middle, like Tisha.
Get to know Kimmi more in the clip below, during which she explains the story behind her nose ring and discusses her husband Maurice Scott's favorite head-wear.
Love and Marriage: Huntsvilleairs on Saturday at 8 p.m. on OWN.