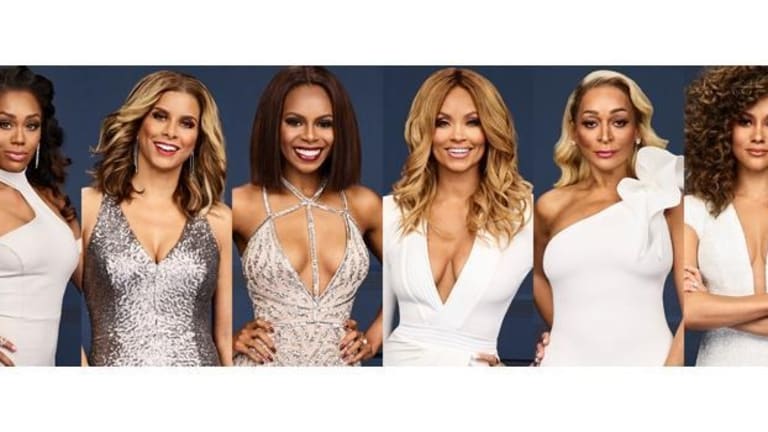 First Look: #RHOP Season 3 Promises Divorce, Debt, and Denial
The ladies of Potomac (and the surrounding area) are back for season three of The Real Housewives of Potomac.
And this season is high on drama -- the divorce, debt, and denial kind of drama.
Here are some theories and thoughts on the explosive #RHOP season three preview:
Rumors that Karen Huger and husband Ray have an open relationship are still swirling. Karen seems to prefer young, blue-eyed men to the "Black Bill Gates" and his grey hair.
Love is in the air for some of the women. Robyn Dixon and Juan appear to have mended their relationship and are no longer platonic co-parents. Similarly, Gizelle Bryant has a new man in her life.
New Housewife Candiace Dillard is on the scene ... with a body that appears to be au naturale. She and Ashley Darby appear to be friends, but Charrisse Jackson-Jordan, who has been demoted to a friend of the show, isn't feeling Candiace.
Everyone is beginning to see behind the smoke and mirrors Karen uses to distract from her real lifestyle -- a debt-filled one.
Gizelle and Ashley seem to be bonding over their mutual penchant to be ~~messy~~ nosy.
Ashley is put in the middle of her begging mother and wealthy yet frugal husband, who gives her an ultimatum. (Why haven't these two divorced yet, and is anyone eating at their Australian cuisine restaurant yet?)
Monique Samuels is having a difficult time finding a work-life balance, even with the help of a nanny (and likely other staff). She suffers an accident while driving her Bentley.
Charrisse reveals that Karen admitted that Ray asked Karen for a divorce.
The friendship circle is fractured by the conclusion of the season, which is usual for a Housewives franchise.
And Monique and Robyn appear to get into a physical altercation in which Monique threatens to "choke [Robyn] out" with an umbrella.
Here's how Bravo Media describes the season:
"This season the ladies are dealing with the high and lows of friendships, and marriages are being challenged. Karen and Ray are the talk of Potomac after the Washington Post breaks the story on Ray's tax debt. Karen is trying to keep her head high and support her man, but when the women see her living beyond her means, accusations of creating smoke and mirrors are thrown out, and the grande dame comes undone. Meanwhile, Ashley and Michael are working to get back on track, but Ashley's need to be financially responsible for her mother drives Michael to give her an ultimatum she can't bear. After many disappointments, Gizelle has found a man who can handle her big personality and is living on cloud nine with Sherman, but will balancing motherhood, a new relationship, and her cosmetic line prove to be too much? Potomac gains a new resident, as Monique and Chris officially move into their home. They want to expand their family, but Monique is so overwhelmed with all her endeavors she questions being able to add more to her plate. Robyn and Juan are starting to piece their life back together. Their finances are finally back on track, and they moved into a bigger home, but not everyone is sending positive energy their way. Ashley continues to judge the way Robyn and Juan choose to live their life, causing a rift between the ladies. And new Housewife Candiace Dillard is a former Miss United States who knows Ashley from the pageant circuit. She's newly engaged and is planning her dream wedding, but when she meets the other women, entering this inner circle proves to be no easy feat."
Season three of The Real Housewives of Potomac premieres Sunday, April 1st, at 10/9c.
​