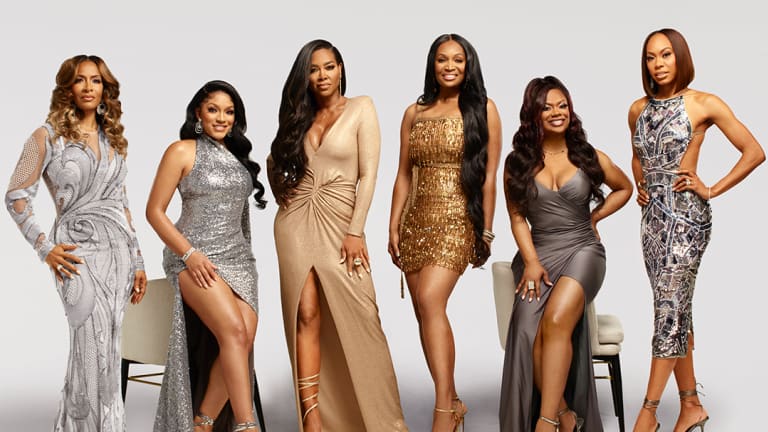 First Look: 'RHOA' Trailer Promises One Helluva Season
Judging from the RHOA trailer, season 14 of The Real Housewives of Atlanta will be full of shady drama, heartache, and butt-shaking good times.
Bravo finally dropped the trailer for the uber-popular The Real Housewives of Atlanta and, boy, is it a doozy ... in a good way. Here's what you can expect from season 14, judging from the jaw-dropping RHOA trailer.
Let's start with who's on the cast. Four-time Olympic Gold Medalist Sanya Richards-Ross is the newcomer of the bunch, but she's not new to reality TV after starring in her own WE tv series, Sanya Glam & Gold, with her husband and family. Marlo Hampton is finally a "peach holder" after being at the center of a lot of drama as a friend of the show. Shereé Whitfield just can't seem to get enough of RHOA and is returning again after exiting in 2012, playing the friend role in season 8, and holding a peach for seasons 9 and 10, only for Bravo not to invite her back for season 11. Returning cast members include Kenya Moore, Kandi Burruss, and Drew Sidora, who joined the series for season 13.
Judging from their positions in the center of the cast photo and the trailer, Marlo and Kenya seem to be the ones that the season will revolve around most. Marlo's story will focus on raising her nephews and bringing the "fash-on" to the group, while Kenya resumes creating attention-grabbing moments with her slick mouth and schemes. But the friendship we saw develop between Kenya and Marlo in season 13 has crumbled. These two are certainly worthy adversaries. Also, Marlo is no longer bowing down to Kandi like she's done in previous seasons.
SHE by Shereé has finally launched. But the joggers "designer" is most focused on her ex-con boyfriend Tyrone Gilliams being released from prison and consults another ex-con, Apollo Nida, for advice. Yessss, Phaedra Parks's ex-husband makes a cameo on RHOA season 14. It seems, though, that Shereé and Tyrone won't have the reunion she hoped for because dude seems to have her BLOCKED.
Sanya will introduce us to her family, which includes husband Aaron Richards, a former NFL player, and their 4-year-old son Aaron. While her story will focus on whether they'll add to their family, she gets it popping with Drew, but Drew has bigger issues with that husband of hers, Ralph Pittman, who is still a master gas-lighter. This time around, though, Kenya comes to Drew's defense, so it looks like these two have buried the feud from last season. Drew will be fighting on three fronts, though, because she and Shereé aren't vibing to put it mildly, but eventually Drew throws Sheree a bone, literally. It'll be interesting to see how that plays out because Kenya and Shereé seem to have created a bond.
Once again, Mama Joyce is creating issues between daughter Kandi and her son-in-law Todd Tucker. But there also seems to be an issue surrounding Joyce's sex life because she delivers the line, "Nobody controls my vagina but me!" OK, Mama Joyce!
Season 14 of The Real Housewives of Atlanta premieres on Sunday, May 1st, at 8/7c.