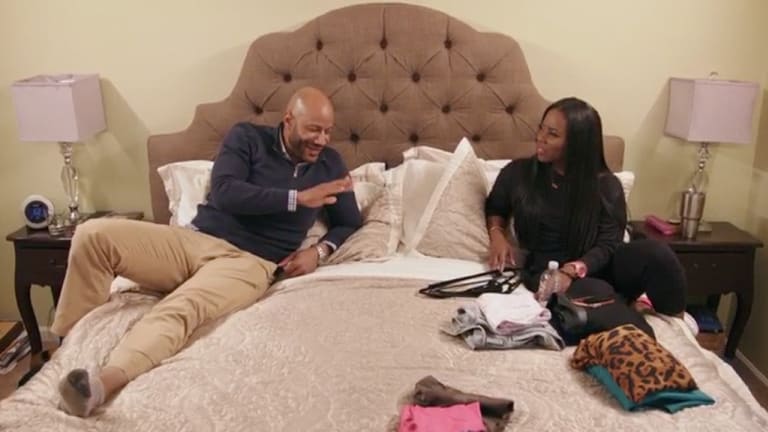 First Look: Marsau Disrespects Tisha AGAIN on 'Love and Marriage: Huntsville'
Here's an exclusive clip of the Love and Marriage: Huntsville season finale, featuring Marsau and LaTisha Scott.
The season finale of OWN's Love and Marriage: Huntsville will air on Saturday, Sept. 12th, at 8 p.m., and the exclusive clip of Marsau and LaTisha Scott arguing once again is sure to make your blood boil — or maybe that's just me.
The official synopsis of the episode is:
"Kimmi throws Maurice a surprise party, but the real surprise is the drama between the Scotts and Melody. Meanwhile, Melody accuses Martell of being too friendly with a certain rival and Marsau makes an underhanded comment to Tisha."
We already know from the above video that Marsau tells Tisha that their families are from opposite sides of the tracks. Although the clip ends before Marsau can explain himself, we all know the phrase either refers to train tracks separating the Black side of town from the white or tracks separating the poor (or uncouth) folks from the rich (or classy) townspeople. Since both people in this seemingly unhappy union are Black, we can only assume until Saturday that Marsau was referring to a difference in socioeconomic levels between the families and was being classist.
I have no idea why Marsau thought it was appropriate to say that they come from "different sides of the track," but I can't say I'm surprised because dude only has one-tenth of an iota of respect for his wife. (Also, you can't fault someone for their upbringing or the socioeconomic level to which they were born, because no one makes that decision for themselves.) If these are the things he says to her while cameras are rolling, imagine what he says when they're alone and away from the children he seems to take very little interest in. However, I'm no longer Team Tisha, though. I find her frustrating to watch because she hasn't realized she doesn't have the quick-wittedness, debate skills, or backbone to verbally box with Marsau or sworn frenemy Melody Holt, for that matter. Heck, Tisha can't even stand her ground with simple-ass, Melody minion Destiny Payton.
The second season of Love and Marriage: Huntsville has been all about the conflict between one-half of the Scotts and the Holts, so it's likely been difficult for Tisha to avoid confrontation. However, she needs to rise above the fray and pay everyone who isn't Team Tisha (including me) dust and continue working on her career and self-improvement.
I don't know if I have a third season of Love and Marriage: Huntsville in me. Tisha and Kimmi Scott were my faves until this season, but now I'm just bored. I was sick of it being the Melody and Martell Holt story during the first three episodes of the season. Then, after their baby was born, the show was all about conflict between Melody and Tisha, conflict between Marsau and Martell, conflict between Melody and Marsau, conflict between Maurice and Kimmi about continuing in nursing, conflict between Tisha's mom and Melody and Kimmi, conflict between Melody and cheating Martell, and Martell's conflict with Tisha and Marsau's children. Yes, a grown man sunk to the low of wanting to punish children for their parents' actions.
A better title for the reality series in its current iteration is The Business of Marriage: Huntsville because there's no love present. But honestly, I'd rather witness them improving their community, which was the initial premise of the Come Back Group and show, than trying to secure the bag and going for cheap reality drama thrills.