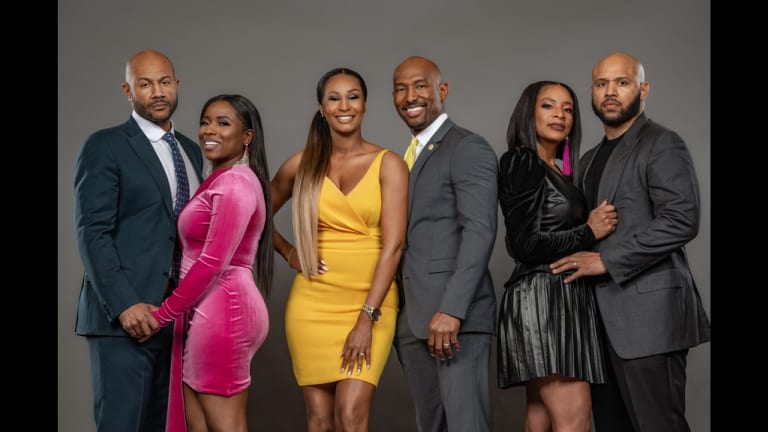 First Look: 'Love and Marriage: Huntsville' Exclusive Clip
Watch LaTisha Scott confront Melody and Martell Holt for kicking her out of Melody's skincare launch event.
Love and Marriage: Huntsville (LAMH) is back with its second season on OWN. But let's get real, if there's anything we learned from season one of this series, it's that there's very little love between the married couples: Martell Holt cheated on Melody Holt; Marsau Scott barely respects wife LaTisha Scott as more than a maid, cook, babysitter, and personal assistant; and Maurice Scott doesn't involve wife Kimmi Scott in decisions that will affect both their lives. Honestly, Maurice and Kimmi have the smallest issue because they're newlyweds and h can learn to discuss things with his wife before making a decision. When it comes to Martell and Marsau though, I don't even understand why Melody and Tisha, respectively, put up with their bullsh*t. We can hope season 2 of LAMH will feature more tenderness, growth, and love, but knowing that Melody recently filed for divorce from Martell and watching the first two episodes of the season, it sure doesn't seem like it.
The so-called power couples are in a terrible place as they all deal with the fallout from Martell's extramarital affair going public, and him and soon-to-be ex-wife Melody being more upset with LaTisha and Marsau for acknowledging and discussing the affair than they are disappointed with Martell's can't-keep-it-in-his-pants behavior. (When will people learn not to do a reality show if they're hiding dirt?) Kimmi and Maurice, who are friends with ex-business partners the Holts and related to LaTisha and Marsau, are in the middle of the drama. These couples who once claimed to be so close they signed up for a reality series about marriage, friendship, and business, are so much at odds that Melody had LaTisha escorted out of her skincare launch event at the end of last week's episode. Kimmi has attempted to be a mediator between her friends and in-laws to no avail. But Melody's repugnant antic of kicking out LaTisha seems to force Kimmi to pick a side and support her sister-in-law.
The second season so far has focused heavily on Melody and Martell, and even though I find both of them extremely annoying and arrogant, I'd rather not focus too much on the other couples. Maurice and Kimmi are boring, and I find Marsau to be emotionally abusive to LaTisha, who doesn't stand up for herself, so I'd rather have no parts of that frustration. I'd be lying, though, if I said I wasn't hoping to witness Melody's and Martell's comeuppance during season 2 of Love and Marriage: Huntsville.
LAMH airs on OWN on Saturday at 9 p.m.