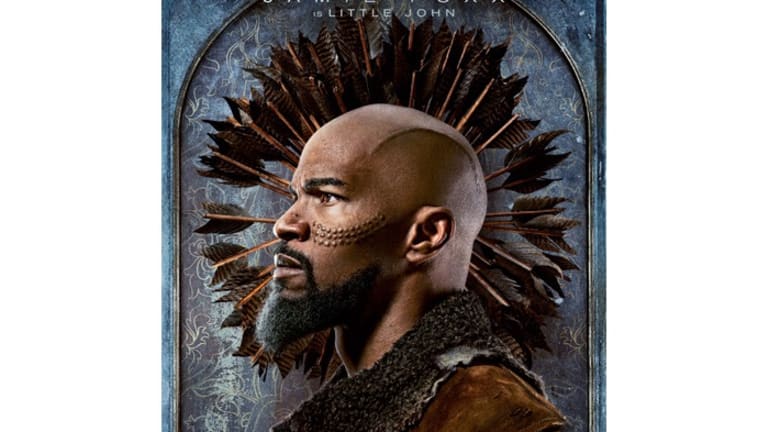 First Look: Jamie Foxx as Little John in 'Robin Hood' [PHOTOS + VIDEO]
Jamie Foxx stars in Robin Hood as Little John, the titular outlaw's homeboy, fight trainer, and captain.
The legend of Robin Hood is a story that is always relevant because the masses can relate to a hero who robs from the wealthy and gives to the poor. This fall's iteration of the story is the fourth time the outlaw of Sherwood Forest has hit the silver screen in my lifetime, and I count Robin Hood: Prince of Thieves as one of my favorite films of the 1990s. I mean, who can forget Morgan Freeman as Azeem exclaiming, "Damned English oak," as Kevin Costner's Robin attempts to save Lady Marion from the Sheriff of Nottingham? While Freeman's character doesn't exist in the legend, Robin's group of outlaw allies, the Merry Men, does appear in the earliest ballads detailing the folklore, and if you're familiar with it, then you know about Robin's right-hand man Little John. For the upcoming release of Robin Hood on Nov. 21st, it seems the characters of Azeem and Little John have been combined into one, giving us Jamie Foxx's Little John, who is a moor and becomes not only Robin's greatest ally but also his fight trainer.
With Otto Bathurst, who is known for his work on Peaky Blinders and Black Mirror, at the helm and Taron Edgerton, who we learned can handle a kick-ass fight scene in both Kingsman: The Secret Service and Kingsman: The Golden Circle, starring as the war-hardened Crusader turned thief turned enemy of the corrupt English Crown, Robin Hood is sure to be an entertaining extravaganza complete with battlefield scenes, exciting fight choreography, and of course a romance.
Robin Hood hits theaters next week on Nov. 21st, but until then, get familiar with the characters below.
​
​
​