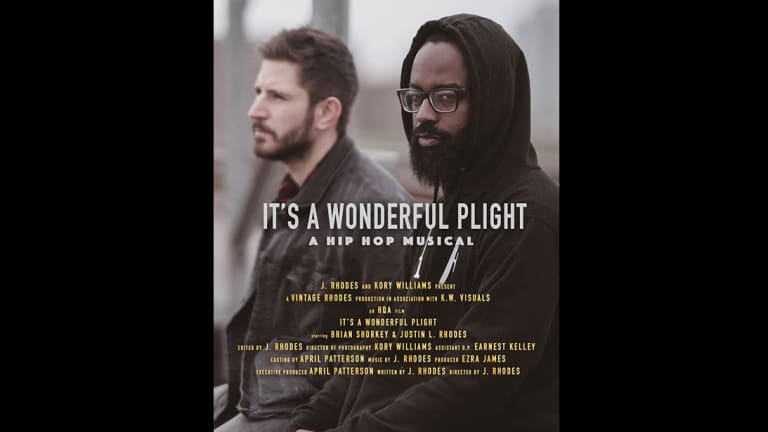 First Look: 'It's a Wonderful Plight'
A new film from Justin Rhodes, It's a Wonderful Plight, tackles the differences between cultural appropriation and allyship.
Music producer, performing artist, and songwriter Justin Rhodes has directed and starred in a film that aims to define the differences between appropriation and allyship.
Rhodes has billed It's a Wonderful Plight as A Christmas Carol meets Hamilton, as the 75-minute film takes viewers and main character Scott (Brian Shorkey) through a review of Black History with the help of the Ghosts of Christmas Past, Present, and Future-type character Josef Hotep, who is played by Rhodes. The "Woke Spirit" appears in a hallucination after Scott calls out his roommate for holding stereotypical prejudices about Black Americans. But Scott is also admonished for being equally detached from the "plight" of the people who created the genre of music he loves, Hip-Hop. Through Josef Hotep, Scott learns about slavery to the assassination of great voices like Fred Hampton, Martin Luther King Jr., Bob Marley, Tupac, and Biggie. It's a Wonderful Plight also features reenactments of recent instances of police brutality, like the death of Botham Jean in Dallas, and the true cost of gentrification. However, the film "avoids pandering to the white gaze, as many other attempts to present a conversation on race relations [through] film have done."
Vintage Rhodes Films and 1091 Pictures have partnered to release It's a Wonderful Plight to commercial audiences. It will be released to Amazon Prime Video on June 15th. The film won the monthly edition of the Oniros Film Awards and was a 2020 selection at the San Francisco Black Film Festival.
"The beauty of the film is that it tells a story told a thousand times, in a way that has never been told before," said Rhodes in a release. "That's extremely tough to do and I'm proud to be a part of the team that executed such greatness."