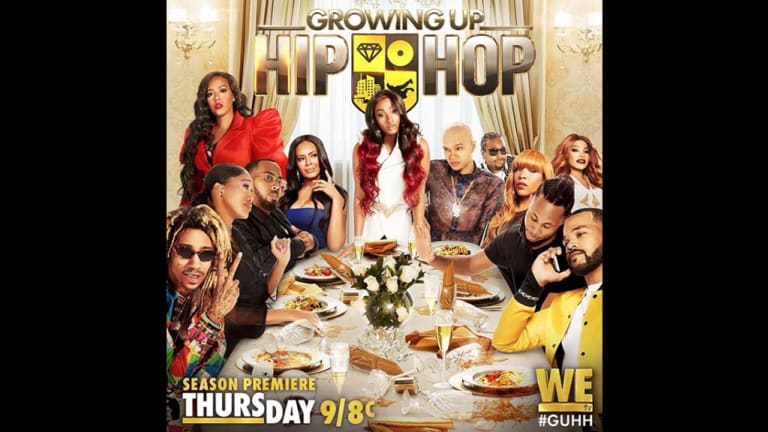 First Look: Egypt Criss Lands in the Hot Seat on 'Growing Up Hip Hop' [VIDEO]
Fingers crossed Aunt Maureen can get Egypt to understand that boyfriend Sam doesn't deserve to be part of their family.
I don't know about you, but reality TV has been my main source of entertainment while sheltering at home. I've abandoned scripted fare like Ozark, Westworld, and Insecure (gasp!) for whatever unknown reason, and have preferred to peek through windows onto train wreck relationships and/or friendships on every single iteration of 90 Day Fiancé, The Real Housewives of Atlanta, New York, and Beverly Hills. Another reality show that gets my blood boiling and tickles my funny bone is WE tv's Growing Up Hip Hop, which returned from a mid-season break last Thursday, April 23rd. Here's why …
As you've probably guessed from the show title, the series focuses on the children of Hip Hop legends, like Pepa from Salt-N-Pepa, Treach from Naughty by Nature, Damon Dash, Master P, and Rev. Run. Since I remember reading about the births and childhoods of these "Rap princesses and princes," it's cool to get a glimpse into their lives as adults. Actually, I should say "semi-adults" because some of the cast is still growing up Hip Hop.
The best drama of this season involves Pepa and Treach's daughter Egypt Criss and her ward, er, I mean user, er, I mean boyfriend Sam. The two are engaged and living together on Pepa's dime because Sam doesn't have a real job besides moonlighting as a rapping Joker impersonator. Sam is so broke he had to purchase Egypt's engagement ring from a pawn shop, which overdrew his paltry bank account. Oh, and I have to mention that dude has kids, and he and Egypt have never addressed who, if anyone, pays his child support.
Egypt's cousin and Papa's niece Tahira "Tee Tee" Francis and Briana Latrise, Mary J. Blige's former stepdaughter, are the only ones to see through Sam's BS, so you know Sam had to get Egypt away from them. He concocted a story about Tee Tee being in love with him, and instigated a confrontation between Egypt and Briana. But the matriarch of the Pepa clan and Tee Tee's mom, Maureen, is about to lay down the law and tell Egypt to get her ish together on tonight's episode.
Here's WE tv's official synopsis of the "Gangsta's Paradise" episode of Growing Up Hip Hop:
"Egypt's ambushed by her family in Jamaica and the battle lines are drawn! Pep waves her gavel from the sidelines, and Tee Tee drops an unexpected bomb. Angela and Bow's new partnership ignites, and Boogie struggles to make peace with Dame."
Check out a first look video below and remember Growing Up Hip Hop airs tonight, April 30th, at 9/8C.