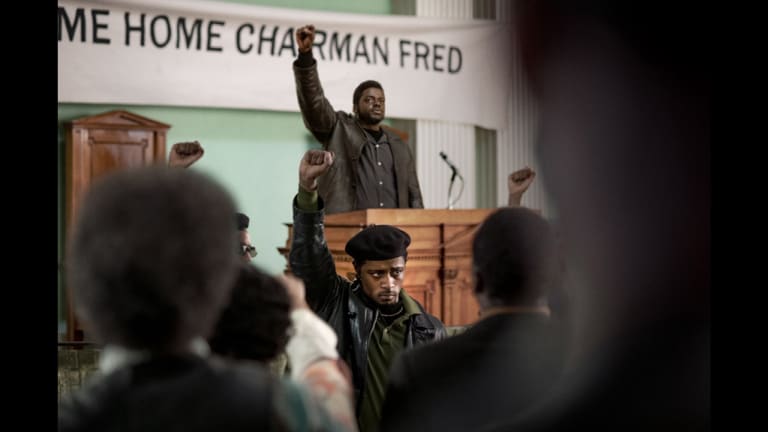 First Look: Daniel Kaluuya & LaKeith Stanfield in 'Judas and the Black Messiah'
Judas and the Black Messiah details the true story of the FBI assassinating Fred Hampton of the Black Panther Party.
Judas and the Black Messiah is a historical drama that tells the true story of Fred Hampton, the chairman of the Black Panther Party of Illinois, and how the FBI coerced a petty criminal named William O'Neal into infiltrating the chapter and providing information that allowed the FBI to assassinate Hampton at the age of 21 on Dec. 4, 1969. The film stars Oscar nominee Daniel Kaluuya as Hampton and LaKeith Stanfield as O'Neal, and will hit theaters in 2021.
Although the FBI killed Frederick Allen Hampton more than 50 years ago, it didn't kill his legacy and his "I am a revolutionary!" rallying cry is just as powerful in 2020 as it was in the late-1960s. And that's because we're still fighting for actual freedom in the United States, self-determination within the Black community, an end to police brutality, and the slaughter of Black people.
Chairman Fred, who was also the deputy chairman of the national Black Panther Party, was dangerous to America's status quo and a threat to police and local and federal government because he was inspiring a generation to fight against oppression. His creation of the Rainbow Coalition, a multicultural organization of oppressed peoples in Chicago fighting for equality and political empowerment, made him a direct enemy of the government, the FBI, and the Chicago Police. These law enforcement entities realized that the revolution had to be destroyed from the outside and the inside. So they lied to the American public and said the Black Panthers were a militant terrorist organization and used people like O'Neal to destroy the Black Panthers from the inside and assassinate their leaders.
The FBI offered O'Neal two choices: go to prison or infiltrate the Black Panthers and provide intelligence on Hampton. O'Neal took the deal. However, he ended up becoming a comrade in arms of the Black Panther Party and rose through the ranks, while constantly fearing his treachery would be discovered.
Judas and the Black Messiah was produced by Ryan Coogler and Charles D. King, and marks Shaka King's studio feature film directorial debut. In addition to Kaluuya and Stanfield, it stars Jesse Plemons (The Irishman, Vice) as FBI Special Agent Roy Mitchell, Dominique Fishback (The Hate U Give, The Deuce) as Hampton's partner Deborah Johnson, Ashton Sanders (Moonlight, Wu-Tang: An American Saga, The Equalizer 2) as Larry Robertson, and Martin Sheen as ~~that piece of shit~~ FBI Director J. Edgar Hoover. Shaka King and his writing partner Will Berson co-wrote the screenplay for Judas and the Black Messiah with the story by Kenny Lucas and Keith Lucas.