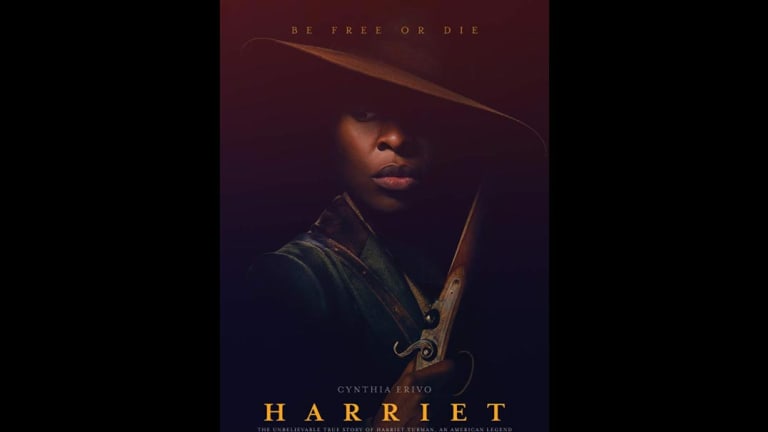 First Look: Cynthia Erivo as Harriet Tubman in 'HARRIET'
Here's your first look at the controversial casting of British actor Cynthia Erivo's portrayal of the American hero.
America's obsession with films that romanticize the period of racism-based chattel slavery that still plagues us, today, is exhausting. Where are the films about Reconstruction, the period in which formerly enslaved Black Americans made advancements? Where are the films about the Black folks who were free in America during the 18th and 19th Centuries? Where are the films about the hero abolitionists who fought against human enslavement? Where are the films about the Black Civil War heroes? Come Nov. 1st, the Kasi Lemmons-directed biopic HARRIET, about Freedom Fighter Harriet Tubman, will help fill this void in Hollywood.
Cynthia Erivo, who wonderfully played Celie in The Color Purple The Musical on Broadway and made her film debut in 2018's Bad Times at the El Royale opposite Jeff Bridges, will take on the titular icon, Harriet Tubman.
The film also stars Janelle Monae, Leslie Odom Jr., Vanessa Bell Calloway, Clarke Peters, Joe Alwyn, Henry Hunter Hall, Zackary Momoh, Deborah Ayorinde, Vondie Curtis-Hall, Omar Dorsey, and Antonio J. Bell.
The official description is:
"Based on the thrilling and inspirational life of an iconic American freedom fighter, HARRIET tells the extraordinary tale of Harriet Tubman's escape from slavery and transformation into one of America's greatest heroes. Her courage, ingenuity, and tenacity freed hundreds of slaves and changed the course of history."
Although the film hasn't been released yet, there has been controversy surrounding it and Erivo's casting as Tubman. There was backlash over another Black-British actor being cast as a Black-American hero, like David Oyelowo being cast as Martin Luther King in Selma and Chiwetel Ejiofor taking on the role of Solomon Northup in 12 Years A Slave. Lemmons, who also wrote and directed 1997's Eve's Bayou, which was recently inducted into the National Film Registry, said she understood the controversy behind the casting.
"I understand it," Lemmons said to Shadow and Act. "I certainly understand and respect the conversation. But I think I could tell you, her work was so sincere and true that, almost, you have to see the movie. You know what I mean? For me, I'm looking at a woman with recent ancestors from West Africa playing a woman with recent ancestors from West Africa, who is tiny, who is mighty, who can sing as Harriet did. And acts her face off. She's just so good."