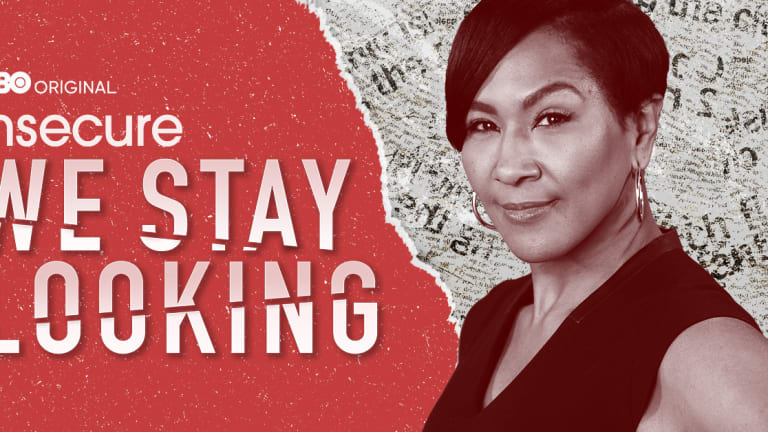 First Listen: New Satirical Podcast 'We Stay Looking' [TRAILER]
In this new satirical podcast from the Insecure team, sleuth Rose Cranberry continues her search for missing Black girls after finding LaToya Thompson.
The creative team behind the hit HBO series Insecure has launched a new "true crime" podcast, titled We Stay Looking, but this is a satirical exposé of the corruption within the justice system.
If you're a fan of Insecure, then you're familiar with the true crime series about the disappearance of LaToya Thompson (played by SZA) within season 4. Well that show-within-a-show spawned the satirical podcast Looking for LaToya, in which investigative reporter Rose Cranberry explored the mysterious disappearance of the 26-year-old. Now, Terri J. Vaughn is reprising her role as Cranberry to satirically expose issues within the criminal justice system on We Stay Looking, which is produced by Issa Rae's Raedio, Tenderfoot TV, and HBO Max. 
Marsai Martin, Kyla Pratt, Kandi Burruss, Karrueche Tran, Nick Viall, Max Greenfield, and others will join Vaughn for We Stay Looking, which is available on all podcast streaming platforms. The first two episodes are currently available, with a weekly rollout scheduling for the remaining episodes. The entire season is also available on HBO MAX.
In the first episode of We Stay Looking, entitled "Red Flavored Drink," Cranberry investigates the imprisonment of local Atlanta resident Dante Samuels, who is played by Desi Banks. In "Kanekelon, She Gone," Cranberry attempts to find a missing teenage girl, Daisy Flower (played by Martin), in a small town in Michigan.
"We're geeked for the opportunity to expand the world of Insecure's Looking for LaToya and continue to satirically uncover the issues in our criminal justice system with the We Stay Looking podcast," says creator Rae in press materials.