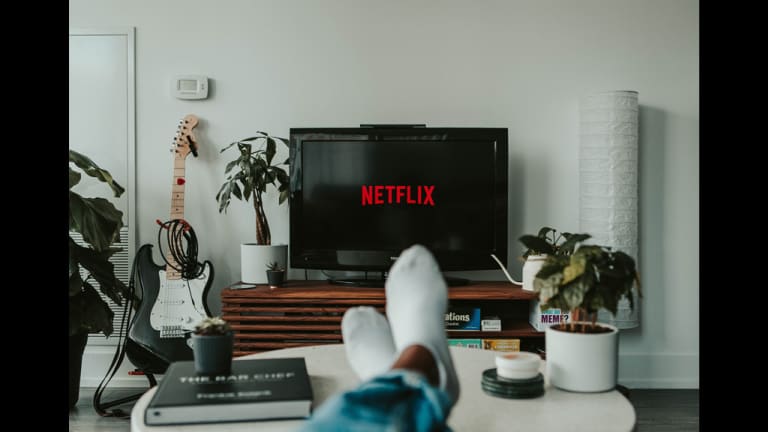 Escape the Election Blues with 'On the Rocks,' 'Spell,' and 'His House'
These films are your break from the stress the election coverage will inevitably cause this week and beyond.
No one blames you for wanting to take a break from this election. It might even be advisable to preserve your mental health. So, go head kick back with a glass of wine and a movie. Might we suggest these three to help you out?
Rashida Jones and Bill Murray Deliver Laughs and Insight inOn the Rocks
In Apple TV's On the Rocks, directed by Sofia Coppola and starring Rashida Jones and Bill Murray, Jones is Laura, a writer, mother and wife, who is in a rut. As her husband Dean, played by Marlon Wayans, is constantly on the move, having dinners and traveling, to build up his company, she, with nudging from her father, Murray's Felix, a playboy even in his advanced age, begins to see something a bit more devastating: Could Dean be having an affair? Caving into her suspicions, she teams up with her dad to investigate. What ensues is a father and daughter soul searching brought to the light through a number of delightful mishaps.
Now do be warned this is a film for mature audiences, meaning conversation and subtlety are abundant. While Wayans' Dean could have, arguably, been used more and his chemistry with Jones could be better, the film's primary father-daughter focus obscures this. Also, because Dean is on the go and the couple is experiencing a moment of disconnect, it's not really a dealbreaker. The point is the couple is supposed to feel awkward. To that end, whenever they are seen together, they are typically out of sync. Still Marlon Wayans' fans will be disappointed not to see more of him!
Despite this, On the Rocks is an enjoyable escape. At its core, it explores how a father's relationship habits greatly impact those of his daughter. Yes, the plot may involve Laura and Dean, but the real story is Laura and her dad Felix. And, in those roles, Jones and Murray just nail it.
Omari Hardwick and Loretta Devine Shine in the Horror FilmSpell
Omari Hardwick might not be on Power anymore, but he isn't ghosting us. In his latest film Spell, available in limited theaters and VOD, he and, yes, the one and only Loretta Devine take us into a world filled with despair, Hoodoo, and questionable intentions that last long past Halloween. Some may liken it to Misery, but the Black Appalachian setting helps to put it in a lane of its own.
Explorations of intra-racial class tensions put a unique spin to the story. Devine's Miss Eloise is scary precisely because she seems so sweet. She, however, is the mastermind able to gift a blind man eyes and essentially, as Hardwick's Marquis discovers, to control a whole town. It's the kind of dark power we never see from an older Black woman.
In conversation with Hardwick following the film's screening at the Savannah College of Art and Design Savannah Film Festival, acclaimed film critic Elvis Mitchell described Spell as "a horror movie that deals with the reality of Black success and the horror of leaving part of yourself behind." Hardwick then described Devine's Eloise as "being the mirror calling him out and going 'you gotta look deep.'"
All of this makes Spell, from Black director Mark Tonderai, a horrifying film experience that keeps you engaged from beginning to end, perhaps even leaving you with an appetite for more. Watching it, the election should be the last thing on your mind.
His HouseStarring Wunmi Mosaku ofLovecraft CountryJust Might Be the Immigrant RefugeeGet Out
Escaping a war-torn country is only the beginning of the horror for husband and wife Bol and Rial Majur, played impeccably by Gangs of London's Sope Dirisu and Lovecraft Country's Wunmi Mosaku aka Ruby. Acceptance into England proves to be no refuge, as the couple is haunted by not just their past but their present too in the Netflix thriller His House. Written and directed by Black Brit Remi Weekes, His House not only reveals what this couple is running from, but also, what they are running to. For African refugees fleeing a virtually all-Black country, even a war-torn one, adjusting to an overwhelming white one is not easy. So, His House explores that terror too.
What we witness in the house is a haunting on both ends. First, there is the memory of the terror and trauma of even making it to this point, filled with perhaps not so fine moments of your own cruelty or desperation to ensure survival. And then there is the price, a sacrificing of parts of who you are, to fit the mold of your new reality.
The result is a film that is both provocative and terrifying. With His House, Weekes has created that rare film that moves both critics and fans. It is one not to be missed.