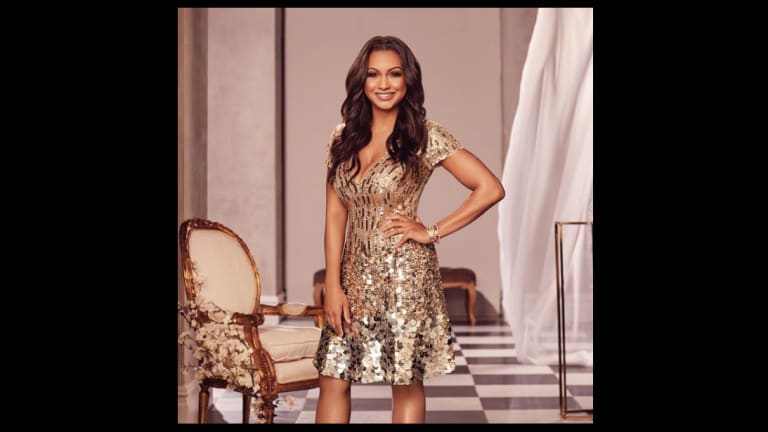 Eboni K. Williams Brought the Unapologetic Blackness to the 'RHONY' Premiere
Eboni K. Williams debuted on The Real Housewives of New York City May 4 and fully embraced her position as the first Black cast member on the Bravo series.
The Real Housewives of New York City premiered last night, May 4, with the first Black cast member, Eboni K. Williams, in the Bravo reality show's 13-season history. If you thought Williams would fade into the background of RHONY to give her fellow cast members the opportunity to get used to the series' desegregation, then you were wrong because when Williams wasn't dropping wisdom about the Black experience in America, she was letting her clothing do the talking.
It really shouldn't come as a surprise that Williams brought unapologetic Blackness to the RHONY premiere. Her cast bio literally spells out that she's not new to being the "first and only Black person" in rooms full of powerful people and uses this privilege as a "weapon" to "give a voice to the voiceless." The attorney, author, host, producer, and podcaster represents Black excellence not only in the hopes of inspiring other Black Americans, but also to prove to others that their assumptions about Black people are wrong. Williams uses her experience as a legal scholar to educate and expose "institutional racism, breaking down controversial issues such as judicial discretion and expertly analyzing culturally relevant topics." In fact, she hit Luann de Lesseps, Leah McSweeney, Ramona Singer, and Sonja Morgan with a fact about desegregation in the Hamptons, a favorite RHONY haunt, while also desegregating the show's cast. But she also proved she can roll with a joke even if it indirectly deals with race.
A Housewife's first scene introduces her to the audience and reveals whether she has a previous relationship with anyone else in the cast. For hers, Williams met McSweeney in one of New York City's most iconic locales, Central Park. While the outing was basically two girlfriends gabbing, Williams's sweatshirt that featured the first names of the Exonerated 5 and her Black Lives Matter face mask spoke volumes. The Exonerated 5 were formerly called the Central Park 5 after they were erroneously accused and convicted of assaulting a woman in the Manhattan park. DNA evidence exonerated the five Black and Latino teens from Harlem — Raymond Santana Jr., Kevin Richardson, Antron McCray, Korey Wise, and Yusef Salaam — after they'd served years in prison. Hopefully, those who were unfamiliar with their names did some research. This scene also should've spurred Singer, Morgan, and de Lesseps to educate themselves on the man they helped vote into the Oval Office in 2016, since he advocated for executing the Central Park 5 before they were exonerated.
Williams's apparel also showed off her proud membership in Alpha Kappa Alpha Sorority, Inc., the first intercollegiate historically Black sorority, while she entertained her sister in her apartment. Even though she received her B.A. in communications and African-American studies from the University of North Carolina at Chapel Hill and J.D. from Loyola University New Orleans College of Law, Williams chose to highlight Howard University, an HBCU and the place where AKA was founded.
The rest of the cast met Williams when she accompanied McSweeney to a lunch Morgan gave at her Upper Eastside townhouse. She had been an avid watcher of The Real Housewives franchises and said she'd seen de Lesseps on the charity circuit over the years. Morgan completely confronted the change in the racial dynamic of the cast when she made a point to show Williams her koi fish of different hues to prove that she doesn't discriminate. Williams didn't skip a beat, quickly realizing that Morgan was making a corny joke, and congratulated Morgan for also celebrating body inclusivity with the fish of different sizes.
Williams demonstrated that her approach isn't always subtle when she flat-out educated de Lesseps and the rest of the women about Sag Harbor being the first village in the Hamptons that allowed wealthy Black Americans to buy waterfront property. Therefore, the area that serves as de Lesseps's part-time home speaks to her soul, Williams said. The others seemed to take in the knowledge, if only as a tidbit of trivia. But in my mind, Singer, who infamously told a young Black woman that her name would keep her from getting a job; uses phrases like "the help"; and didn't appear to have one non-white woman among her 60 girlfriends, was thinking Sag Harbor's integration history was a strike against the village.
I was here for every minute of Williams's screen time during the RHONY premiere because she's exactly what the series needed. New storylines are bound to develop as the rest of the cast learns what they have in common with her and what they can learn from each other's differences. I'm anticipating a highly entertaining season that will finally let a large population of New York City see themselves on the Bravo network. There's a reason her Housewives tagline is: "I've had to work twice as hard, for half as much. But now I'm coming for everything." Let's just hope the cast doesn't embarrass themselves when Williams takes them to Harlem for the first time in the series' history.