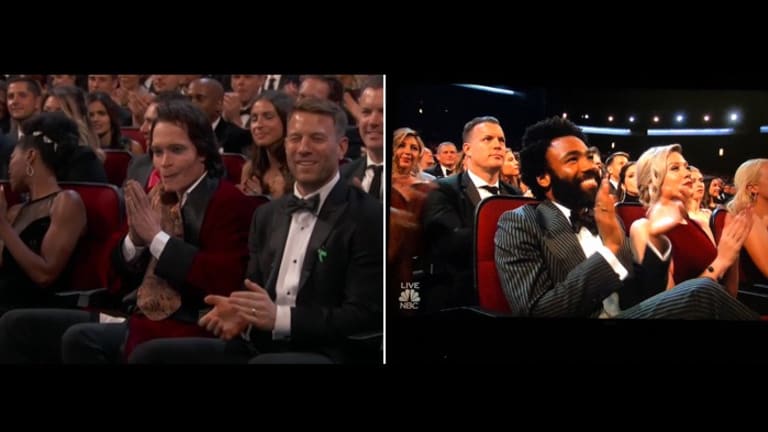 Donald Glover Attended the Emmys as 'Atlanta' Character Teddy Perkins or Did He?
Who attended the Emmy Awards as Atlanta character Teddy Perkins?
If you've been having Atlanta withdrawals, you should've watched the Emmy Awards last night because Donald Glover's character Teddy Perkins was in attendance. However, it's still not clear whether Glover dressed as the eccentric, unsettling Perkins.
The "Teddy Perkins" episode aired in April of this year and has been lauded by critics and fans for deviating from the typical comedic structure of the series. Instead, director Hiro Murai gave the episode that was named for the creepy character a dramatic horror feel. The plot focuses on Darius (Lakeith Stanfield) attempting to buy a piano owned by musician Benny Hope, whose star status has definitely dimmed as a result of him being wheelchair-bound and having photosensitive skin. Darius, however, meets the pale-faced Theodore "Teddy" Perkins, who claims to be Hope's brother. Strangeness ensues.
At first, many on Twitter thought Glover had dressed like Perkins for the Emmys, and bestowed many accolades on the actor.
However, others noticed something amiss. Bill Hader was sitting next to Perkins, who was visible when Hader took to the stage to accept his award and returned to his seat. While another still from the awards ceremony shows Glover as himself.
So either Glover took off that costume really quickly or someone else was dressed as Perkins. I'm putting my money on Stanfield because his jaw seems as sharp as Perkins's appears. But then again, I don't see Stanfield shaving his signature beard and mustache. IDK. What do you think? Who attended the Emmy Awards as Atlanta character Teddy Perkins?