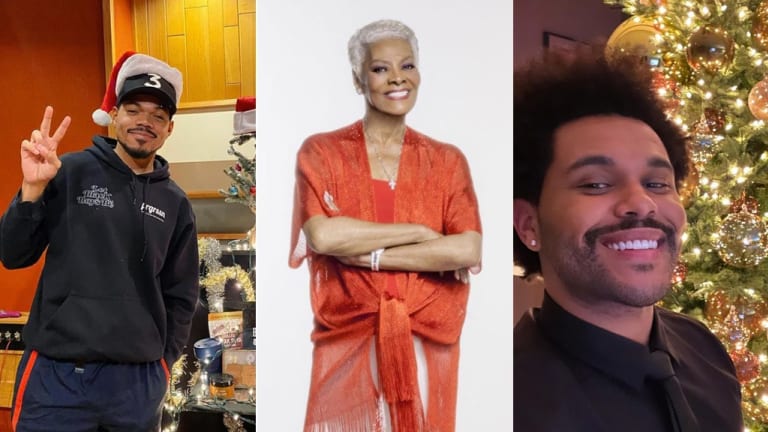 Dionne Warwick Got Jokes for Chance the Rapper and The Weeknd
Both Chance the Rapper and The Weeknd were honored to be in Dionne Warwick's Twitter mentions over the weekend.
Living legend Dionne Warwick was trending on Twitter on Saturday for an exchange she had with Chance the Rapper and The Weeknd. Apparently, Warwick got jokes, er, has questions about the entertainers' stage names.
"Hi, @chancetherapper. If you are very obviously a rapper why did you put it in your stage name? I cannot stop thinking about this," tweeted Warwick on Dec. 5.
The Chicago-born rapper, whose real name is Chancelor Johnathan Bennett, was understandably shocked to receive a tweet from the iconic singer. He replied, "Sorry I'm still freaking out that u know who I am. This is amazing!"
He followed up his initial response with another tweet, "I will be whatever you wanna call me Ms Warwick. God bless you."
Then Warwick jested, "I am now Dionne the Singer." She also said Chance shouldn't be shocked she knows him in response to his initial tweet. "Of course I know you. You're THE rapper. Let's rap together. I'll message you."
Warwick also tweeted that one of her "favorite songs right now" is "Holy" by "Justin the Bieber" and Chance.
The "That's What Friends Are For" crooner continued with the quips, but aimed them at The Weeknd this time. She tweeted, "The Weeknd is next. Why? It's not even spelled correctly? @theweeknd."
"If you have 'The' in your name i'm coming for you," she continued. "I need answers today."
The Canadian singer, songwriter, and producer also felt honored to have Warwick's attention, and replied to her tweet, "I just got roasted by Dionne Warwick and I feel honored! You just made my day."
But then, Warwick tweeted she was done and went to watch Lucifer. "Okay, I am going to watch Lucifer now. Bye!"
On Sunday, Dec. 6, Warwick made sure everyone knew she was kidding with Chance and The Weeknd. "It's all in good fun," she tweeted. "Of course I am just kidding. Those talented young men were good sports & very respectful! Enjoy your Sunday. Stay kind."
And in case you think Auntie Dionne wasn't the one cleverly tweeting, she released a short video that was captioned, "Came here to find foolishness in my replies. I am rushing to into an interview and this is the last time I'm saying this. Thanks."
If you need more jokes from Dionne Warwick, she's selling merch that immortalizes the time she called model Niki Taylor a "hussy" on Celebrity Apprentice.