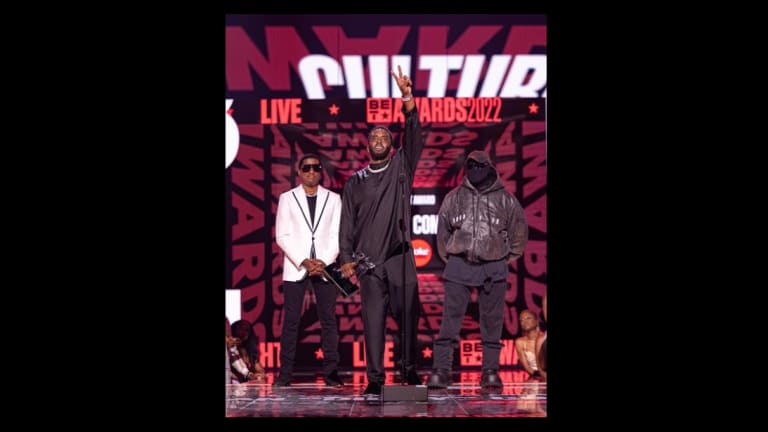 Heard on the Street: Diddy Accepts Lifetime Achievement BET Award
Diddy thanked everyone who has made an impact in his life, including exes Kim Porter and Cassie, in an acceptance speech that lasted more than nine minutes.
"First of all, I want to thank God. God, thank you. Thank you so much for never leaving my side always, being by my side, keeping me in my purpose, keeping me in my work, keeping me godly, lifting me up off the ground, always being by my side. Anything I do is through God. You know, anything I do is through love. That's what I evolved to be and that's what I'm doing right now, you feel me. So I want to thank God because if it wasn't for God, I would have went crazy. … But today is not about me. Today's about my mother. Mom, I love you! This is your day. Hey, hey, yo, my mom was working like three jobs. She was helping cerebral palsy patients at night, in the night shift. Getting up and being a bus driver [and] then going to work at a clothing store [and] then going back. I don't even know when she slept. Give it up for my mother, y'all, Mother Combs. Love you, Mom! It's your night. 

"I gotta give it up to Andre Harrell. You know like yeah make some noise for Andre. We ain't get to say goodbye to Andre. … Andre Harrell, you know, that's like my father figure. I miss him so much. He's the reason why I'm here. He taught me everything. … When I changed my name to Love, he said to me, don't talk love, be love.

"Heavy D, I used to like stalk Heavy D to get a chance to help give me an internship. … Shout out to Money Earnin' Mount Vernon, one time. Yeah, shout out to Harlem one time. Shout out to all of New York, one time. …

"I just miss Kim. Y'all, you know what I'm saying. And I know we all go through grief and stuff like that, and it's like, 'You know, stay connected to God and he'll bring you out of this.' … We don't control this, but I miss Kim so much, and I just want to say thank you, to Kim.

"I got to thank B.I.G. Brooklyn, what's up! Brooklyn, where you at? The greatest. Period. Period. I got to thank every artist, every producer, every writer, the hitmen, every executive I had a chance to work with. Thank you so much. Thank you to all of my fans who have been with me for over 25 years. I love you all. …

"Yeah, and also Cassie for holding me down in the dark times, love, and once again, I got to thank Harlem, Boogie Down Bronx, Queens, Mount Vernon, all of New York. …"
– Diddy thanks all the people, including his mother Janice Combs; his mentor, the late Andre Harrell; his former girlfriend and mother of his twin daughters, the late Kim Porter; his friend and collaborator, the late Christopher "The Notorious B.I.G." Wallace; and ex-girlfriend Cassie, and the entities, like New York and Mount Vernon, that had an impact on his personal life and career while accepting the Lifetime Achievement Award at the 2022 BET Awards, on Jun 26th. Watch the 52-year-old's entire speech below.