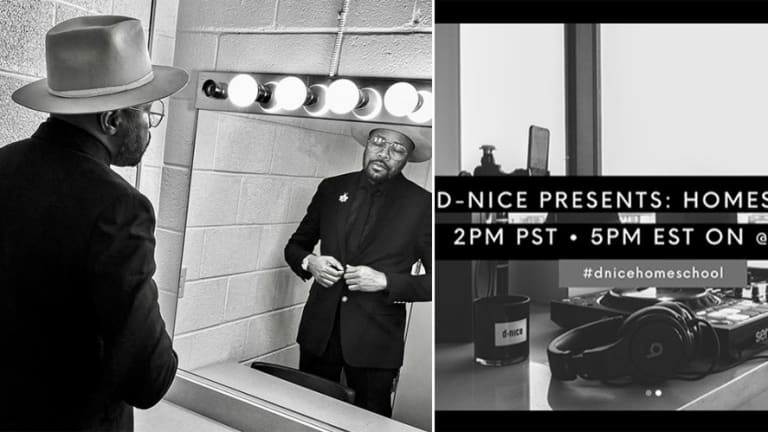 D-Nice Creates a Cultural Movement with Homeschool at #ClubQuarantine
DJ D-Nice had more than 100,000 Instagrammers across the world jamming at his virtual dance party.
DJ D-Nice proved there's no better way to spend the first Saturday under the COVID-19 quarantine than to hit the club — the virtual #ClubQuarantine to be exact.
The multi-hyphenate and friend of UPTOWN attracted thousands to his Instagram Live for the virtual bashment he called Homeschool at #ClubQuarantine, all while showing off his epic chapeau game.
At one point last night, the number of partygoers reached 102,000 with many of his celebrity friends dropping in. The party was lit with Oprah, Naomi Campbell, Joe Biden, Bernie Sanders, Kamala Harris, Janet Jackson, Kelly Rowland, Tina Lawson, Buju Banton, Stevie Wonder, and other celebrities and notables stopping by.
At one point, someone asked where the Obamas were. And what do you know, Michelle Obama grooved into the joint! As you may remember, D-Nice deejayed the after-party of the Obamas' final musical event in 2016. We'd like to imagine our forever present Barack Obama was jamming right along with the forever FLOTUS.
D-Nice spun a medley of old school Hip-Hop, R&B and Soul, and Reggae. As a member of the pioneering Bronx Hip-Hop crew BDP, he also took it back to the Boogie Down with a few Latin classics.
He announced his social distancing dance party Homeschool on Wednesday, March 18th. Initially, only 500 revelers attended, but it turned into a nine-hour get-down. He later posted, "I can't believe that I started the Home School social distancing dance party just four days ago and it's become a place for us to virtually dance together and stay connected."
#ClubQuarantine reopens today at 5 p.m. on the east coast and 2 p.m. on the west coast. "From my kitchen, I'm able to send positive vibrations to each of you," D-Nice wrote on Instagram. "Thank you for rocking with me."