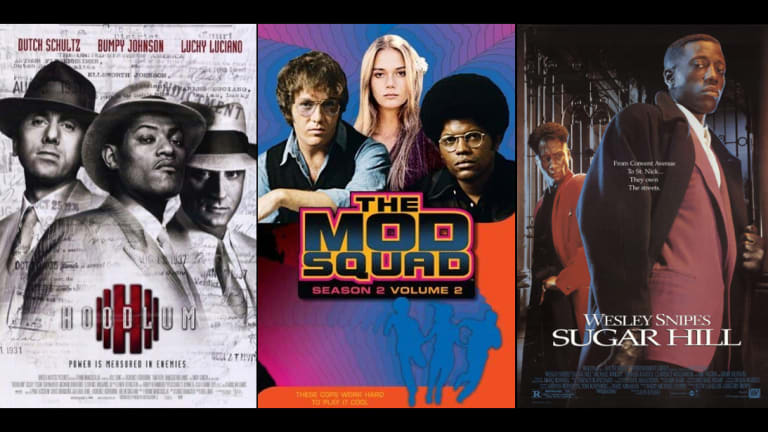 Clarence Williams III's Memory Lives on Through His Acting [VIDEOS]
Let's take a look back at Clarence Williams III's most memorable roles in Mod Squad, Purple Rain, Hoodlum, Sugar Hill, Tales from the Hood, and more.
Clarence Williams III passed away Friday, June 4, at age 81 at his home in Los Angeles after battling colon cancer.
The veteran actor got his big break on Broadway but made a name for himself on TV and in films. He's remembered for portraying Linc Hayes on TV's Mod Squad. After the series ended in the early 1970s and when there were lulls between iconic characters, Williams stayed busy by appearing in guest roles for TV. He appeared in Prince's Purple Rain as The Kid's embattled father, and other film classics from comedies like I'm Gonna Git You Sucka and Half Baked, to dramas like Hoodlum, to horrors like Tales from the Hood. Williams even has a couple of music video shorts on his resume. Let's take a look at clips from Clarence Williams III's most memorable roles.
Williams played Linc Hayes on TV's Mod Squad from from 1968 to 1973 and in the TV movie The Return of Mod Squad in 1979.
His next iconic role was as Father in Purple Rain, a quasi-autobiographical depiction of Prince's life that was released in 1984.
Williams had three guest roles, Walker Redding, Martin, and Phil Decker, on T.J. Hooker from 1983 to 1985.
Williams exercised his funny bone when he took on the role of Kalinga in Keenen Ivory Wayans's I'm Gonna Git You Sucka in 1988.
Williams and Laurence Fishburne (credited as Larry Fishburne) worked closely together in 1992's Deep Cover, which was directed by Billy Duke. Williams played Detective Taft.
In 1993's Sugar Hill, Williams played musician and drug addict A.R. Skuggs, father to Rome and Ray Skuggs, who were played by Wesley Snipes and Michael Wright respectively.
Williams was introduced to a whole new generation when he played funeral director and narrator Mr. Simms in the horror anthology film Tales from the Hood, which was released in 1995.
For 1997's Hoodlum, Williams played Bub Hewlett, a henchman of Tim Roth's Dutch Schultz. The gangster film chronicled Bumpy Johnson's (Laurence Fishburne) rise to prominence in New York's underworld in the 1930s and also starred Cicely Tyson as Mme. Stephanie St. Clair. Bonus fact: Williams is uncredited for playing Bumpy Johnson in American Gangster (2007), which starred Denzel Washington as another Harlem crime boss, Frank Lucas.
For the smoker classic Half Baked, Williams took on the role of Samson Simpson, a not-to-be-messed-with drug supplier.
In the late '90s and early 2000s, Hip Hop music videos turned into full-on short films, and Williams appeared as an FBI agent in two very iconic video shorts, Ja Rule's Down Ass Chick and Down 4 U, which also starred Eric Roberts as a fed.
From 2003 to 2007, Williams starred in the 11-episode mini series Mystery Woman as mysterious caretaker of a bookshop Philby, opposite Kellie Martin.
Although he didn't have a starring role, Williams's Lee Daniels' The Butler character Maynard played a pivotal role in the life of Cecil Gaines. Maynard gave Gaines a job that taught him the serving skills that would later secure him a position at the White House.
Which of Clarence Williams III's 99 acting roles is your favorite?