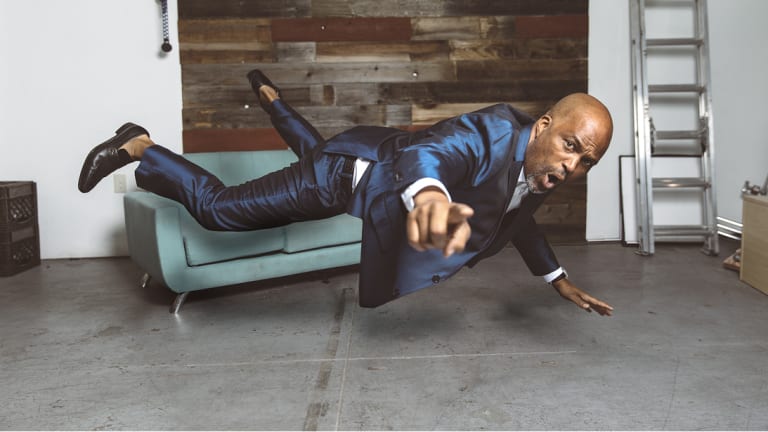 Chris Spencer: Floating on Funny
Chris Spencer is preparing for the premiere of his film Back on the Strip and revving up for the "make me laugh" culture on his stand-up tour.
When comedian, writer, and producer extraordinaire Chris Spencer and I talked, he was fresh off a red-eye from Los Angeles to New York City and getting his time zones straight. Later that evening the thing that he loves the most was on his agenda: stand-up comedy. Three of the funniest men in the industry, also known as some of his closest friends – Dave Chappelle, Chris Rock, and Kevin Hart – were set to perform at Brooklyn's Barclay Center. Granted, Spencer was not in that lineup on a July night, but I am looking forward to when he is center stage and sharing his comedic genius, which many people in the industry revere as some of the best of its kind.
Beloved in countless comedy circles, Spencer's cool demeanor and kind energy is magnetic. I recently saw him and his lovely wife Vanessa at a MACRO Oscar party in LA, and he greeted me with his consistent gracious demeanor. And in these times, kindness is important just as laughter is medicinal.
To be held in such a high regard by people who work seriously hard at their craft is no small feat. Calling him the Godfather of Comedy may sound highfalutin, but it is what it is. When it comes to making people laugh from a genuinely funny place, Chris Spencer is a champion behind the pen and the mic. He has mastered both, and here he shares with UPTOWN why comedy has infiltrated his life and his plan to continue to ride the wave.
UPTOWN: Which is more of your thing? Stand-up, writing, directing, or producing?
Chris Spencer: All of it is my thing. But my moniker now is "He Writes for Everybody" and that's not how I want to leave this earth. You know what I mean? I don't know if you saw Kanye's special. Somebody said, "He's the dopest MC, writer, and producer that also raps." I get that same thing. There are all these other things before stand-up comedian. I want to hear the words "very funny." I do hear it. But I don't want my tombstone to read, "He writes for everybody." When the annals and scrolls of comedy are read a thousand years from now, when you mention the Chappelles, the Rocks, the Harts, to the Harveys, the Pryors, and the Murphys, I want, my name to be in there somewhere.
UPTOWN: According to Kevin Hart, it sounds like you are focused on other things more than stand-up. And he's encouraging you to make a choice.
CS: I don't think he was saying to do one or the other. He was saying that you have to give stand-up your full attention. Although I will continue to write and produce, I need to give stand-up a hundred percent, meaning, to become a great comedian, you need to be able to be on the stage and work on your hour for the masses to see. That works. Everybody who's become great has hit the stage. And I was always one who came doing 20 minute openings at comedy clubs for Damon Wayans and Chris Rock. So, when it was time to do stand-up on my own, the same amount of money I was getting for one day with Damon and Chris is what the clubs paid for a solo stand-up for the week. So, I was like, "Eh." I was fortunate enough to work in LA as an actor and then the writing gigs came. So the stand-up started getting pushed to the side. Now, mind you, I never stopped doing stand-up. I did local spots like Laugh Factory, Comedy Store, and The Improv. And then, whatever was in my reach. And let's say, I would do maybe five to seven gigs where I would be the headliner for the club. But these guys are 35 to 52 weeks a year working on that thing, that hour.
UPTOWN: Where do you get your sense of humor?
CS: Everybody in my family is funny. My mother's funny. My father is funny. I've passed it on to my kids, who are funny. I married somebody who is funny and who comes from a funny family. Everybody around me is funny. It's in our DNA. It's not like, "Watch me make daddy laugh." It's just who we are. We don't know any better. 
UPTOWN: What was it like growing up in a Jamaican household?
CS: I'm the guy who would dance for company. Also, I thought I was going to be a magician, or more specifically, an escape artist. I would have people tie me up and I would escape. That was my thing: Tie me to a chair, tie my hands together, tie my hands and feet together. For some reason I had the ability to escape. It wasn't until eighth grade, that this guy named Eric Webb, brought this leather strap that they used to hold the slaves together. I think his mother worked in a museum or something. He said, "You can't get out of this!" And I said, "Yes I can." And I was going to a Catholic school at the time. Why did I try to do it while we were in church? And so, Sister Julie Louise at Maria Regina Elementary School saw me struggling and said, "Chris, why don't you read the next verse?" And I stood up with – I think it was the Bible – and she saw my hands tied and said, "I want you to go to the principal's office." And I got suspended.
UPTOWN: Oh no. Was that the end of your escape artist career?
CS: Yeah. Well, I think that the last escape was from that school. I never went back.
UPTOWN: What comedians inspire you?
CS: Ironically, three of them are together tonight at the Barclay Center – Dave Chappelle, Chris Rock, and Kevin Hart. Yeah, they all do. Their work ethic and their writing is very inspirational. There are others who might make you laugh harder, but the way they put their sets together – they're all storytellers – is top-notch. And sometimes comedians feel like they have to be a certain way in a white room versus a Black room. But these guys are the same in every room, you know what I mean? And that's the art of being a great comedian, the ability to perform and be yourself, whether you're at Barack Obama's birthday party or the coming home party of some ex-con.
UPTOWN: OK. So, let's talk about the buildup to those shows. What's the plan?
CS: Yeah. I know what I'm doing is not the end-all be-all. Like I said, I'm going tonight to see these three G.O.A.T.s. And that's my inspiration, you know, to one day also do stadiums and arenas. I have to put out a special. I did one almost 10 years ago. I plan on shooting a new one sometime later this year. The world and the promoters need to see you do an hour. And that's just it. I'm on the road as we speak. The plan is in place. I have a totally different voice. I'm a totally different person than when I did my last special on Showtime. I've grown.
UPTOWN: Are you excited about it? Or is there a lot of fear doing stand-up?
CS: I'm beyond excited. I've never been afraid. Even when I was just starting out. I was dying to go on stage. I've never had that feeling of butterflies. Now there's times when you might have to go up to the mic after somebody just demolished the room. And you're like, "OK, what am I going to do?" But I never felt like I didn't want to go up on stage. There were times I had a bad show and thought, "Maybe I won't go to that club for a while." But you gotta get back out there and conquer it, or the fear will always linger.
UPTOWN: What about the "originals"?
CS: Well, I mean, come on, the number one of all G.O.A.T.s is Richard Pryor because of everything I just described. He was the best at it all. And especially, those stories, his ability to do characters, like Mudbone, and just completely become somebody else. You didn't even see Richard Pryor. So, he would be number one. Dick Gregory. A lot of people don't mention him enough in terms of his ability to entertain audiences as well. And then the fact that he just said, "I'm not going to do this no more. I'm going to fight for social justice." And then later – what 30, 40 years later – came back and did stand-up and was still just as sharp as a 60-, 70-year-old man. He's a genius. Redd Foxx, of course, is a legend because, in terms of one-liners, he did have stories within them, but he was more of a joke guy, the best at just jokes. He doesn't get enough credit because you know, we love Sanford and Son and that's how we know him. A lot of people didn't really listen to his albums, and it's not like he did a comedy special because they weren't the thing at the time. And then there is Eddie Murphy and, of course, Damon Wayans, who are on my Mount Rushmore.
UPTOWN: What female comedians make you laugh?
CS: There are some very funny women out there. Tiffany Haddish, Gina Yashere, and Wanda Sykes. They are great with their pen and performance. Lonnie Love is funny. There's a young woman named Alycia Cooper who will have you in stitches. Luenell. Her comedy is priceless. Oh, and Ida Rodriguez. She has a special on HBO right now, which is a force to be reckoned with. And look out for Zainab Johnson. Cocoa Brown is a monster when it comes to stand-up. And look up Amberia Allen too. There are some very funny people coming up.
UPTOWN: Tell me a little bit about you and Vanessa's show, Date Night.
CS: It kind of came to fruition during quarantine. It was my wife's idea for us to do something. We saw the success of online DJs like D-Nice. But there was nothing kind of talking to people who were at home for 24 hours a day with each other. And so, prior to the pandemic we started off on Instagram. We sold our idea to Laugh Out Loud, but the pandemic happened. So, we got permission for them to do it on Instagram and it just took off.
UPTOWN: Congratulations on 16 years of marriage. How did you meet?
CS: At a comedy club. My wife is a casting director. She was doing the movie Be Cool, which was the sequel to Get Shorty. And they were in the comedy club. She also did Soul Plane when she cast Kevin Hart. I had just gotten out of a relationship, and I was ready to hit the streets. I was about 35, single and ready to mingle. And then I saw her, and I was like, shit. You know, I always equate it to this scene in The Godfather where Michael Corleone goes to Corleone, Italy, because he has to hide out because he just killed the captain of the police force. And he sees this woman and he's immediately smitten. And the two security guards say, "Oh yeah, he's been hit by the thunderbolt." And that's how I felt. I was like, "Am I supposed to be with her?" Literally, I was like, "I can't believe my single life is over." We've been together ever since.
UPTOWN: Exactly. That's so true. Tell me about your film. You're the writer and producer of it, correct?
CS: Yes. It's called Back on the Strip and it stars Faizon Love, Bill Bellamy, Gary Owen, JB Smoove, Wesley Snipes, Tiffany Haddish, and some up and coming stars: Spencer Moore II, Reagan Harris, and Ryan Alexander. And it was written by myself and my writing partner, Eric Daniel. It was an incredible experience to write and direct the film.
My wife is an executive producer, and she did the casting, the wardrobe, and at times the catering, and electrical, and transportation and... She was the glue when things were falling apart. I'm going to start calling her Elmer. It was our first joint production, aside from Date Night, which was something I thought that I didn't want to do. I wanted to separate church and state. But it turns out that it's probably been the best thing for our relationship. We shot it for 20 days in Las Vegas. It's a story about a group of guys who reunite after 25 years to save this woman's strip club that's about to get bought by some vultures. They rekindled their friendship and it's basically magic. The film is like Magic Mike meets Hangover meets The Full Monty. It's slated to premiere early next year. I'm not going to give you the exact date because, you know, this is Hollywood.
UPTOWN: You were a talk show host in another life. How did that happen?
CS: Yes, I met Len Burnett, who was the publisher of VIBE at the time, and I booked that late night talk show VIBE. My first episode was with Bill Clinton. I had everybody from Whoopi Goldberg to Shaquille O'Neal, Diddy, Demi Moore, Mel Gibson, like whoever was hot at the time, did the VIBE show. Quincy Jones was the executive producer. It was hard to say no to this void that was being filled after Arsenio Hall's show left. I had an incredible band. Greg Phillinganes as my musical director. I mean, I know it was such a good time. I had the most incredible green room that celebrities who weren't even on the show that day would show up, so they could hang out and eat and play video games and pool and ping pong. It was just a party all the time.
UPTOWN: Did this lead you to writing?
CS: Yeah. The writing came about because when you get hot, you're asked to do things. So, when your friend gets the job to host the MTV Awards or the Grammys or the BET Awards, the networks will give you some writers, and then you're going to want your own writers who know your voice. That's how I got this moniker, "Chris Writes for Everybody." Because it's really true. I write for everybody on these award shows. So, if Jamie Foxx books a show, he will want someone who's kind of come up with him through the trenches who knows his comedy sensibilities. I think the reason I became the head writer and also why I got this other moniker "Human Rights for Everybody" is because I wasn't afraid to tell the executives, "This s–t ain't funny and he ain't doing it." I became their mouthpiece. And then when the artists thought s–t was funny, I was also not afraid to tell them, "That s–t ain't funny. We have to rework this. Or we have a monologue, we're shooting the show Sunday, let's go into the comedy clubs and work it." So that's kind of how it happened. Whether it's Tracee Ellis Ross, or Wayne Brady or Taraji P. Henson, or people who are pure stand-ups, they trusted me. Because producers like Reggie Hudlin or Jessie Collins are like, "You know what? We need Chris to be by your side. He'll take you to the promised land."
UPTOWN: If you had your dream job, what would you do every day?
CS: I'd wake up, play golf, come home, and write. I would hang out with my family and then I would hit the stage. That's how I want to live the rest of my life. And somewhere in between go shopping. 'Cause if you see my family, we're no strangers to trying to look good.
UPTOWN: That's funny because I was laughing at you talking about how Damon Wayans taught you how to shop.
CS: Right, he never thought about it. He was just grabbing s–t. And I'd be like, "What if it doesn't fit?" And he'd say, "It'll fit. If it doesn't, I'll send it back."
UPTOWN: When did you start going to the vineyard and playing golf with Mr. Obama?
CS: I think this is my sixth year because we missed one during the pandemic. We were visiting some friends, Ray and Shannon Allen, and they had just come from Martha's Vineyard. And he goes, "I'm about to go back and I'll be playing golf with Barack Hussein Obama." And so I immediately ditched my family. They went to New York. And that was the first time I got a chance to play with 44 at Farm Neck Country Club. When I first went, I didn't get to play with him. He had his foursome. It was him, Alonzo Mourning, Ray Allen, and Cyrus Walker. And I was playing with his aides. That was the first day. The next day we played again. I was feeling kind of sick. Well really, I was playing bad. I wasn't feeling sick. And I was like, "You know, after nine holes I'm gonna quit." And then Cyrus is driving by and he looks a little pale, and I'm like, "What's wrong?" He goes, "I'm a little sick, go play with 44." And I was like, "I'm going to Air Force One!" in about 30 seconds.
UPTOWN: Is that what you look forward to the most?
CS: I think that's great. But also just seeing all these brown faces inhabit this island, and from all walks of life, from all, for not just this country, like there's people from all over the world that come here and do this. I mean, I think I'm preaching to the choir, do this thing in August. And the fact that I'm also performing there is always great too.
UPTOWN: How many years have you done stand-up there and how's the crowd?
CS: Five years. And I actually did a guest spot that first year I went to the island to play golf. And I've been booked every other year since then. It's incredible. Bougie Jack and Jill Negroes that love it when I poke fun at them and their upbringing, you know what I mean? Because nobody else does. I'm like, "I know y'all was all listening to Frankie Beverly before y'all came in here. How y'all doing?" You have to come to my show.
UPTOWN: I've never been.
CS: I'll be there August 8th through the 19th.
UPTOWN: Great! We're telling everybody to go!